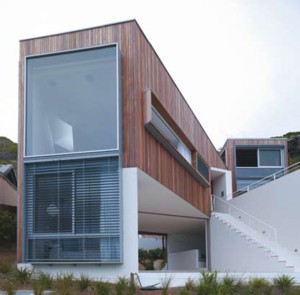 "My father had a 'whole of life' approach to his work. It was uncompromising and memorable." Nick Murcutt is candid about growing up in a home filled with constant and engaging discussion on the higher order issues of architecture. "It was by no means a form of apprenticeship," he admits. "At the time it was just being 'at home'." But what it gave Nick, a young art student of just 16 years old, was the self-knowledge and motivation to grow to embrace his vision for a private architectural practice.
The approach that Nick and his partner Rachel take at Neesun Murcutt Architects is clearly a product of his collaborative, though informal, introduction to the business as a child. When asked about his work, Nick responds tellingly: "Architecture is a process of refining ideas; it's an extended conversation with my friends, our clients and our culture." Nick's design approach utilises what he refers to as a 'studio' type practice in that he tends to build physical models rather than use extensive and complex drawings to communicate ideas to his clients. He works in a democratic open office space, accommodating a close-knit team of eight. It is almost tribal, he says, of the way he works, finding likeminded people to collaborate with when working towards the right architectural outcome. 
But when it comes to innovation in design, Nick's approach is far from traditional.
"Our work has never been unsustainable," he says in response to our questions about the significant push for BASIX regulations and environmental star ratings over the past 10 years. "We have always been interested in the efficient use of energy and materials, and have for many years been working on remote unserviced sites." As well as using the best consultants in order to stay abreast of rapidly emerging technological advances, Nick makes an environmentally friendly point of avoiding airconditioning systems at all costs. In most parts of Australia, he asserts, it is completely unnecessary with good design; that and the fact that, quite rightly, "there is nothing less inspiring than a hermetically sealed box". But despite Nick's keen awareness of what can be architecturally achieved in the Australian climate, he shies away from boxing in his philosophy and allows simply that every individual site has its own unique landscape and climate to consider.
There are also emerging lifestyle trends such as a move towards smaller dwellings, multi-functioning rooms, and outdoor living areas that need to be considered in the design of a home or building. Looking forward, Nick is content to continue with his awardwinning approach of the past five years. Continued research through teaching at universities is high on the list of priorities, as is making room for his children to grow and learn through dynamic discussion, as Nick did himself, as a potential fourth-generation contributor to a very long and passionate line of architects.
Neeson Murcutt Architects
L2, 9 Roslyn Street, Potts Point NSW 2011.
02 8297 3590
rachel@neesonmurcutt.com