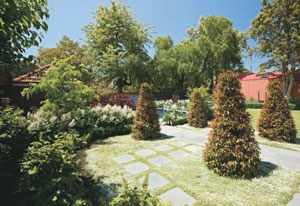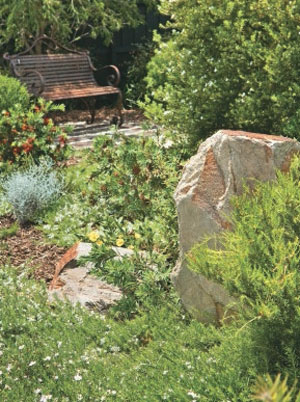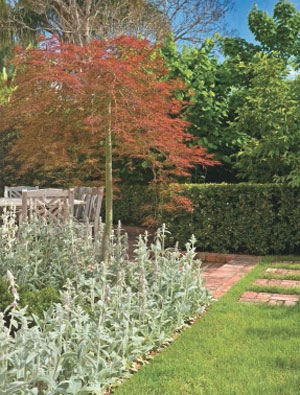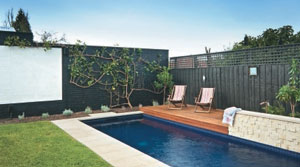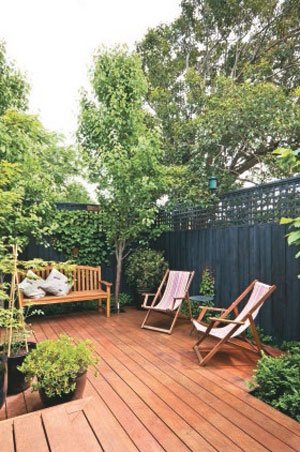 "Do yourself and the environment a favour"
How to have a sustainable home garden without compromising on beauty or good design
Words: Kate Hudson
Photos: Patrick Redmond
There's nothing more iconic than an Aussie garden, especially when you include a swimming pool, but we are now living in an era that demands environmental awareness and responsibility. Water restrictions, drought and unusual weather patterns have required Australians to adjust their lifestyles, but nothing will dampen our great love of the outdoors — and backyard pool parties. The desire for a private oasis at home is as strong as ever, but more and more people are considering ways to approach their outdoor lifestyles in a more environmentally friendly manner.
So how can we manage the things we love about our gardens in a responsible and sustainable way? Landscape designer Ian Barker, of Ian Barker & Associates, believes that sustainable design principles are easier to incorporate into residential gardens than most people think. He also believes that it's not necessary to compromise on a desired look and feel of your garden and pool to achieve a sustainable result.
"It's true that the word 'sustainable' has become a buzz word that's used everywhere these days, but I think many people have a misconception about how sustainable techniques can easily be applied at home," says Ian.
Making good use of space
Ian has noticed that over time the workspace available for landscape design projects is steadily becoming smaller and smaller. Urban development is a big threat to the existence of green space and gardens, so putting in the hard work at home to "greenify" every available space including roofs, balconies and walls should be a priority. |
As the sustainable technology industry continues to grow, the benefits of its progress are being felt all the way down to the residential level. With both new and existing gardens and pools, there are clever ways to reduce your impact on the environment by following some simple rules and advice. Consulting an expert is always a good way to start.
Before dismissing the involvement of a designer, consider how you would tackle disguising the water tank you want to install or positioning the new pool in the best location for solar access, shelter and evaporation. Good design decisions will maximise your environmental effectiveness and ensure you achieve a sustainable result that also looks beautiful.
When looking for professional landscape and pool design advice, you can readily identify a designer's environmental approach by asking a few questions when making your initial enquiries. "Don't be concerned if a landscape or swimming pool designer does not actively promote themselves as a 'sustainable designer'," explains Ian. "If you can mention water tanks, pool covers, greywater systems and passive solar access to a designer and get a good response, then you are probably speaking to someone who is on the same page as you.
Water wise design is vital
The big ticket item to focus on when making a garden and pool more sustainable is water. The main aim is to become more water-wise and make your outdoor space a water-efficient place. Once you have achieved this, you may be surprised to see that your garden actually becomes even more beautiful and healthy than it was to begin with.
An excellent way to make your pool water-wise is to utilise both water-saving and water-harvesting techniques to ensure that the pool minimises its use of mains water. This will not only help you and your family to save water and make your garden more sustainable, but you will also save money through reduced chemical, energy and water use. Water-saving devices include a water tank to harvest rainfall that is used to top up your pool when necessary, a pool cover to save the 90 per cent of water that is lost from pools through evaporation and a backwash minimisation system.
In addition to these methods, there are even more options available to help make pools water-wise and more environmentally friendly. If a pool cover will not work for your pool, consider installing shade sails that also help prevent evaporation. If you are having a new pool designed, ensure that there's suitable coping surrounding the pool edge that will prevent water loss through splashing. Maintaining a pool with a healthy and balanced water condition is also important so you can avoid emptying polluted or unhealthy water.
The long-term benefits of installing a water-wise pool or transforming your existing pool into an environmentally friendly element of your garden will far outweigh the short-term costs involved at the beginning. "A pool is the ultimate water feature for your garden, but we should all be responsible when it comes to their environmental impact," states Ian. "By getting good professional advice from an expert and employing the highest-quality water-saving devices, there's no reason that a pool can't be a feature of a sustainable garden."
Ensuring healthy plant life
One of the biggest challenges in keeping your garden looking beautiful is maintaining healthy plants, trees and lawn. The key ingredient to a healthy garden is, of course, water. Installing a water tank that harvests natural rainfall is the best way to keep water up to your plants and lawn to ensure they look their best all year round and make your garden water efficient.
There are so many water tank options available that it is sometimes hard to know where to begin. First consider what you will be using the water for and how much space you have available to position the tank, and then try to identify how much of your roof area can be used to catch water, and what your local rainfall patterns are. Answering these questions will help determine the most appropriate choice for water storage at your property.
Linking your tank to a carefully planned irrigation system will help direct your harvested water exactly to where it is needed the most, making your garden more water efficient. Using a drip system that targets the roots of plants will ensure water is not wasted as is sometimes the case with spray systems. It's also important to use your watering system effectively, so water early in the day to prevent evaporation and where possible incorporate a rain sensor into the system that senses moisture levels in the soil and will turn off the system entirely if natural rainfall has occurred. The sensors will turn the system back on when the soil has reached a specified dryness level.
Mulch is another way of helping the soil retain moisture content that would otherwise be lost through evaporation, and it also helps keep pesky weeds to a minimum. Mulch should be spread thick enough to suppress weeds, but thin enough to allow water to penetrate — between 7cm and 10cm is usually about right.
Reducing environmental impact
There are also many hidden benefits to having a water-efficient garden. While on the surface we can see a beautiful garden with healthy and happy plants, water-efficient garden owners are also benefiting from reduced water bills and running costs. A major benefit of making your garden water-efficient is that your garden will receive water directly where it is needed, reducing run-off and contributing much less to stormwater flow that will in turn reduce the need for costly public stormwater upgrades. And on an even broader scale, gardens that use water efficiently also help reduce the need to build more dams, which often have to be located in areas that are environmentally sensitive. By acting locally, you can actually contribute to the sustainability of our cities well beyond your garden fence.
Although harvesting rainwater is an effective way of keeping your shrubs, lawn and trees looking beautiful, a clever planting design and an informed plant selection will also greatly contribute to the sustainability of your garden.
Having a sustainable garden means using plants that will perform well in the local area. Always try to avoid plants (whether exotic or native) that are weedy in your region. While you may think you can keep things under control in your own backyard, a weedy specimen will always find a way out! Choices for a sustainable planting scheme can include native and indigenous plants, but do not discount exotics from similar climatic zones around the world. Often an exotic will be the ideal choice for your garden due to their natural hardiness in their own native region.
It should be understood that all gardens, whether they are designed to be sustainable or otherwise, will require a relatively intense establishment period. This means extra watering, maintenance and care once the new garden is planted that will help the plants establish strong roots and adjust to their new environment. A sustainable garden will perform well once established and be able to adjust to the existing soil conditions and also to the local rainfall patterns; excessive watering should not be necessary.
Reducing your energy bills
Planting large deciduous canopy trees on the northern boundary of your home is an effective way to reduce your heating and cooling costs all year round. It has been estimated that the addition of shady trees around your home can reduce energy bills by as much as 20 per cent. The trees will shade your home during the hot summer months, meaning less reliance on air conditioning. Also, in winter when the trees have dropped their leaves the solar access is increased, allowing your home to be heated naturally by the winter sunshine. Planting the right tree in the right place will also provide wind protection, shade and cool air, while at the same time adding beauty and privacy to your outdoor space.
In the height of summer, the cooling impact of plants does not stop with your home. "Planting trees and shrubs to shade paving, driveways and pool surrounds will reduce their heat absorption, meaning that your whole garden will become a much cooler place to be," says Ian. "And we shouldn't forget that the benefits of having a beautiful garden that is sustainable are not just environmental benefits. It's been proven that people are generally happier, healthier and more content if they have a beautiful environment to spend time in with family and friends."
So do yourself and the environment a favour. Take the time to make your home and garden a more sustainable, and therefore beautiful, place to be. The long-term benefits will far outweigh the initial costs and you can rest assured in the knowledge that you are doing your part to protect our natural environment.
Kate Hudson is a landscape architect working with Melbourne-based garden design firm, Ian Barker & Associates. Each of the gardens featured here were designed by Ian Barker & Associates.