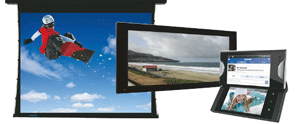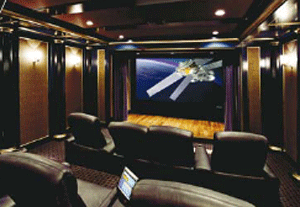 By Steve Freeth
Screens are popping up all over our homes in all shapes, sizes and styles. And that, Steve Freeth says, is keeping the features coming.

When it comes to the latest must-have home gadgets, nothing beats the Consumer Electronics Show, the world's biggest high-tech extravaganza in Las Vegas each year. Sprawled across three enormous hangars and surrounding hotels, CES is home to thousands upon thousands of large and small companies all pushing what they hope will be the Next Big Thing.
And the message for 2011? Well if anything united the 22,000 televisions, cameras, smart phones, laptops, remotes, wall panels, games and e-readers that crowded the floors this year, it had to be the rush to beef up screen real estate, making them more usable, better looking and smarter than ever. In fact, the hottest device this year was the "tablet", phenomenally successful and a whole new category of screen that didn't even exist until Apple invented the iPad two years ago. Apple says they've already sold around eight million of them globally and over a quarter of a million in Australia; this year's CES featured no fewer than 85 iPad clones!
You may have thought our lives were already full to the brim with screens now that smarter phones have hit, laptops are being dragged everywhere, and televisions are popping up in bathrooms and even cars, but apparently not. According to Canon we now have around nine screens of some sort littered around the house including an average three TVs, but we keep buying screen-based home media devices like games consoles, and now spend roughly three hours a day looking at them — though if you're like me and everyone else I know it's a lot more than that.
Clearly, screens are hot. For a start there's intense competition to grab our attention and embedding devices with slick LCD, touch, or motion-sensitive screens is proving highly popular with consumers. But the other motivation is from television makers who want to excite our senses with innovations like 3D, connectivity or Ultra High Definition now that going digital is a done deal, and the race to merely thinner and bigger is running out of steam.
The big picture
Tweaking what screens can do and the overall visual experience is no more obvious than in home cinemas, those bespoke, pampered rooms dedicated to the full movie-going experience. While the rest of the house is being upended by the digital entertainment revolution, home theatres are also quietly adding new features of their own, including wider screens, cutting-edge lenses, full-high-definition projectors, digital surround sound, 3D capacity, and linked, whole-house networking.
"Nothing beats a well-designed dedicated home theatre to deliver movies the way they were meant to be seen and heard," said Paul Kutcher from Visual Fidelity, a Melbourne-based company that represents high-end theatre component makers Stewart Filmscreen and Schneider Kreuznach. "And that means really looking at the right products to suit the space."
Projectors in particular are undergoing some of the biggest changes as the trend toward anamorphic projection — also known as cinemascope — becomes more popular. Anamorphic lenses, which sit in front of your HD or Full HD projector of choice, make a lot of sense in a dedicated space as they provide a much wider and taller image without distortions or unsightly black bars, with better resolution and brightness as added benefits.
However, according to Paul, it doesn't make a lot of sense to invest in high-end projectors and lenses if you don't put the same effort into the screen. In fact, once you start looking at what's available, the options begin to multiply — everything from curved screens, colour gradations to improve contrast and ambient light performance, unlimited customised sizes, and even perforated acoustically transparent models so that speakers can go behind the screen for better sound.
"Most people undervalue the role of projection screens and often don't see the technology that's involved," Paul said. "But a screen that's been designed to match the projector you're using, the size and décor of the room, the seating, or whether it's a dedicated space or a media room makes a lot of difference to the final result. Curved screens, for instance, have been engineered to work perfectly with anamorphic lenses. Not only do they provide a more enveloping image, but they reduce any problems with cross reflections and pincushion distortion that can occur with cinemascope," Paul added.
Home cinema isn't immune to the 3D bug happening everywhere else either, a trend jump-started by a wave of eye-popping films from Hollywood and a growing trickle of games, sport, television and music content. Companies like JVC, Sony, LG, Mitsubishi and Optoma are already responding to the push in home cinema even though wearing the special glasses will still be needed for a few more years yet. This, despite Toshiba and Sony debuting television screens at this CES that don't need them — and Apple has just won a patent to develop a 3D projector that doesn't either — and other companies touting glasses that can turn 2D into 3.
"3D may be an even better fit in home cinemas than with televisions as it complements the atmosphere of a dedicated room better and really can add another layer to full film immersion," Paul said.
But he does add one addendum to any move to either 3D or widescreen home cinema — and that's the need to get components properly calibrated for complete visual accuracy.
"A professionally calibrated system will dramatically improve the performance of any display device or projection system," Paul said. "It just reveals so much more detail from what is contained within the content, whether it be broadcast television, DVD or Blu-Ray."
Fourth screen anyone?
While Apple may not have had any iPad news at this CES, a second version is expected sometime soon — it was still the elephant in the exhibition hall as literally scores of companies launched some sort of version of it. While commentators called the end result either "tablet insanity" or "tablet paradise", others are starting to ask, could this be the so-called "fourth screen" — with cinema, television and computers often seen as the first three — or does that honour really go to smart phones now that even netbooks or laptops may be looking like endangered species?
Certainly the battle between portable, multi-tasking, online devices — now being called MFDs or Multifunction Devices — is getting intense as companies look for new ways to grab the public's attention and consumers weigh up the best and most convenient options. Smarter phones like the iPhone or Google's Android certainly have a strong head start — and still have that phone advantage of course — but given the sheer variety of new tablets and the features that are quickly being packed into them, it suggests the next few years will be interesting ones to watch.
While it can be hard getting everyone to agree just what a tablet should be — generally they're lightweight computers without keyboards that connect wirelessly to the web — there were still some great options on display at CES that show just how fluid the category has already become. Naturally, enough competitors have been quick to exploit some of the iPad's perceived weaknesses too, including things like inbuilt cameras, ability to read Adobe Flash that's needed for a large percentage of the web, and a big range of screen sizes, weights and prices.
Motorola's Xoom has got a lot of attention recently — and won best gadget at CES — but Blackberry's Playbook, Dell's much-smaller Streak, H.P's Slate 500, ViewSonic's ViewPad7, the Asus Eee, Panasonic's Viera and Acer's double-screened Iconia — the list goes on really — all come with sleek designs and some impressive features. The 3G-enabled Galaxy Tab from Samsung, for instance, has already launched in Australia, and while costlier and slightly smaller than the iPad, it not only looks gorgeous, but offers some extra benefits such as screen icon flexibility, voice recognition for text or navigating, rear and front cameras and Android's turn-by-turn navigation app.
If you're wondering if tablets could, like the once white-hot netbook phenomenon, have clay feet, you might want to take another look. According to new figures from research company eMarketer, nearly 16 million have already been sold worldwide and another 120 million are expected to sell by the end of 2012. It's looking just as optimistic in terms of paid applications on tablets as well, even if it is still early days, especially as their bigger screens are already proving a more convenient space for watching media like films, games, television, print and music video. In fact, one analyst predicted that this market could be worth $8 billion in five years time, and see a staggering 12 billion downloads of paid, free, and ad-supported tablet apps by then as well.
Be prepared to be confused and somewhat torn, though, when it comes time to choose between all these slick new screens. Perhaps the future will see us have a number of lightweight devices on hand that we shift around according to what we want to do, or maybe we'll see the emergence of one screen to really rule us all. Actually, a new phone called the Atrix from Motorola may just be the missing link; fast, powerful, and with finger-tip-swipe security, it also lets you plug into an 11.6-inch screen and keyboard device to become a mini laptop that's just 14 millimetres thick.
The box of tricks
Of course, if any home entertainment device knows a thing or two about screens, it has to be television. But after stellar growth in sales as people dumped those old cathode tube sets for digital ones — all those bulky monsters lying forlornly on the sides of every Australian road confirms that — and then went thinner, wider and clearer, 2010 looked a little less buoyant despite the fact LCD and Plasma sales still rose.
However, TV makers are not leaving anything to chance and are trying to interest us all in updating our sets yet again with promises of smarter (think web connected), special (as in 3D), convenient (via all sorts of apps to help filter, organise and harvest more content), and through better visuals, even if the differences with just plain high definition may still only be quite subtle.
Once again, the launches at CES this year gave some indication of just where the humble TV might be headed and how compelling it might be in terms of features and price. Probably not so surprising is that a lot of the leading TV makers were offering models that mixed all the trends together. Sony, for example, tweaked its Bravia line with new 3D and internet features, including integrated Wi Fi, access to the web via their own Qriocity service and Skype, while adding in LED backlighting, the ability to record to hard disk via USB, and apps that turn your mobile into a remote. And 3DTV without glasses — the current holy grail of consumer electronics — may be a lot closer than we all think given that a company called Team ACX just showed off a 24-inch set called the "Vibrante 3DX-24 auto-multiscopic 3D HDTV" during CES, announcing they will be commercially available in the United States very soon.
New screen technologies are also in view, particularly those like AMOLED — short for Active-matrix organic light-emitting diode — that can lay OLED pixels onto a thin film or other material, meaning Amoled screens are ultra-thin, ultra-bright, don't require a backlight to work and use less power. Companies like Samsung, Sony and LG have been actively developing the technology for use in televisions, computer screens, phones and, yes, tablets like the Galaxy. In fact, Samsung took the opportunity at CES to show off a transparent Amoled display prototype that could possibly be layered over other television screens or even glass, mirrors and windshields to allow access to the internet while doing or watching other things. But Sony has taken that idea and run with it. The company has begun showing off a prototype they're calling the FOLED that creates a screen that can be rolled up! Take a look: www.youtube.com/watch?v=9OvTLg4i2_U&feature=player_embedded
An open book
There may seem little place in this multi-tasking world for a screen that really only has one thing to do — yes, they're calling them DDs, as in Dedicated Devices — but that doesn't seem to be the case with electronic readers, or e-readers as they're now more commonly known.
They really got going when Amazon introduced the Kindle way back in 2006 with its wireless link to their vast catalogue of books, but even then it still didn't exactly set the world on fire. How things change and now, just like the tablets that are fast encroaching on their turf with reader-like apps, they're starting to come out thick and fast, winning some devoted fans and shaking up the publishing world in the process. In fact, Amazon says sales of e-books overtook hard covers for the first time last year and recently announced they've been outselling paperbacks since the start of this year as well.
It's helped that Amazon has kept upgrading the Kindle even as the competition has been snapping at its heels — it's still the best seller — but Barnes & Noble also has a huge library catalogue to recommend the US-centric Nook, while Sony's Reader, the Copia, the Literati and some of the Pocketbook versions are proving popular. The e-readers are getting better all the time too, with colour versions the big new trend alongside improvements in screen visibility, connectivity and functionality. You know something's afoot when the "net generation" — all those digitally obsessed youngsters under 20 — stop playing games and texting for a nanosecond, a fact publishers say is evidenced by significant jumps in sales of children and young adult e-books over the last year or so.
One of the biggest innovations, however, could be with "vooks", a software program that mixes text with video to create a whole new world of reading, watching and fact/fiction interaction. Vooks are not devices, but digital video book applications that can be downloaded on them, generally to a smart phone or tablet, or at vook.com for web reading. This is a feature that's become a major part of the appeal of reading newspapers or magazines online so that if you want more detail, want to hear the song you just read about or look at video, you just do it with the click of a your cursor.
Like a lot of things techy, though, it hasn't always meant the death knell for more traditional types of entertainment; a new study by Brock Associates found that people indicated that online books, papers and magazines had also encouraged them to pick up hard, physical versions a lot more as well. While the convenience and ease of buying online media definitely appealed to the people already doing it with tablets or e-readers, it seemed to have a halo effect for reading in general.
Peeking into the future
We clearly like peering into, touching and swiping screens for a lot of our daily needs — a trend that doesn't look like going out of style for the foreseeable future which is why the race is on to make them an ever bigger and more seamless part of our lives.
One aim is to embed them into walls, tables and counters for constant screen access, and Microsoft's coffee table-style "Surface" touch computer is really pushing that along, even if cost and size mean it's still mostly in commercial spaces like stores, restaurants and hotels so far. The company did unveil a new thinner version at this year's CES, though, that ups the stakes even further, creating a "four-inch-thin" screen that is not only more versatile in how it can be used, but recognises fingers, hands and other objects placed on it, including more than 50 simultaneous touch points — take a closer look at www.youtube.com/watch?v=IbCORzYW6lQ.
Others are trying to develop screens that can be projected onto any flat surface, while some prefer the micro approach and the wrist, in particular a la Dick Tracy. Watches may have become mere accessories these days, but it hasn't stopped them selling and so when Apple — who else — developed the iPod Nano as a small, square disc, it instantly went viral. Now you can buy wristbands for the Nano from the Apple Store, while companies like Minimal offer two wrist options, the TikTok and the LunaTik — ok, you can't talk into them just yet!
Too much screen time? Some people agree, and new research just published in the Journal of the American College of Cardiology found that people who spent more than four hours on some sort of screen had a much higher chance of a heart attack than those who limited their screen time to under two hours a day. Sitting seemed to be the real culprit, however, so all those portable, on-the-go screens that can do nearly everything as we dash about or cook dinner could just be the healthy option after all.