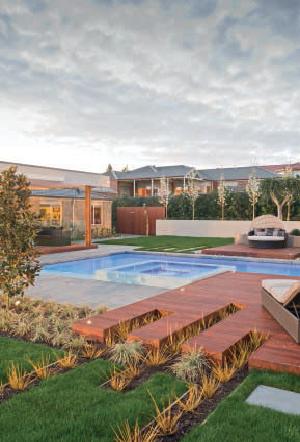 Defining your garden landscape is easy with an array of garden edging solutions
By Natalie Raad
Garden edging serves both a practical and aesthetic purpose in the garden. Practically, garden edges are used to contain garden beds; aesthetically, garden edges work to define the landscape, separate areas and create eye-catching shapes and patterns. No matter what the purpose, garden edging is an integral part of the garden landscape and should be planned accordingly.
• Plan ahead: When planning your garden edging, start by first drawing a detailed plan of your house and garden. Each line that you draw will require some form of edge. It could be a flat edge (such as a mowing strip), a raised kerb (to retain garden or lawn, or to control the flow of water) or a raised garden bed.
• Choose a material: The next step is to decide on which edging material to use. There's an array of materials available when it comes to garden edging, such as wood, brick, plastic, rock and metal. It's best to choose a material based on the style of your home, the look you desire for your garden (whether it is formal or informal, contemporary or traditional) and the amount of money you wish to spend.
• Decorative or functional: If you're after a less permanent garden edging solution, you can use plants or wire borders, which tend to be popular with Victorian and Edwardian garden styles. However, for a more permanent solution, metal (aluminium or steel), bricks, pavers and stone can all be used for garden edging.
• Distinct lines: According to Robert Haysom from Link Edge: "For the design of any garden, it is essential to have distinct lines between plants, grass, paving, stonework, bark chips and paths, whether it is to stop the grass from growing into a garden bed, to keep the stones together, to hold pavers and driveways in or to simply give the landscape structure."
• Garden design: Incorporating edging into your garden design is easy, says Robert. "If starting from scratch, you can make a border using straight lines for a formal garden or curved lines for an informal garden. The same rationale can be used if a path is required. Then a few circles of Link Edge aluminium edging can be scattered around for planting trees or shrubs. The possibilities are endless — your creations are as fertile as your own imagination."
• Latest trends: When it comes to the latest trends, Bradley Boerlage from Greenlines Gardenware, manufacturer of FormBoss steel edging, believes clean, uninterrupted lines, making shapes very visible without much notice of the edging itself, is the way to go. "Garden edging can be incorporated into a garden design by designing nice complementary shapes that bring out the best in the surrounding architecture," says Brad.
• Metal garden edging: Brad believes that metal edging is a great option, offering strength, durability and the ability to create interesting shapes. "Galvanised steel is great against corrosion and Cor-ten mild steel is ideal for that rusty look without compromise to longevity," adds Brad.
• Other options: For raised garden edges, consider using bricks or mini wall blocks. Clay pavers are perfect for flat edges, while stone is an excellent hardwearing material and can be cut into regular shapes. Concrete is also an option, as are plastic edging products. If you want a rustic look, you could use treated timber sleepers (recycled or new) or logs. You can also get timber look-a-like concrete sleepers if you want a maintenance-free alternative. These work well in bushland-style gardens and cottage gardens.
• Functionality and aesthetics: Ultimately, the goal is to match the work the edging has to do with the aesthetics of your garden design and, with so many garden, lawn and landscape edging products on the market, not to mention the various DIY options, this is easy to do.