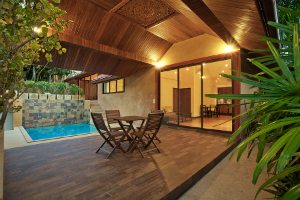 A well-designed deck can enhance your lifestyle and add value to your property
Story: Marion Tyree, MAILDM, MAIH 
Decking is often an integral part of a garden design. Verandas flowing from living rooms capture the view of the surroundings as well as provide a focal point from which to view the garden. Decking can be used as a platform at ground level to define a space as well as extending the living areas. Used to cover uneven surfaces, sloping ground or rocky outcrops, a deck takes care of level changes and gives a flat surface. 
Decking 'walks more lightly on the land' than other surfaces as only support posts touch the ground, conserving topography. Decks create a second surface that 'floats' above the ground or even a second storey with more garden or storage beneath. Some light will still penetrate through the gaps in the timber. Timber doesn't build up heat load like paving and it allows breeze through. Timber also blends well with natural surroundings and drains naturally. Therefore, there is no need for falls to drains and guttering as required for hard paved patios.
There are many factors to consider when planning a deck. How wide and high will it be, council regulations, fire regulations, shape, style and so on. But, by far, the most important factor is what materials to use. Do some research first as some materials are deemed unsafe, such as CCA Copper Chrome Arsenate (CCA) treated pine, which is soon to be banned due to health risks. Today, there are many decking materials to choose from. Choices ranging from hardwood wooden decking timbers, recycled wood, steel grating, fibre cement compressed sheeting, a composite product made from recycled products and wooden decking tiles.
Another important factor to consider is council regulations. Be mindful of whether council approval is needed to build decking in your area. This often depends on the height and size of the deck. Councils also consider decking as part of the hard landscape and, therefore, it is not always counted as being permeable to rain.
Decks in bushfire-prone areas are subject to restrictions. There are "four categories of risk" as defined in AS3959. Your local council or the Rural Fire Service will advise which level of risk your area is in. When constructing decking in these areas, consult the AS3959 1999 Construction of Buildings in Bush Fire Prone Areas. As there is no fire retardant-treated timber commercially available, naturally fire retardant timbers can be used. Naturally fire retardant timber comes from high density timbers such as red iron bark, blackbutt, spotted gum, merbau and turpentine. Consult AS3959 for timber sizes and specifications for construction as specific width between decking timber is necessary. Outside, decking in fire-prone areas must be separated structurally from the floor joists of the house.  
Due to the rise in illegal logging of timbers in Indonesia, especially of merbau, forests are being depleted. Check the source of timber from this area. Make sure it is from a legal and sustainable forest site before buying it — some timber suppliers can certify that this is so. Not only is illegal to log the forests, it is also putting endangered orang-utans at risk of extinction in Borneo. Some hardwood Australian timbers are also becoming scarce, so be careful to use those from sustainable and renewable forests.
Decks are often exposed to harsh weather conditions, decay and insect infestation. It is important to use hardwood or treated softwood for durability. Hardwoods and treated pine have been the usual choice to date. Other timbers that can be used are blackbutt, tallowwood, spotted gum, ironbark, yellow stringybark, brushbox and blue gum. Blue gum, however, is becoming a scarce commodity.
If you use treated pine choose arsenic-free treated pine. A recent report on treated pine products recommended pine treated with CCA to be banned in children's playgrounds, decking, garden furniture and picnic furniture. Look for alternative timbers such as recycled timber from auction yards, demolition sites of old hotels, wharfs and other old buildings.
Another interesting wood product is hardwood decking tiles. They come in several sizes and are locked together with joiners. They can be laid on level surfaces such as gravel, tiles or on concrete. Combine them with pebbles for a variety of patterns or use on balconies and small courtyards to create an interesting feature.
ModWood is an alternative to timber. Manufactured from a composite of non-virgin wood and recycled plastic, it is maintenance-free. Recycled plastic milk bottles are used in its manufacture. At first, it has a glossy look then weathers to a natural finish. There is no need to seal or stain as it is water-resistant and comes in three colours of redwood, tallowwood (a sandy colour) and silver grey. Joists and beams can be either wood or steel.
Mainly used for industrial walkways and platforms, steel grating has moved into the domestic sector. An interesting development from Weldlok called Barefoot Grating is a clever alternative for fire-prone areas. Steel grating can be used at ground level with a layer of coloured stones underneath or as a walkway between pavilions. On higher decks, plants can be grown underneath as light filters through the grating. Weldlok comes in galvanised steel but you could have it powder-coated to a colour of your choice. Not necessarily noisier than other decking materials, it will make a clang rather than a thud if something is dropped on it. As it has not been used in many domestic situations, it is necessary to check with councils whether it would be regarded as a permeable structure.
Fibre cement sheeting is useful for fire-prone areas or jobs where the look of paving tiles is desired. It can also be painted with paving paint for a durable finish. Fibre cement is termite proof, does not rot or burn but does need waterproofing with a sealer or paint. It is sold by timber merchants.
There are many products on the market for sealing and preserving wood. These include decking oil, sealers and varnish. However, every two years the wood needs cleaning to remove a grey build-up of weathered timber. Remove this build-up by washing with a cleaning product such as sugar soap or wood cleaner, and then apply a sealer or preservative. Varnished wood needs a paint stripper and sanding to remove the old finish. You can preserve wood the old-fashioned way with a mixture of one litre of linseed oil and one litre of turpentine, however, a fungicide should be added to prevent discolouration. Choose the timber finish to suit the type of timber in the deck. Some timbers such as tallowwood and treated pine need to weather before applying the timber finish. 
About the author: Marion Tyree is the editor of Landscape Outlook, the member magazine for the Australian Institute of Landscape Designers & Managers (AILDM). For more information on AILDM visit www.aildm.com.au.
TOP 10 TIPS

1. After delivery, keep timber off the ground and covered from the rain until ready to use.
2. Posts and beams should be checked regularly for signs of wear and tear.
3. Decks raised more than a metre from the ground need a railing.
4. When handling treated timber wear gloves, if sawing, wear a mask and goggles.
5. Apply preservative to sawn areas.
6. Nail guns do not give a good finish.
7. Use proper galvanised nails, punched and filled.
8. All nuts and bolts should be hot-dipped galvanised, plain metal will rust and stain the timber.
9. If the ground is sloped underneath the deck, a layer of gravel will hold the soil to prevent erosion from the rain seeping through.
10. Check to see if the timber needs resealing by pouring water on it. If beads appear the timber is fine, but if the water soaks in it's resealing time.
Read all about it!
If you're contemplating a new deck, Deck Designs by Steve Cory (published by Creative Homeowner Press, distributed by Bookwise International, rrp $32.95) is a good resource to have on hand. This comprehensive decking guide covers the full gamut of topics, ranging from how to decide on a design, tips on identifying uses for the structure and common building themes and variations. Showcasing 30 professionally built structures, Deck Designs provides design ideas for everything from railings, benches and shade structures to steps and planters. It also provides advice for those remodelling an existing deck.