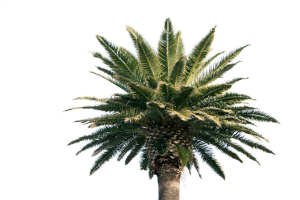 Grab a drink, walk into the tropical-style garden you've created and get away from it all
Story: Kelvin Carlson, MAILDM
Photos: Glenn Weiss
Many of us have travelled to Bali and other locations in tropical Asia and have been seduced not just by the natural landscape, but by the wild jungle-like built landscapes of the hotels and resorts. No-one who has ventured to this part of the world has not been moved by the sweet perfume of frangipani on a balmy summer evening or the smell of the earth after a tropical afternoon downpour.
I can recall my first time wandering around the beautiful gardens of a resort in Bali and being utterly amazed by the lushness, the in-your-face colours, and the heady fragrances of the different flowers. It was all so exotic.
Can we have lush-looking, tropical-style gardens in our Australian climate — a climate that is becoming drier and drier? Impossible? Irresponsible? Not at all.
We can create the look of the tropics in our own coastal or frost-free areas by being smart about what we plant, and by choosing the appropriate garden décor to set the right ambience. Selecting the right species can create the illusion of the tropics. Once established, these plants can look great with minimal watering over and above what occasionally falls out of the sky.
When designing a tropical garden, it really doesn't matter the provenance of a particular species; what matters is that the textures, colours and shapes of all the plant materials fit together into a harmonious whole. For example, some desert plants look great in tropical gardens, such as Pony Tail palms and spiky agaves.
There are no "rules". If it looks good, go for it. And planting in groups can make a bold statement. Use contrasting foliage and leaf textures, and break up horizontal lines by using plants of different heights: tall palms to provide a leafy canopy and filtered light, medium-sized shrubs for screening and a sense of enclosure, garden beds and pathways flanked by flowering plants and groundcovers in those areas where lawn is not needed and paving not desired.
What follows are just a few possible plant selections. I have chosen them because they are environmentally friendly — most require very little water once established and they rarely get affected by pests or diseases. Google them and see what you like, checking first that the species that catch your eye will grow in your region.
Creating a tree canopy
Canopy trees set the tone for the garden inspired by the tropics and provide wonderful dappled shade. Just a few of the canopy trees you might like to consider include:
African tulip tree: A native of equatorial Africa, this is a stunning tree reaching a height of 25m with a spread of 5m. Masses of large bell-shaped orange-red flowers make for a very tropical picture.
Frangipani: In creating a sustainable tropical garden, what better tree than the beautiful frangipani. A native of Central America and now grown throughout the tropical world, it may reach 4–5m in height and a similar size in breadth. Frangipani is one of the easiest of trees to propagate, striking readily from cuttings. Its flowers come in a stunning array of colours, from the common white-cream to hot pinks, blood red, orange, yellow and various combinations of all the above.
Dragon tree: A native of the Canary Islands, this is an impressive tree but seriously slow-growing. Maybe plant one for the grandkids to admire in its maturity. This tree seems to almost grow in sand and loves extreme-heat hot spots with little or no water once established.
Jacaranda: A traditional favourite, the jacaranda has lovely lacy fern-like leaves and beautiful mauve flowers in November. This deciduous native of Brazil grows to about 10m high by 5m across and loves a sunny spot.
Kentia palm: Hailing from Lord Howe Island, this is one of the most elegant of palms and is tolerant of a wide range of growing conditions. It's also a long-lived palm that looks effective when planted in "groves".
Hong Kong orchid tree: The native emblem of Hong Kong, it produces large white or purple orchid-like flowers in summer. This evergreen grows to around 20m high, has shiny dark-green leaves and likes a full sun position.
Plants for a tropical feel
It doesn't get any more tropical than bamboo. This super-fast-growing grass is excellent as a screen or just to create a lush effect. It needs a lot of water till established, after which it becomes quite hardy if mulched heavily.
Bamboo comes in many different sizes, stem shapes and stem colours but just ensure you only buy the clumping variety or it will invade your property — and your neighbour's.
There are plenty of other plants to add interest and a tropical feel to a garden, including:
Agave: Although a succulent I believe it looks great in a tropical garden as a feature plant or grouped for effect. This is a no-maintenance plant. Seriously!
Bromeliads: Native to tropical America, these colourful foliage plants range from low-growing groundcovers to tall feature plants to "air" plants.
Cordylines: Excellent for providing interesting and contrasting foliage, cordylines come in a wide variety of colours and their long, strappy leaves add interest and movement.
Elephants ears: With its big, fat, lush leaves, this plant just screams out "tropics"! It likes a damp spot and is sometimes prone to caterpillar attack, but that risk is worth it for the effect.
Ginger: The ginger is native to Asia and has lush foliage in greens and creams, although there is a red variety. Great as a backdrop planting as they can reach 2.5m high. Likes light shade.
New Zealand flax: This popular plant has long strap-like leaves in shades of burgundy, bronze, yellow and green. It's excellent when planted in a large group for effect.
Bird of Paradise: This is a shrub of industrial-grade hardiness with tropical-looking flowers. How good is that? It grows to 1.0m high by 1.5m wide.
Yucca: Native to southern Mexico and Central America, these guys make an impressive show en masse, or as a single feature planting. Tough as nails, the cultivar 'Silver Star' is an unusual and attractive variegated variety.
Climbers and feature plants
Nothing says the tropics like walls and structures clad in vines or dripping with seasonal blooms. Bougainvillea, orange trumpet vine, golden trumpet vine and Mandevilla are all vigorous growers and attractive, hardy options. Chinese star jasmine is another popular choice for a softer look.
To draw the eye and add accents of colour or texture, you need feature plants either in pots or placed in prominent spots. The dragon tree and agave (especially the dramatic Balinese agave) are good for this purpose, also cyads and palms such as the Pandanus or the Bismarck.
Grassy plants and groundcovers
Tanika, a seriously hardy form of Lomandra longifolia, is an adaptable fine-leaved grass-like plant that looks fantastic in an understorey mass planting. It tolerates deep shade and either damp conditions or dry. Liriope 'Stripey White' is another good choice when you're looking for a hardy grass-like plant.
If you want a groundcover or lawn substitute, native violet works well in those dark, shady spots where lawn struggles. And who could forget mondo grass for borders or dwarf mondo grass for planting between steppers.
Leafy ferns and foliage plants
Birds Nest fern makes for a bold statement and is quite drought-tolerant. It likes a shady spot and will work well with contemporary tropical gardens or more traditional naturalistic ones. Then there is Blechnum, a fern with a palm-like appearance that will do well in shaded areas and looks great whether in a large pot or planted en masse.
Every tropical-style garden needs colourful foliage plants and we have plenty of lush-looking yet relatively water-wise choices available to us. The list of potential candidates is long and includes the various gingers, Ctenanthe, Stromanthe, Rhoeo and the various philodendron, just for starters.
Then there are the plants that offer both fabulous foliage and amazing flowers, such as the canna lilly.
Adding the decorative touches
Statues and garden art can complement the picture once the garden has been created. Place sculptures artfully at the end of a garden path or half concealed behind lush foliage.
Urn-shaped pots can look particularly effective in tropical gardens, especially in rustic or earthy tones. And they don't necessarily have to live on a patio or pool surround either. They can be placed strategically half hidden behind foliage and can look great empty if they are an interesting shape.
Of course, you can't forget that all-important water feature. Simple stone water bowl, tranquil lotus-covered pond or trickling rock cascade, a water feature is essential for conveying that cool and calming tropical ambience. And if there's room for a pool, why not?
A neat way to liven up a boring paling fence is to attach a roll of bamboo or reed screening. The dark-brown colour works really well in tropical gardens and is relatively inexpensive and easy to install. And if building a shade structure, nothing says "tropics" like thatched roofing.
Add a cane or wicker dining setting, a carved teak garden bench, a colourful Balinese umbrella, a few garden lanterns and a carved stone wall plaque or two and the picture is complete. So get into your garden, get creative and go tropical!
Kelvin Carlson is a horticulturist based in Sydney's Northern Beaches.