With so many new local and international showrooms opening, it is hard to know where to look first.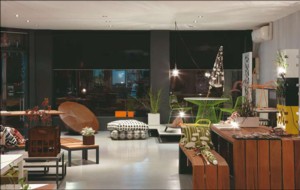 1. Tait — Fitzroy, Vic:
Housed in a corner block with a corrugated iron roof, Australian-made and -owned furniture brand Tait's new showroom is proof that the local design scene is very much alive. Started by husband-and-wife team Gordon and Susan Tait, the company has been designing and producing furniture for 15 years and the new showroom is testament to the brand's growing popularity. With the showroom interior designed by Melbourne-based Ryan Russell, its minimalist symmetry is the perfect setting to display the furniture, art and lifestyle accessories available. With seasonal changes and plenty of exhibitions planned for the new showroom, you had better get down there quickly.
Visit Tait today,
176 Johnston Street, Fitzroy.
03 9419 7484
www.tait.biz
2. Lloyd Loom — Surry Hills, NSW:
Lloyd Loom & Classics has opened the doors of its flagship store in Surry Hills. This second showroom is in the heart of the exclusive furniture hub and showcases both indoor and outdoor ranges. The indoor furniture is indicative of the popular Loom pieces manufactured since 1922 that are still in use today. The outdoor range comprises the full outdoor exposure version of the British Loom as well as ranges inspired by French designer Jacques Pergay. In addition, the launch of the new Loom + Leather range is an international first with perfected traditional and contemporary designs.
Visit Lloyd Loom & Classics' inspiring showroom today
625 Dowling Street, Surry Hills.
1800 044 233
www.lloydloom.com.au
3. Classique — Surry Hills, NSW:
For a showroom experience that is just that little bit different, make your way to the Classique concept showroom and C-ique Design Bar. The showroom and bar feature a modern architectural design and come complete with in-house bar and catering service, combining a unique sensory experience for those who love prestige design and modern cuisine. It was designed to be the ideal space for product launches, seminars and functions, and with the unique Classique range on show, it is definitely worth a visit.
Visit the Classique showroom today,
St Margaret's Urban Village precinct, Bourke Street, Surry Hills.
02 4372 1672
www.classique.net.au
4. At Home — Artarmon, NSW:
Barbara's AT HOME has moved into a fabulous new showroom with 434 square metres of floor space designed to showcase the latest designs in lounges, dining tables, bedroom and office furniture. Also showcasing new fabrics and the latest trends in colours and textures, this showroom embraces the centre's four-star green approach. Creating a mix of classical and contemporary chic, AT HOME will also showcase a design studio featuring Bromley & Tate Interiors, along with a working kitchen, which will become home to many celebrity chefs from across New South Wales to showcase skills and demonstrate what is necessary to design the perfect kitchen.
Don't miss out on viewing At Home showroom,
Home HQ Centre at G4, 1 Frederick Street, Artarmon.
02 9437 5633
www.barbarasathome.net