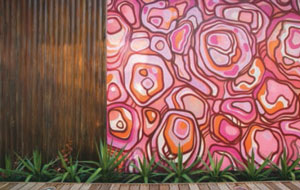 From plaques to water walls, there's a plethora of ways to inject personal style into your outdoor room
Words: Rachel Falzon
Do you have an outdoor wall that needs brightening? Or perhaps you need something to draw the eye to a particular section of your garden? There are so many ways to add colour and interest to an outdoor room — from metal artworks and trellises to wall planters, plaques, clocks and murals.
Adding some form of artwork to your outdoor room will help to create a seamless transition between indoor and outdoor areas. It will also heighten the perception that the space is indeed a separate "room", while infusing your own style and character into it — much like you do with interior decor. With a little imagination, you'll start to see other parts of your outdoor room that can function as walls and house artwork — for example, the facing part of a step can be jazzed up with a mural or piece of art to create an original point of interest.
If you like to keep your wall art green, perhaps a planter is the best solution for you. This can be mounted to a wall and a plant added to create the illusion of the plant becoming an image within the frame.
Rusty-look metal pieces are a huge modern-day trend in outdoor room decor and can be found in local nurseries, garden centres and even some homeware stores. If the budget permits, however, you could seek out a specialist retailer who supplies laser-cut artworks. The images cut from these range from butterflies and birds to buildings. These can be lit from behind to create a stunning feature at night, but are equally beautiful during the day.
Trellises need not be limited to wire or wood. These, too, can be made from metal to create a contemporary look suited to most backyard themes. Weaved or straight, these are wonderful backdrops for climbing plants or even simply placed on their own.
The ambience candle lighting produces is unmatched and, if you are one to enjoy a candle or two lit in the evening, you'll be pleased to know that outdoor candle wall-hangings are increasing in popularity and creativity. They are available styled in many ways, such as within metal circles that look like bubbles or twisted metal lines.
3D pictures are great for those looking to add a touch of colour to their outdoor room. 3D wall art takes months to produce, beginning life as sculptures in a workshop. These come in the predictable outdoor images of butterflies, dragonflies and flowers but you can also find them with frogs, lizards and even kangaroos in interesting scenes.
It's easy to lose track of time when you're out in the garden or relaxing in your outdoor room, but thankfully there are many weather-friendly clocks available. It's a good idea, however, to keep clocks in a sheltered position as moisture can become trapped behind glass or plastic faces and may play havoc with batteries. There are those without glass faces, which will be the best option for any outdoor application. Clocks are available in many materials, such as stone, cast metal (for example bronze or copper), terracotta and wrought iron and, for added interest, you could get a sundial, thermometer or barometer to accompany it.
Water features need not be limited to a freestanding structure and can be built into a wall. At the moment, a big trend in feature walls in general is stacked stone. Turn the wall into a water feature by installing a pump and reservoir; the water running down the wall makes for a striking focal point while the peaceful acoustics of trickling water can drown out street noise and encourage relaxation.
Another water wall option is the rain curtain, which is a row of tiny water streams that create the illusion of rain falling. It can be up-lit by LED lights to form a highlight in your outdoor room. Another water wall option involves water running down a sheet of glass and falling into a trough. Both of these can be used to separate areas and act as walls.
Jazz up a wall and carry on the theme of your outdoor room with a mural. You can have virtually any scene painted on an outdoor wall. Perhaps you need a backdrop for your pool, or perhaps there's a vista you wish you had from your outdoor room but it's unattainable — have it painted on your wall!
It is so easy to enhance your outdoor room by adding interesting elements and artwork to a wall. Those discussed here only skim the surface — and no matter which option you go with, it's sure to instil a unique point of difference to your outdoor space and give it that personal touch.
GET CREATIVE
• For a bit of greenery, opt for a planter box mounted to a wall, with a plant added to create the illusion of the plant becoming an image within the frame.
• Rusty metal pieces are ideal and if budgets permit, consider laser-cut artworks which can be lit from behind to create interesting night-time effects.
• Trellises made from metal will create a modern look. Weaved or straight, they provide a good backdrop for climbing plants.
• For something a bit different, consider a 3D piece of artwork for the wall. It will bring colour and life to any outdoor room.
• For a striking focal point, build a water feature into a wall. The acoustics of water will create a peaceful ambience.
• A mural is a simple way to jazz up an outdoor wall. As a backdrop or as a feature in itself, a mural can continue the theme of your outdoor room.