Graeme Alexander dreamed of creating homes that epitomised the Australian way, and more than 20 years later, he has a whole plethora of homes to show which do just that.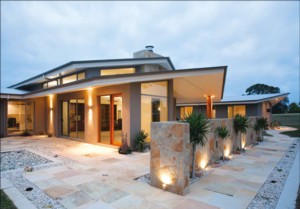 For as long as he can remember, Graeme has always been interested in architecture and home design. He got his first taste of the industry as an apprentice carpenter. His mentor, a traditional builder, offered good advice: "If you do it right then you do it once." A downturn in the industry came in 1980. As a result, there wasn't a lot of work available and he was made redundant, but this didn't deter him.
Instead, it meant a new beginning. "I decided to start my own business focusing mainly on owner-builder renovations, boat sheds and eventually houses," he says. Having the practical on-site experience and an understanding of structure helped him develop his own business in 1987. Graeme Alexander Homes focused on designing creative, innovative but constructible homes. "Nothing is more satisfying than being able to conceive, design and build beautiful homes," he says. For Graeme, specialising in building quality homes was the key, but it was to be more than that. He built the business to follow the entire process from start to finish, and be successful at every turn. With a professional in-house design and interior design team, Graeme Alexander Homes follows the first enquiry right through to the finished product, advising at all levels; from building materials and finishes to the final landscaping.
The company has even gone as far as to implement the use of waste contractors that recycle to try to build its homes with minimal waste. It's this clever approach that has meant Graeme Alexander Homes is a boutique hands-on type building company that doesn't need to rely on high turnover to survive. "As we designer-build, we are able to keep a steady flow of work even in the downturns," remarks Graeme. The industry today is becoming increasingly regulated so there are more challenges placed on the designer, he says. A perfect example comes in the way of the new energy rating system. "Double glazing has become a necessity and along with that comes bigger glass and with that, bigger steel. The result is the ability to design finer-lined houses." While Graeme believes homes are definitely getting larger right now, he predicts a reverse effect for the near future. "Over coming years, technology will develop, enabling us to multipurpose our living areas by opening rooves and retracting walls, which means there will be no need for the alfresco area."
As a direct result of the environmental aspects of building affecting the overall cost, he further expects new homes will be significantly smaller. The constant need to go green while being economical in our design requests will ultimately mean reducing the carbon footprint. Graeme comments on how much he likes to reflect the Australian way in all of his homes. "Once I realise the client's dream, I try to blend it with our natural landscapes. It's Australia's enjoyment of the outdoors that needs to be represented in the home." His advice for someone looking to get into the property market is to go with a property even if it's not quite what you want. "Even if it is not where you may want to live, it's worth cleaning it up and selling it, picking up your small gain and using it to help with your next deposit. It isn't easy building homes but it's a lot of fun and is truly worth it," he advises. So what's next for Graeme Alexander? "I just want to keep on designing and constructing better homes that are efficient and functional."
For more information, contact Graeme Alexander Homes on 03 5975 4561.