It has been said that 'we are what we build'. If this is the case, then much rests on the talent of our architects. Australia is one of the best places in the world for an architect to gain experience; we have the space, the optimism and a population that continues to take chances with new ideas.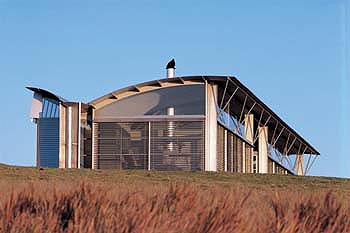 To trace the history of modern Australian architecture is to outline the legitimate endeavour to authentically add value to people's lives. As architectural theories and ideas from other countries have merged with the Australian culture, landscape and climate, our architecture has matured to enhance life, rather than restrict it. Architecture at its best is representative of the people, the culture and the times. If Australian architecture successfully reflects the times, then hopefully it captures the best of the past, as well as saying something about the future. 
Meet three firms of architects leading the charge and adding both style and substance to contemporary Australian life:
Glenn Murcutt:
As one of Australia's most prominent living architects, Glenn Murcutt was the recipient of the prestigious Pritzker Architecture Prize for 2002. Considered the 'Nobel Prize for architecture', this award is a glowing international acknowledgement of Murcutt's unique contributions as an architect and teacher. Basically the biggest gong internationally in architecture, the $US100,000 Pritzker Prize is awarded by the Hyatt Foundation and honours "a living architect of talent, vision and commitment who has produced consistent and significant contributions to humanity and the built environment through the art of architecture". 

The Pritzker Prize adds to the more than 25 awards that Murcutt has already received at home, including the coveted Royal Australian Institute of Architects' Gold Medal. 
Glenn Murcutt has long been acknowledged as a successful negotiator between the old world and the new — between the Australian landscape and our European links and the occupation of this land. While his architecture is not necessarily popular among Australia's mainstream population, Murcutt has significantly defined contemporary Australian architecture to the rest of the world. His houses are completely and utterly simpatico to the land and the challenges of the Australian climate. 
Murcutt's architecture incorporates a variety of materials, from metal to wood to glass, stone, concrete and brick. 
It is, however, the sheer simplicity of Murcutt's designs and the undiluted response to the environment that has attracted the extraordinary level of attention and awards. His buildings are ideologically based as well as being meticulously thought through. Murcutt epitomises the architect's architect; everywhere, architects recognise the absolute integrity of his aesthetic; the untainted rationalism. Murcutt's work is always rigorously responsive to the environment, with everything edited down to its functional (substance) and aesthetic (style) essentials. One of the most famous of Murcutt's designs is the Kempsey Farmhouse on the New South Wales North Coast. This design was considered a turning point in Murcutt's career. 
Known primarily for his private houses, Murcutt recently took on the design of a $24 million eco resort set in semi-wilderness in association with Wendy Lewin. Due to open in mid-2005, the Moonlight Head Hotel is located on 40 hectares of bush on Victoria's spectacular Great Ocean Road. The Moonlight Head Hotel is designed with an environmentally sensitive philosophy. One of the main design features is the positioning of the hotel to capture wind, light and sun. The hotel then uses these resources in conjunction with a thermal energy management program for heating, cooling and lighting. 
Murcutt has become somewhat of an icon and an extremely popular study choice for students, both here and overseas. Other architects recognise the extraordinary achievement of balance and lack of compromise. His work inspires those looking for buildings that are contextually responsive and environmentally aware. His architecture is not driven by formality; rather, it is far more rational in its approach. This clarity enables architects and students of architecture to realise that wherever they are in the world, they too can respond with integrity to their own environment. 
With Murcutt now increasingly spending time lecturing around the world, this can only enhance his status and indirectly that of Australian architecture. The 1985 best-selling publication Leaves of Iron, as well as the recent press coverage he has attracted, have introduced Murcutt to a wider audience. His profile and popularity is partly due to his likeable Australian style, but mostly it is from the appreciation of his work. Glenn Murcutt is an authentic architect responding to his environment, not with ego, but with honesty and integrity. It is for this quality (clearly reflected in his work) that he is so universally admired. 
Durbach Block:
Durbach Block has earned a reputation for unique and progressive architecture. Its principal designers, Neil Durbach and Camilla Block, first came to the wider public's notice when they designed, in collaboration with Nicholas Murcutt, the Amenities Buildings for the Sydney Olympic Games site. 
As well as high-profile commissions, the firm has also won many urban design competitions, including the prestigious RAIA Robin Boyd award "House of the Year" in 1998 for a penthouse on a city warehouse rooftop. 
It was in 2004, however, that Durbach Block cemented its place in Australian architecture by taking out, for the second time, the RAIA Robin Boyd award for residential buildings. This is the top residential architecture housing award that was awarded for Spry House, a dramatic, curving 'S'-shaped house in Sydney's Point Piper. 
Architects Camilla Block and Neil Durbach originally met at Sydney University in 1990 when Camilla was still a student. Some years later they started working together and soon began being noticed for their outstanding work in Sydney and Canberra. According to Neil Durbach, part of their philosophy is to create "architecture that takes risks in a sensitive way". Neil has also credited his first sighting of Sydney Harbour, the beauty, colour and scale, as having had an enormous impact on his work. 
Not surprisingly, the latest Durbach Block award-winning Spry House in Point Piper is set firmly on the shores of Sydney Harbour. The challenge of the site and the unusual final design is testimony to the talent and originality of the Durbach Block team. Instead of predictably building across the site and parallel to the view, with conventional big picture windows, they created an S-shape house where virtually every room has a harbour view. As reflected in Spry House, Neil Durbach rightly claims Durbach Block has "grown in confidence in spatial exploration" as well as expressing "a renewed interest in materiality and a commitment to sensitive sustainability". 
Conscious of the numerous oversized mansions that now almost crowd and impose their obvious man-made shapes over the harbour foreshores, Durbach Block has tried to capture the essence of the harbour. The north-facing large family home's challenge was always its steep site and, ironically, the view, that threatened to virtually overwhelm any architectural intentions. As fans of Glenn Murcutt, "for his poetic rigour", Durbach Block has expressed in Spry House a playful sense of "going with the flow". This is evident in the watery lines, coupled with an intelligent approach that is intensely aware of the majestic Sydney Harbour views. 
A dynamic architectural flourish, Durbach Block's Spry House makes an important contribution to Australian contemporary architecture. It is a consummate example of a new interpretation to an old challenge — space. It also addresses how both the horizontal floorplan and the vertical cross section can seamlessly and gracefully integrate. It takes genuine talent to combine these irregular curves, not just as a diagram on paper, but elegantly and practically to bring the design to three-dimensional life. 
The first time Durbach Block won the RAIA Robin Boyd award 'House of the Year' was in 1998 for their design of a two-storey penthouse known as The Droga. Confidently posing on the rooftop of an inner-Sydney warehouse, The Droga apartment is surrounded by neighbouring uninspired office blocks. 
The shimmering, zinc-clad wall attracts the sun, the exterior and interior surfaces performing as a daily architectural lightshow. Clad with zinc, beneath a metal deck roof and placed on the roof of an old Surry Hills warehouse in Sydney, the Durbach Block design is a bold union of old and new. 
The Droga demonstrates how the imaginative use of a rooftop of an urban warehouse can create an enchanted dwelling space among the hard edges of the inner city. The finishes are simple and the apartment effortlessly merges spaces. The living room flows into the dining room, which in turn seamlessly links to the kitchen, and its roof steps up to accommodate a second level, culminating in spectacular north-facing city views. 
The work of Durbach Block is not limited to residential buildings. Their collaboration with Nicholas Murcutt on the Olympic toilet blocks resulted in a bold design and a lot of public attention. In stark contrast to the usual gloomy brick toilet blocks, this design is huge, light and colourful. 
Amongst other commissions, Durbach Block is currently working on a floating outdoor museum at Sydney Olympic Park. You can be sure the Durbach Block creation will imaginatively capture the essence of the intent, as every Durbach Block project to date has. 
Whether it is a harbour foreshore mansion, an inner-city penthouse or a public toilet block, the Durbach Block philosophy is evident: to capture the spirit of the setting.
Christine Vadasz:
After graduating in 1970, Christine Vadasz worked briefly for the late Bill Lucas, who was very influential for a lot of young architects in Sydney at the time. According to Vadasz, "Bill had an holistic environmental approach to all aspects of design and building and he changed my whole attitude to architecture." 
Christine Vadasz went on to commence private practice in 1974 when she located to the then quaint small coastal town of Byron Bay on the far north coast of New South Wales. 
A keen surfer and holding a life-long fascination with coastal environments, Byron Bay was the place where, according to Vadasz, a true merging of architecture and ecology could occur. As Vadasz recalls, "As soon as I could, I headed for the North Coast of New South Wales and I have stayed there ever since. At the time, there were very few architects practising in the region and I saw an opportunity to do architecture my own way with a strong environmental approach to residential architecture — as well as allowing me to build up my surfing skills." 
Christine Vadasz's ideas on environmental design have developed through her work and practice during the past three decades, concentrating mainly on low-rise residential and environmentally sustainable tourist projects. "I favour buildings with wide verandahs, covered outdoor living areas, large roof overhangs and increased natural ventilation, all combining to encourage an easy, outdoor lifestyle," she says. 
One of the best examples of a Christine Vadasz-designed development is the Bedarra Bay Resort off the North Queensland coast. Completed in 1987, the resort earned the Christine Vadasz practice significant recognition including a number of architectural awards. 
For Vadasz, the past four years "have been spent battling to get planning approvals for small-scale tourist developments in Byron Bay. Even though successful, I have to say that I find battling bureaucracies very exhausting and I am glad if there is a bit of downturn in development for a while". 
According to Vadasz, "In 2005 I am on a beach house design phase once again and it is refreshing to be dealing with enthusiastic owners who are more interested in life change issues than property development. The difference with the current beach house is that clients see them as both permanent and semi-permanent residences. I guess people have had some of their happiest memories from holidays at the beach and want to preserve that feeling in their new beach homes. Many intend to work from there or to commute to the city." 
Vadasz adds that, "Easier accessibility in terms of cheaper air fares and telecommunications has made remote coastal living more viable and more people are taking up the option of partial retirement to the NSW North Coast and Queensland. I have led this life for many years so I guess people seek me out because of that experience as much as for my design skills. 
"I built my first home in Byron Bay in 1974/75 and I started my architectural practice here soon after. I guess I have worked in my own way since. These early influences have almost entirely shaped my design approach and my practice of architecture. Building mainly in hardwood timber and often on steep sloping blocks, I sought to work the client brief with the topography and materials into a seamless organic expression of the microenvironment of the particular block and its environs. Setting the buildings lightly on the land, I try to draw out what I would call the hidden emotions of the site and it is this aspect of my design approach which I believe appeals especially to those seeking respite from the city. 
"Later on, when I designed the Bedarra Island Resorts in the mid-'80s, I took a similar approach, scattering the buildings through the forest, perching them on large boulders, on cliffs and amongst the tree tops. It is organic but it was also a distinctly romantic and unashamedly emotional approach to architectural design which most male architects would be frightened of revealing. I am entirely and unapologetically female in my design instincts and in a male-dominated profession that has not been a bad thing for me at all." 
Vadasz says many of the modern residential designs we currently see in magazines are not really contemporary but are throwbacks to the 1920s. "Buildings should be shaped to people's needs and the landforms that are not necessarily like a shoebox," she explains. "I have been fortunate to work through one of the most exciting periods in Australian architecture. Australian designers have impacted worldwide and we are recognised as a relatively young, dynamic design country where design expression is still permitted and encouraged in both the private and the public arena. A good example is Melbourne where, for almost 20 years, there has been one of the more lively design communities; it is one of the more design-conscious cities in the world." 
Vadasz believes that Australian architects have embraced new technologies and new materials wholeheartedly ahead of other countries. In contrast, architects working in many European cities can only look with envy at the sites Australian architects are offered and the solutions we can come up with. "Older cities have significant built heritage values that almost always take precedence over new design aspirations," she says. "In Australia these days, we even invite their best architects out here and give them some of our best sites to work with, a sure sign of the confidence and outgoing vigour of our profession, rather than of the colonial obsequiousness it used to be. 
"However, I am afraid that ever-increasing regulations and the requirements of the insurance industry are seriously impacting on design and on the practice of architecture in a major way. This issue is only now just starting to emerge in Australia as it has previously in the US and Europe. Even in a period with very low inflation, construction costs have sky-rocketed in the past three years
and much of the increase is coming from the cost of meeting compliance with new regulations. 
"Almost each month we receive notice of new changes to the rules and regulations that govern construction, whether it is planning, bushfire, energy, accessibility, workplace safety or building code issues. It is never-ending and it is slowly but surely changing the way architects and builders approach their work — in my opinion, not always for the better. In the end, over-restrictive regulation will inevitably dampen architectural aspirations (and European cities are proof of that) as conformity with the rules takes precedence over good intuitive design. Look out for many more square masonry buildings with small window openings and lots of concrete decks! They will meet the regulations, but would you want to live in them?" 
During the past two decades, Christine Vadasz has been guest lecturer on environmental design at the major Australian architectural schools and at various institute conferences. According to Vadasz, "Australians have a unique character and lifestyle and this is reflected in their buildings; light, open and easy going. 
Many of our architects are from diverse cultural backgrounds and this is reflected more and more in the way they address design issues. We may look to Europe and America for ideas but usually it is the landscape here which is the most important and vital influence on design. This will remain so, irrespective of any short-term trends." 
"My buildings are organic creations responding to the form and contours of the land. Some spiral like a wisp of smoke into the air, whilst others tuck into the ground and hide beneath the tree canopy. I like to believe that people can move through these buildings as though they are themselves walking through the landscape."