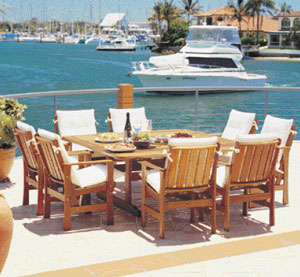 Superior style and craftsmanship combine to create outdoor furniture that will last
Choosing furniture for your outdoor room can be fun but there's a serious side, too. Sure, it needs to be stylish and comfortable but if you want it to last the distance, quality materials and craftsmanship are essential.
If you're looking for style and quality, look to Ausgum, a wholly Australian owned and operated company based in Queensland. The Ausgum manufacturing plant is one of the most modern in the country. Precision is prized and old-style superior craftsmanship is the order of the day, typified by the use of mortise and tenon joints and stainless-steel fittings.
Few timbers in the world boast the strength, durability and sheer beauty of Spotted Gum, a unique Australian Eucalyptus hardwood, renowned for the richness of its grain and colour. It's particularly well-suited for outdoor furniture, which is why it is Ausgum's timber of choice.
Ausgum's environmental policy ensures that the timber used in its products has been sourced and responsibly harvested from internationally certified resources. This means no precious rainforests have been destroyed. Also, the Ausgum manufacturing process uses shorter and thinner pieces of timber, which would otherwise have been "waste", allowing what was previously a fence paling or off-cut to be part of a high-quality furniture item. With this commitment and innovation, an impressive additional 30-35 per cent of the log can be utilised.
Award-winning Ausgum furniture is designed to enhance the outdoor living and entertaining experience. With an international design aesthetic and absolute dedication to quality, Ausgum creates products that combine style with functionality. This low-maintenance, hard-wearing furniture is meant to be used, not just admired.
Customers worldwide can now browse the complete range of Ausgum products and buy from the company's recently launched online store. The online store is easy to navigate and provides a simple ordering service allowing you to browse at your leisure.
Ausgum is not only found throughout Australia in places such as Kiribilli House and the Hamilton Island Resort, but in niche markets around the world including the United Kingdom, Italy, Cyprus, Egypt, Israel, Bermuda, India and the United States.
This global product is to be found wherever environmentally discerning purchasers appreciate total quality, design and durability.
AUSGUM
Freecall: 1800 077 200
Fax: (07) 5483 9772
Website: www.ausgum.com