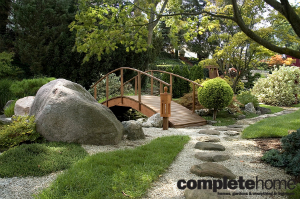 A luxuriant, plant-filled front garden with a distinct difference
Story: Karen Booth
Photos: Patrick Redmond
For most of us, our backyard is where we entertain or relax with family. In this instance, however, the front garden is where you'll find the pool, spa and outdoor dining area. But this doesn't mean that privacy has been compromised because the large north-facing garden has been screened from the street.
The grounds of the family residence, built in the 1950s, were revamped a few years ago at the same time as the home underwent a major renovation. This meant that all of the structural and electrical work — including pool plumbing, gas heating, new drainage and internal switching for the garden lights — had to be staged to fit in with construction work on the home.
Says landscape designer Scott Brown: "The owners' first thought was to introduce a Mediterranean motif, but as the existing garden was dominated by large, well-established camellias, birches, rhododendrons and azaleas, I didn't think that many of the existing plantings would be compatible with such a 'dry' garden style. Instead, I proposed an approach that would make it possible to retain a significant number of the established plants and trees, while ensuring the new-look garden would have a lush, relaxed ambience."
The look of abundance was achieved through the use of flowering hedging plants such as the very versatile Myrtus luma (Luma apiculata), the hardy trailing perennial Convolvulus mauritanicus, and a selection of Hebes, noted for their attractive foliage and copious flowers. These new plants were interwoven with the existing rhododendrons, camellias and azaleas to achieve an easy flow and a very calming interplay of subtle foliage variations.
The repetition of gabled pergolas has been used to link the house with the pool and spa area, a connection further enhanced by painting the decorative cement sheet cladding screen, which functions as a backdrop to the pool and spa, the same colour as the render used on the house.
Picking up on this colour, the random slab paving is of blue-grey Mintaro slate. This long-lasting stone was used for the entrance path that wends its way across the garden and links the car parking area to the front door. As a complement to the slate paving, concrete pavers in light and dark grey feature at the front entrance, in the barbecue area and around the pool.
From the mosaic pool and spa tiling to the luxuriant hedging to the verdant lawn, the look is green and serene, with the grey tones of the paved areas adding an air of understated sophistication. To throw the restrained soft and hard landscaping palette into stark relief, bright-red pots have been used as punctuation points.