Situated on the Mornington Peninsula in Portsea, this blissful design by Port Phillip Pools sits unobstructed from the sun. The design captures the best of the Australian weather and includes everything you would want for your backyard pool.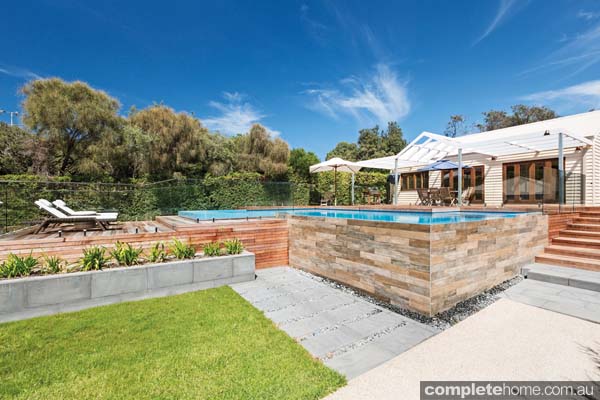 Provided with landscape architectural photos, Port Phillip Pools, in conjunction with the owners, created a design that is both functional and aesthetically pleasing. The finished design is a place the family can appreciate for entertaining and family leisure.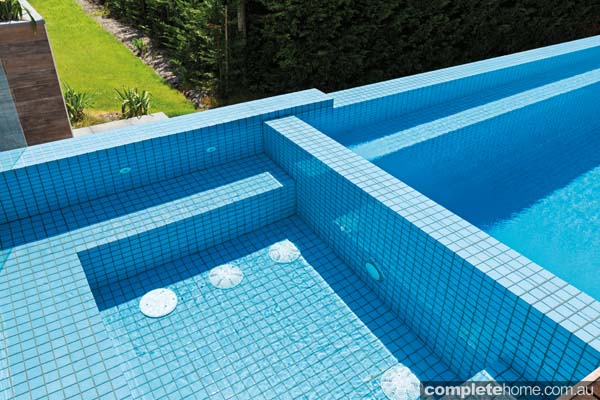 The swimming pool is a spacious 9.0m x 4.0m rectangle with a 4.0m² spa offset. Two infinity edges on two sides of the pool, along with a fully tiled external wet edge, create a smooth modern line throughout the entirety of the design. In keeping with the rustic beach surrounds, the exterior of the wet edge wall is finished with timber-grain tiles. Pale blue-glass tiles line the inside of the pool and reflect the blue sky.
A touch of luxury is added with three-sided seat, six spa jets, floor blower and Astral Viron pool and spa heater with remote control. An Astral Viron CL4 cartridge filter ensures easy maintenance.
Timber decking surrounds the pool, with large planter boxes complementing the existing style of the home. A glass fence frames the pool to provide safety.
Port Phillip Pools was started by Ross Fuller, who has been in business now for more than 35 years. The company works predominantly on pools for client holiday homes on the Mornington Peninsula from Portsea to Mt. Eliza, but is often asked to build in inner areas of Toorak, Armadale and Brighton.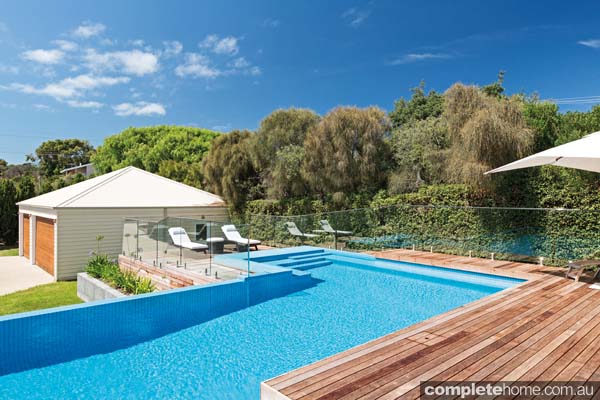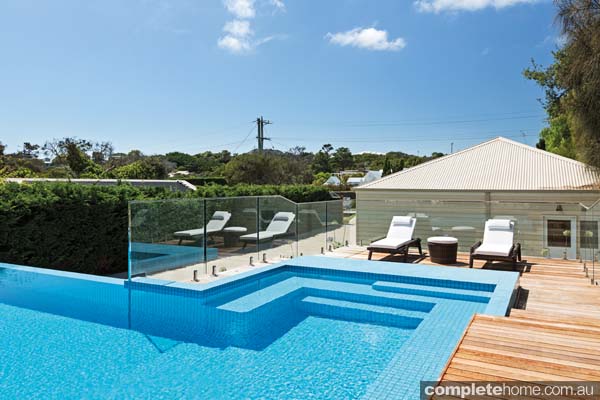 Ross Fuller takes pride in the construction process of each pool, working closely with individual owners to ensure every detail is covered. An initial onsite obligation-free quotation is available where ideas and expert recommendations are offered. Efficient timeframes are set, budgets met and constant personal consultation provided during the entire construction process. After the completion of a pool follow-up, services are offered with full servicing by Port Phillip Pools.
At a glance
Heating systems: Astral Viron 450MJ Gas Pool and Spa Heater; Eureka black solar collector c/w pump and digital control
Filtration: Astral Viron CL4 cartridge filter
Tiles: Pale-blue glass tiles
Lighting: Six Spa Electrics Wet Niche under-water lights
Fact sheet
Port Phillip Pools
Address PO Box 457, Sorrento Vic 3943
Phone 0412 228 602
Mobile 0412 228 602
Email portphillippools@bigpond.com
Originally from Poolside magazine, Volume 43