Of elegant design, this sleek swimming pool cuts a contemporary figure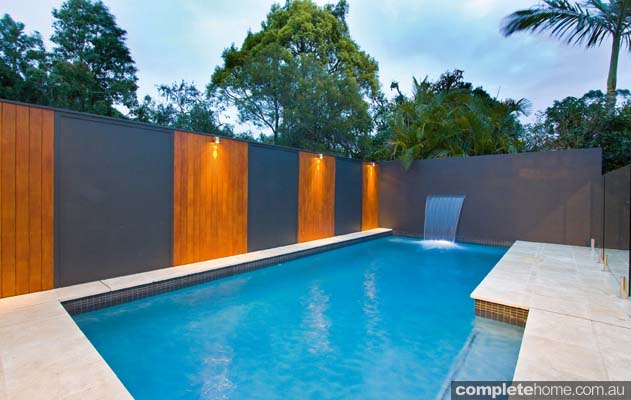 Prioritising stylish, elegant and clean design, the owners of this Brisbane home craved a swimming pool they could enjoy all year-round, without needing to dedicate too much time to maintenance. Designed and built by Queensland Family Pools, the modern pool has become the focal point of the family's outdoor entertaining area.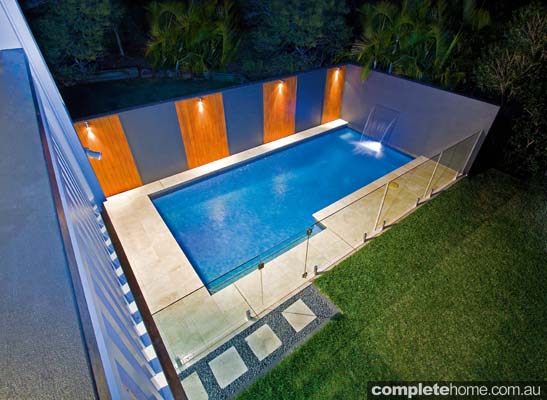 The brief was to design a stylish, family-friendly pool with contemporary surrounds and to make optimum use of the available space. With this in mind, the 7m x 3.5m pool was built so that it flows on from the covered entertaining area at the rear of the house, creating a cosy yet contemporary inner-city oasis.
Only quality finishes and fittings were used. For the interior, Queensland Family Pools chose a finish from The Blue Glass Pebble Company in the colour Pacific while for the waterline, the company opted for modern black tiles. For the pool lighting, energy efficient PAL LED lights, which are operated via remote control, were selected.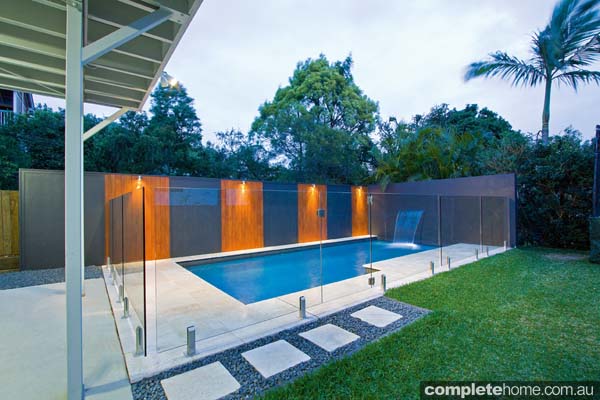 A block wall with a sheer-descent water feature was built at the far end of the pool. This wall hides the filtration and sanitation system and doubles as a pool fence. The boundary wall, with its inset timber panels, also does double duty as a pool fence while on the other two sides, fully frameless glass fencing ensure uninterrupted views from the entertaining area to the pool.
The pool surrounds were paved in 30mm tumbled, unfilled travertine providing space for poolside lounging. The same stone was used for the stepping-stone path that leads from the entertaining to the pool gate. The pale tones of the paving contrast with the rich green of the adjacent lawn where the children happily play.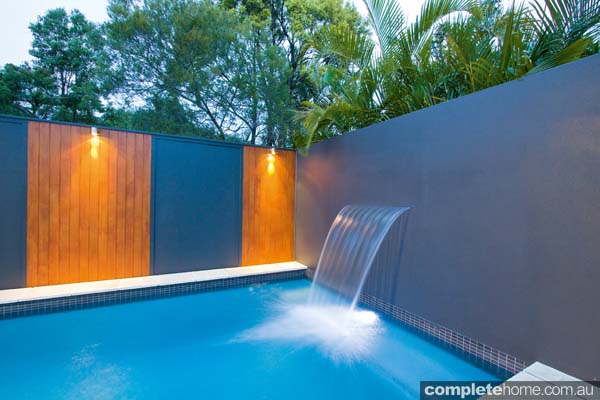 Queensland Family Pools, which installs firstclass pools throughout Brisbane, was established 23 years ago by owner and director, Chris Nicholls. The company's philosophy is to build the best pool the customer can afford, using the best-possible materials and equipment and the latest technology.
Project details
Pool design and construction by Queensland Family Pools
13/388 Newman Road, Geebung Qld 4034
Phone (07) 3216 5004
Mobile 0401 695 333
Email sales@queenslandfamilypools.com.au
Website queenslandfamilypools.com.au
Photography by Glenn Weiss
Originally from Outdoor Design & Living magazine, Volume 30