Simple clean lines and contemporary design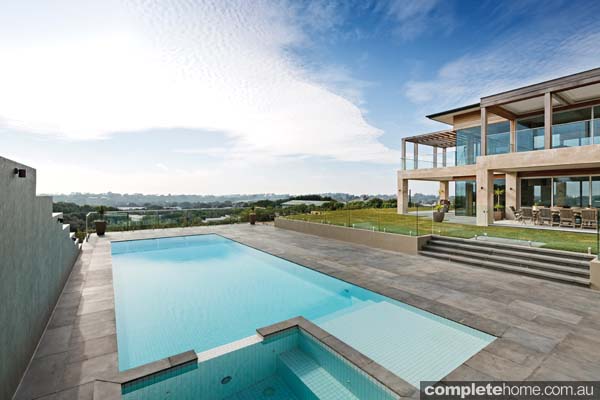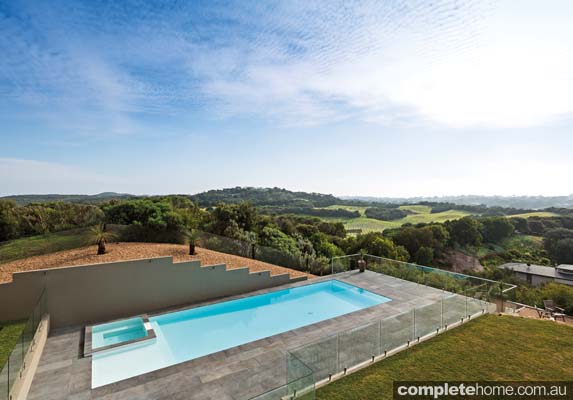 Overlooking the lush green landscapes of Portsea and Sorrento, this pool is designed to provide a mesmerising space for its swimmers. With an incredible infinity/wet edge that brings the water level to meet the paving, the overflowing water runs into the unique gutter system, cleverly concealed by the coping to create a streamlined surface look.
The large 15.5m x 5.5m pool with spa was designed and built by Ross Fuller in conjunction with the owners. The aim was to incorporate a pool that would enhance the existing home and embrace the stunning views.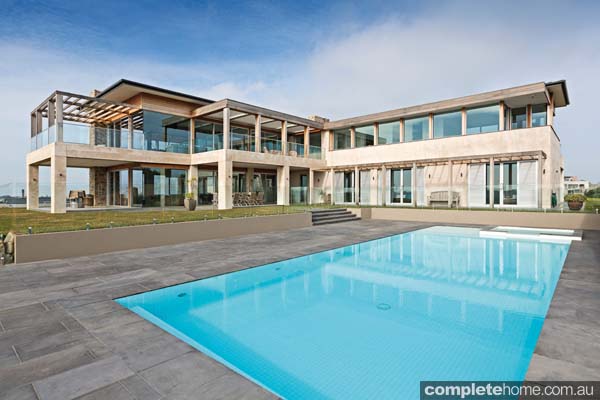 Designed also for exercise and entertaining, the pool was long enough for lap swimming. Frameless glass fencing ensures an unobstructed sight of the view is maintained.
The pool itself is simple in style, incorporating Coulson 60mm white ceramic mosaic tiles on the interior. Heated with an Astral Viron 450MJ pool and spa heater, the water is kept to the most ideal temperature for maximum usage.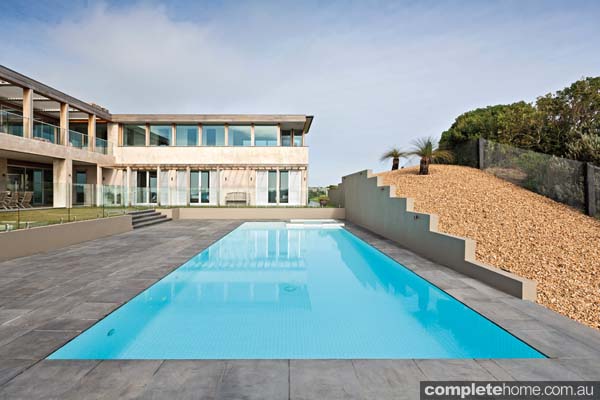 Honed bluestone pavers surround the pool, clearing a space for entertaining or deck chair lounging. The colour scheme blends with the existing house, binding the two areas of the home together as if built for each other.
Port Phillip Pools was started by Ross Fuller, who has been in business for more than 35 years. The company works predominantly on pools at client holiday homes on the Mornington Peninsula, from Portsea to Mt. Eliza, but is often requested to build in inner areas of Toorak, Armadale and Brighton.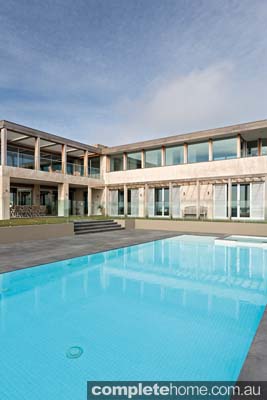 Ross Fuller takes pride in the pool construction process, working closely with each individual owner to ensure every detail is covered. An initial onsite obligation-free quotation is available where ideas and expert recommendations are offered. Efficient timeframes are set, budgets met, and constant personal consultation provided during the entire construction process. After the completion of a pool, follow-up services are offered with full servicing by Port Phillip Pools.
At a glance
Heating: Astral Viron 450MJ pool and spa heater
Filtration: Astral Viron CL6 cartridge filter
Coping: Honed bluestone
Tiles: Coulson 60mm white ceramic mosaic tiles
Pavers: Honed bluestone by Stone and Tile Mornington
Lighting: Six Spa Electrics LED lights
Fence: Frameless glass
Fact sheet
Port Phillip Pools
Address PO Box 457, Sorrento Vic 3943
Phone 0412 228 602
Mobile 0412 228 602
Email portphillippools@bigpond.com
Originally from Poolside magazine, Volume 44