Enjoy the pleasure of woodfired cooking in the comfort of your own backyard.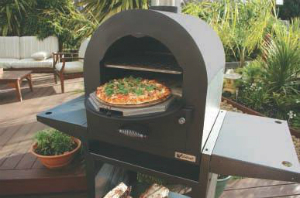 Designed with the backyard chef in mind, the Wildcat 6000 is more than just a great pizza oven. Based on the proven design of today's high-performance wood heaters, the Wildcat woodfired outdoor oven is portable, highly efficient, easy to light, clean burning and economical.
Thirty minutes is all that's required to heat the oven and it's ready to use. Gourmet pizza, a roast dinner, fresh bread, cakes and scones, smoked fish; the possibilities are endless with a Wildcat 6000 woodfired oven.
Pizza bases are browned to perfection thanks to the unique design of the firebox, which ensures even distribution of heat regardless of how you load the fire. What's more, every Wildcat woodfired oven is supplied complete and ready to use — no assembly is necessary other than fitting the provided flue pipes and cowl — and this only takes a couple of minutes.
This quality product, made in the Wildcat workshop in Dandenong, Victoria, is as aesthetically appealing as it is practical. Of sleek design, the Wildcat 600 is available in either a metallic black or stainless-steel finish, ensuring the oven fits effortlessly into any outdoor area.
Designed for ease of use, it features an adjustable dual-action smoker that allows you to control the amount of smoke inside the cooking oven. This unique dual-slide control can be slid open or closed with ease while your food is cooking, allowing you to adjust the flavour whenever you like.
Made in Australia using Australian steel, the Wildcat 6000 stands 690mm high (plus the flue but excluding the trolley), 600mm wide and 580mm deep, which means it can fit easily onto any deck or patio. Capable of catering for a good-sized gathering, the cooking oven is 230mm high, 400mm wide and 500mm deep, comfortably accommodating two large 15-inch pizzas or a roast and vegetables.
If you love cooking and entertaining outdoors, the Wildcat 6000 is the ideal choice for your new outdoor kitchen or the perfect addition to your existing alfresco area. For more information, contact the Wildcat Industries.