Enjoy the experience of immersing yourself in water with nothing but lush greenery around you and the sky above to cover you.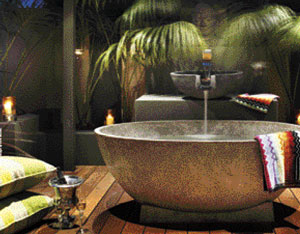 Written by Natalie Raad.
With many indoor rooms now calling the outside home, such as kitchens and living and dining rooms, it was only a matter of time before the bathroom became part of our outdoor spaces.
The installation of an outdoor bathing area brings a unique feeling of relaxation to the outdoors. An outdoor shower or bath provides a place in your outdoor room where you can enjoy the movement of water on your body, surrounded by the plants and gentle breezes of the garden. This experience can be enjoyed in the day or night, and in all seasons, providing you with a personal retreat in your very own outdoor room.
An outdoor shower can be incorporated into most outdoor rooms and provides a practical function — a tailored location for rinsing off after being in the pool or spa, or for cleaning up after working in the garden — preventing the need to tiptoe through the house on your way to the bathroom.
As well as being practical, an outdoor shower also adds to the atmosphere of outdoor living. Not only will showering outside enhance your overall outdoor experience, there's also something quite amazing about immersing yourself in water with only the sky to cover you.
The beauty of an outdoor shower is you don't need a lot of space. With sufficient high walls, a shower head and adequate drainage, you can be showering outside in no time. And for those who prefer a bit of enclosure, incorporating folding glass shutters or upright screening plants will help deter prying eyes. For screening, opt for a natural material that's tactile and welcoming against bare skin.
To ensure your outdoor room caters to the needs of an outdoor shower, there are a few practicalities that need to be addressed. The floor of the shower area must be able to withstand water and prolonged periods of dampness. Treated timber is a suitable option. Not only does it feel good underfoot and provide an adequate grip, the spaces between the timber slats will allow good drainage.
Pavers are another suitable flooring option for shower areas. Provided they have a matte finish and are slip-resistant, pavers can help create that real "indoor bathroom" feel. Porous stone can also be used as long as it is in a position where it can dry in the sun.
When it comes to creating a shower area, it's important to consider the flooring of your outdoor room first. If polished or honed stone is your main floor surface, you'll need to completely separate your shower area from the rest of your outdoor room to ensure water doesn't accidentally drain into the living area and become a slippery hazard.
Spas have become very common in outdoor rooms and tend to go hand in hand with swimming pools. However, if you're looking to create a more "bathroom" atmosphere in your outdoor room, why not install a bathtub instead?
Can you think of a better way to bathe than by soaking in a tub with nothing but the stars above you and greenery around you? And if you have a view from your outdoor room, positioning the bathtub so you can enjoy the magnificent vista will only add to your overall outdoor experience.
Unlike the outdoor shower, the bathtub is generally more of a personal item. It's a place of pure relaxation, where you can sit and soak, allowing time to pass without a care. The stillness of the water also allows you to take in the natural surrounds and the movement of the foliage. Add some subtle lighting at night and scented candles or incense burners and you've got your very own spa retreat. And if you want a truly indulgent bathing experience, sprinkle aromatic flower petals on the surface such as rose or geranium petals, or frangipani.
Free-standing bathtubs also make a great design feature in outdoor rooms. When not in use, they provide a unique focal point, with their presence suggesting a feeling of relaxation and calm.
Privacy is an important issue when it comes to outdoor bathrooms, as the experience of showering or bathing outside will only be enjoyed if you feel relaxed and at ease in your outdoor room. With the right design considerations and screening from plants and structures, you can enjoy your outdoor bathroom without challenging your comfort zone.
For privacy and to truly appreciate your natural surroundings, a green shower screen may be the way to go. Opt for water-loving plants that thrive in moist atmospheres and enjoy the lush greenery while you shower. A dense stand of bamboo will also act as a great screen to protect your privacy in an outdoor bathing area.
The inclusion of an outdoor bathing area, whether with a shower or bathtub or both, brings added value to your outdoor room by providing you with a personal and intimate connection to the space. Outdoor bathrooms reinforce the notion of the outdoor space as an extension of our homes and enable us to enjoy our outdoor rooms in a more personal way.
TIPS FOR YOUR OUTDOOR BATHROOM
• Ensure the floor of the shower area is able to withstand blasts of water and prolonged periods of dampness.
• If choosing pavers for your outdoor bathroom, make sure they have a matte finish and are slip-resistant.
• To preserve water, opt for an AAA-rated water-saving rose, which consumes 52 litres less water during an eight-minute shower than a conventional shower head
• To feel more enclosed while showering, consider folding glass shutters or a mass of upright screening plants. Water-loving plants that thrive in moist environments will make for lush greenery.
• If your outdoor room has views, positioning the bathtub so you can take in the magnificent vista will enhance your outdoor bathing experience.
• When not in use, bathtubs make a unique focal point, so consider their placement in the overall design of your outdoor room.