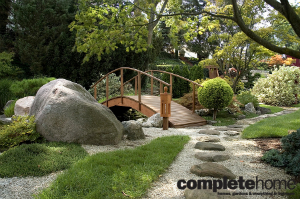 When you visit the Gold Coast's newest outdoor living emporium, prepare to be amazed

Sophia's Garden is now open. It's also now designing, now sculpting, now supplying and now putting the final touches on its extensive permanent on-site gardens.
At Sophia's Garden you'll discover a unique combination of boutique nursery, outdoor design centre and gift shop. The owners have more than a decade of experience designing and creating designer architectural garden ornaments including columns, fountains, statues, pots and urns, benches, outdoor dining settings, lion sculptures, garden lighting, gates, fencing, ornaments and much more. Their mediums include cast iron, cast stone, marble, sandstone, bronze, Italian travertine, fibreglass and glass fibre reinforced marble dust.
This is not your usual nursery. Sophia's Garden is the culmination of the owners' life-long passion to offer a unique retail experience showcasing timeless, top-quality, one-of-a-kind garden products in permanent garden settings, The pre-existing nursery has been extensively renovated with a new gift shop showroom built and stocked with more than $1 million dollars of new designer products.
Sophia's Garden is well-placed to become one of the Gold Coast's finest boutique nurseries. Specialising in water plants, you'll find water lilies and sacred lotus among the tropical displays and you'll find flowering perennials throughout the French and Tuscan-inspired gardens. Plus, Sophia's caters for those who have a courtyard rather than a conventional garden. They'll help design your courtyard or patio using your choice of architectural, edible or floral plants and decorative elements.
Apart from the one-of-a-kind products available at Sophia's Garden there is a special emphasis on service. In the world of large conglomerates and faceless companies Sophia's is determined to forge a reputation for helpful informative service. With three horticulturalists on-site, a landscape designer and more than 100 years combined experience in the nursery industry, Sophia's staff are ready and willing to serve. Not only that, they will inspire you.
Additionally if you're in the trade, Sophia's can wholesale supply based on minimums. You can benefit from their original items and extensive network of international sources — from Europe through the Orient and even from the east coast of the USA.
Sophia's Garden has arrived so come and experience this lifestyle garden centre for yourself and let them help you design and create a unique outdoor space for your home or business.
SOPHIA'S GARDEN
161 Beaudesert-Nerang Road
Nerang Qld 4211
Tel: (07) 5578 2676
Website: www.sophiasgarden.com.au