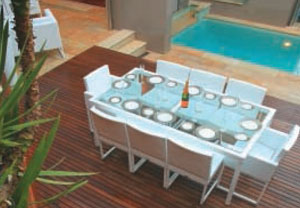 A little can mean a lot when turning a small backyard into an entertainer's delight
Space, or the lack of it, need not be a barrier when it comes to designing an outdoor room-style entertaining space — all you need is a little creativity.
In this rear garden, the aim of the design (a collaborative effort between Mike Cass of Design-it Landscapes and Ruth Meli of Meli Studio) was to cut the clutter. "Although we only had a space of 90 square metres to work with, we found ample room for a pool, raised deck, fixed seating, a generous entertaining area, a sleek stainless-steel barbecue and focal points, including an Asian-influenced water feature," says Mike Cass.
"The pool was installed underneath the windows that look out from the kitchen/living area and the lounge room of the two-storey home, providing the family with a wonderful view from both interior spaces," he continues. "By choosing colour and size with care, a pool can be made to look more like a water feature so it becomes as one with the landscape, rather than a dominating element."
The raised hardwood deck and in-built timber seating overlook the pool and provide the family with what has become a backyard essential: an outdoor area for cooking, dining and entertaining. The fixed timber bench-style seating measures five metres long and comes in handy for large parties.
White sandstone was chosen for the paving, partly because it is the perfect contrast against the blue of the mosaic-tiled interior of the pool and the rich tones of the hardwood deck and partly because lighter colours make a space seem larger. The same principal was applied to the selection of the dining and lounging furniture, hence the choice of crisp white.
To ensure an unobstructed view across the backyard, frameless glass fencing was used around the pool.
The raised planter that runs along the top of timber wall gives the backyard a sense of greater depth. It also places the plants at standing level and allowed for the installation of the fixed seating below with its in-built planter boxes at either end. Back-lighting turns the raised planter into a focal point at night and joins with the deck, pool and garden lighting to give the whole area an appealing ambience at night.
"Bi-fold doors complete the package," says Mike. "They allow increased light into the interior living spaces and enable an easy transition from indoors to out. They also make both spaces seem just that little bit larger and a lot more welcoming."
Project details
Landscape design and construction by Design-it Landscapes Pty Ltd PO Box 254, Wahroonga NSW 2076 Mobile 0409 093 346 Email enquire@designitlandscapes.com.au
Website www.designitlandscapes.com.au Photography by Peter Brennan