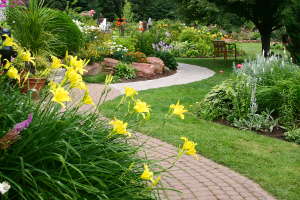 Reflecting indoor flooring trends, bigger is better when it comes to paving
Story: Louise Weihart
The trend of creating outdoor areas that reflect the indoors is mirrored in current paving choices, be they natural or man-made.
"Pavers today use the tones and textures of indoor furnishings and floor coverings to infuse the home's interior style into the outdoor entertaining area," says Priscila Manio, national marketing officer of clay and concrete paver supplier, Boral.
The current colour trend, according to Manio, is towards neutral tones such as sand, pale olive, muted cream and stone, with metallic and white accents. "These lighter colours," she explains, "are an ideal way to make spaces appear larger."
According to paving and tile supplier Amber, concrete pavers remain a popular choice for outdoor rooms, paths and driveways. Replacing labour-intensive lawns and meandering garden beds with large-format concrete pavers can create stylish, low-maintenance surrounds.
With the emphasis on soft, neutral tones, concrete pavers are available in a vast array of colours and sizes, with matching accessories, to suit any outdoor setting and to mimic the natural beauty of real stone at a fraction of the cost.
According to Amber, as a natural, organic product, clay paving is also proving popular. It has character and provides beauty and warmth in varying hues of red, brown and gold. It is versatile and durable and can create interesting spaces in a variety of landscaping applications. Combining clay pavers with foliage, decorative features and accessories such as stone, pebbles and wood can create harmony and enhance outdoor spaces.
Anthony Milling of natural stone provider HomeStone says the options are endless, but cobblestone driveways, travertine and sandstone swimming pool surrounds, feature walls, terraces and stair treads seem to be proving particularly popular. Milling says stone and concrete can both be used in the same areas, but there is a trend to stone because it looks more expensive. Colours vary, he says, but beige and grey are always in fashion.
Max Herford of Haddonstone, a provider of reformed sandstone pavers for the luxury end of the market, says he's finding that clients want traditional details on their house and landscaping. He says, while there is a place for decorative paving, the emphasis is mostly on the functional.
Herford explains that Haddonstone's process involves reforming crushed sandstone under extreme pressure with binders and selected polymers. "We also have a very strong linked architectural product to offer that is in great demand as the market turns away from a sole focus on 'minimal modern' designs," he says.  When it comes to size, all are in agreement that bigger is better. Boral's Manio says large-format pavers remain popular, but homeowners are also interested in new shapes such as rectangular pavers. Small-format pavers, he says, are still proving popular for driveways and footpaths.
Whether the choice is natural or man-made, large square-form pavers are very popular in the size stakes, agrees HomeStone's Milling.
"For paving, the trend is large, square-form pavers in a natural stone such as sandstone, or cheaper concrete or reconstituted stone blends," says Milling, who imports natural stone, travertine, limestone and granite for indoor and outdoor use. Milling points out, however, that while large pavers are still the most popular, they cost more to buy and lay, so use will depend on budget.
Haddonstone's Max Herford agrees that larger sizes are more popular, but they are more expensive and harder to handle on site. "When laid correctly, though, they look luxurious and quite different from the standard precast available through resellers," he says. "Our clients do not want 'features' or borders. They just want a clean, great-looking stone texture in a large size."
Herford says the main size is 450mm x 450mm x 40mm, which is easier to lay and more economical. The larger size is 675mm x 450mm x 40mm, which is more luxurious and looks similar to large-section sandstone.
Of course, it all depends on personal taste. For those who want contrasting borders or decorative feature insets or patterning, the choices are virtually limitless.