This makeover has brought the outdoors in and changed the way the owners use their space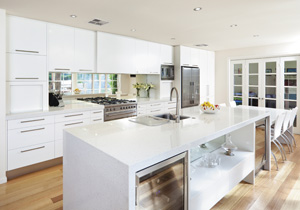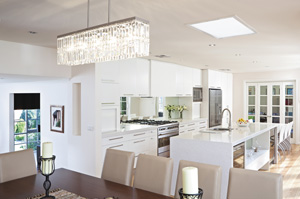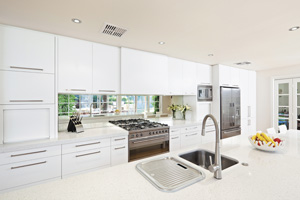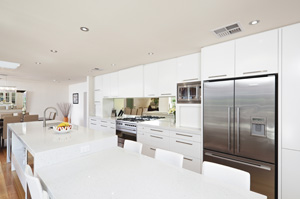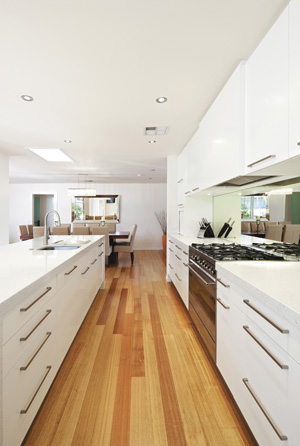 Today's busy families are seeking openplan living spaces to blur the boundaries between living areas and create a zone the whole family can use simultaneously. Such was the case with this kitchen makeover; the renovation transformed a dated, U-shaped, timber cookhouse into an up-todate, sophisticated yet timeless one.
By removing a wall between the kitchen and dining room, designer Peter Gill was able to move the kitchen away from the external wall — this wall was replaced with doors that open to the garden. Bringing the outdoors inside continues with a mirror incorporated into the usual splashback area of the cooking zone, reflecting the alfresco dining area. This means the chef will always be part of the action when entertaining, even if preparing a meal on the stove.
The new, larger kitchen caters well for everyday meals and for larger gatherings with friends and family. A wine fridge incorporated into the island bench ensures chilled drinks are always at hand, no matter what time of day friends or family visit and how unexpected it is. A shelf on the island bench allows the owners to add a personal touch with some of their favourite kitchen wares.
While the formal dining room is a only a few steps away, there's an informal meals area that would also be a great place for the kids to do their homework while mum and dad get dinner ready.
The clean lines and minimalist style mean the kitchen will not only look good now, but will continue to do so for years to come. However, it's not just a pretty face; with good work zones, a mass of storage and top-of-the-range appliances, this kitchen is ready to handle any culinary task thrown its way.
FACT FILE

The kitchen was designed by Peter Gill CKD (AUS), CBD (AUS), COID (RMIT) and built by KITCHENS BY PETER GILL 163 Whitehorse Road,
Blackburn Vic 3130 Phone (03) 9894 4550 Email kitchensbypetergill@bigpond.net Website www.kitchensbypetergill.com.au www.kitchensbypetergill.com.au
Apliances include a 900mm upright cooker, undercabinet rangehood, integrated dishwasher and underslung sink