Striking colours and an open plan result in a kitchen that is both bold and beautiful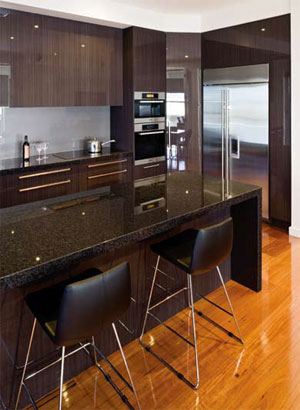 Designer Markus Sawatzki of Let's Talk Kitchens planned this kitchen with two major goals: to increase a sense of space and to create a kitchen that was bold and beautiful.
"The owner wanted a kitchen that made a statement," Markus says. "This beautiful location with gorgeous views over the bay required a kitchen that was equally stunning."
And stunning it certainly is! Markus used dark, reflective materials and high-gloss finishes to capitalise on the room's scenic aspect, from the Labrador Black granite of the benchtop to the Polytec Createc Shannon Oak Gloss of the cabinet doors.
This design consideration was then enhanced with a massive SubZero refrigerator to keep the kitchen theme consistent throughout.
Even the colour scheme was decided with maximum reflection in mind, with Markus choosing dark, bold shades and shining metallic highlights. This was in direct contrast with the previous kitchen, a lightly coloured room that lacked the depth and interest that Let's Talk Kitchens has brought to the forefront.
Other major changes that Markus and his team instigated include better access to the cabinetry, which is now very easy to use thanks to the isolated benchtop and open-plan design aspects.
The cabinetry was one of the major challenges Markus faced when designing this kitchen — although not just because of accessibility. "Very high ceilings meant that we had to be creative with the use of standard-size laminate board material," Markus says. "All the joins are cleverly concealed, enabling us to take the cabinets virtually to the ceiling."
This ingenuity ensured that from the floor to the ceiling the kitchen is bold and beautiful — a sleek and sophisticated look that really works.
Fact File:
DOORS Polytec Createc Shannon Oak Gloss with matching 1mm ABS edge
PANELS Polytec Createc Shannon Oak Gloss with matching 1mm ABS edge
INTERNAL HARDWARE Blum Tandembox full-extension, soft-closing drawer runners
HANDLES Kethy Latina Series in stainless steel
BENCHTOP 60mm Black Labrador granite
SPLASHBACK Metallic Sapphire gloss
KICKBOARDS Polytec Createc Shannon Oak Gloss with matching 1mm ABS edge
FLOOR Existing reclaimed timber floors were sanded back and refinished
LIGHTING LED accent lights are mounted to the underside of the overhead cabinets
APPLIANCES include a Miele pyrolytic oven, Miele microwave/combination oven, Miele induction cooktop, Qasair rangehood, Miele dishwasher, SubZero refrigerator and Franke KBX12034 undermount sink
COST approximately for design, manufacture, installation, plumbing and electrical, $60,000
Tim Turner Photography