Creating a pool from a wish list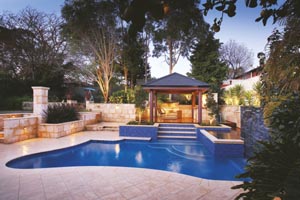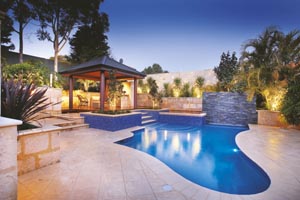 Listening to clients' wish list for a new pool and turning that list into a reality is all in a day's work for Steve Nener of The Water's Edge.
While most people know what they want to achieve, whether from their own research, through talking with friends and fellow pool owners or from flicking through magazines, Steve and his team bring all the ideas and thoughts together into a realistic design that caters to the requirements of the clients and complements the home.
Creating a low-maintenance pool, with technology such as automatic water levellers and chlorine doses, sensored heating and automated filtration systems, ensures clients spend more time in the pool than operating it.
Such was the case with this beautiful family pool, designed and built by The Water's Edge.
Creating a focal point for the backyard and alfresco area, this elegant pool has a little of everything, keeping everyone happy.
With enough room for children to frolic and parents to enjoy a little relaxation, the rich-blue eight-metre by five-metre pool is perfect for entertaining or simply for the family to enjoy an afternoon in the sun.