An ingenious renovation has transformed this single-storey suburban dwelling into a contemporary family home that retains the charm of a Californian bungalow.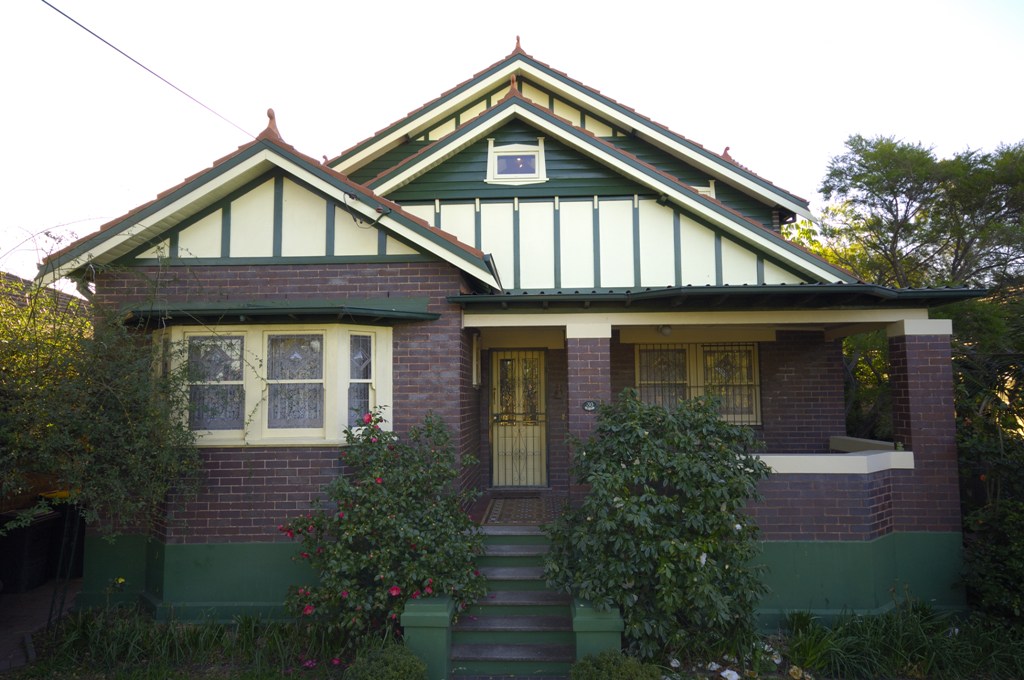 Wayne Guiffre has a very busy architectural firm servicing the inner city and inner suburbs of Sydney. According to Wayne, prior to renovations this house was a single-level Californian-style bungalow that had been sympathetically restored over numerous years.
Wayne outlines the somewhat challenging body of work that was undertaken for this particular project: "The client's brief for the project was to provide an upper-level addition containing a family room, bathroom, two bedrooms, study and storage. These spaces were to have full-height ceilings yet externally appear as an attic addition from the street.
"The front elevation to the street was to remain a single storey. Basically it had to externally appear as if it was all built at the same period and not impact on all the earlier renovations. Internally, the stair had to be inserted into the rear living space without impacting on the space. 
"A new stair was added in the existing rear living space. This space was originally an external rear terrace that had previously been enclosed. The upper level was then constructed again, without impacting on the existing ground-floor spaces. 
"Some of the special design considerations of the project included the fact that there were no existing local built references that I could refer to. Most additions are either attic additions and hence the spaces have restricted ceiling heights, or are full-height additions, which externally appear as bulky boxes, dropped on top of the original residence. 
"Although the residence was to remain in period style, spatially the house was designed similarly to other projects that may have a more modern aesthetic. What is important is to provide a layering of spaces, wall and roof elements which have a hierarchy. These spaces respond to seasonal changes and provide a constant dialogue with their owners. 
"My favourite view is the external rear east side view. The original front roof form steps up, repeating the original gable, then a side-facing gable over a two-level bay window element. Then there is a raked roof form over the new stair, then at the rear corner the roof steps down to the original single-storey roof, while the upper floor steps back out at the rear. It is a very complex play of roof and wall elements yet it is not overwhelming. 
"The rear upper-level family room has bi-fold windows which look to the rear yard. There is a deciduous tree, which provided summer protection. The upper-level rear façade is only visible externally in winter when these photos were taken." 
According to Wayne, "One of the most unusual challenges was to provide full-height living spaces on the first floor, which externally did not appear bulky or impact on the existing street façade. The approach was purely client-driven and was not to meet any restrictive council requirements. 
"The house demonstrates that it is possible to provide an upper-level addition, which provides generous living spaces, without externally expressing a bulky form. The best result of all is that the client and their friends have all been extremely positive about the renovation."
Project Particulars:
Designed by: Wayne Guiffre Architect P/L
Suite 17/210-216 Victoria Road, Gladesville NSW 2111
Mobile: 0427 251 182
Email: wayne@wgarchitect.com.au   
Built by:
Koo Moo Constructions
Mobile: 0410 400 420 
Flooring:
Living areas and bedrooms: Timber flooring
Open-tread stair: Tasmanian oak with solid-brass rod balustrades
Bathroom: Tessellated tiles 
Walls: Face brickwork and fibrous cement (external walls), plasterboard (upper level inside wall linings), face brickwork (lower level inside existing family room)
Air-conditioning: No air-conditioning. Natural ventilation, windows allow for good cross-ventilation. Retractable canvas external window awnings
Sanitary fixtures + bathroom fittings: Frameless glass shower screen. Period-style fixtures and fittings
Lighting: Period-style fittings
Windows + external doors: Western red cedar frames. Several windows have leadlights salvaged from a local house
Skylights: Two skylights to attic space within the original roof space. The wall vent to the original roof space was replaced with an operable window.
Photography by Rowan Turner.