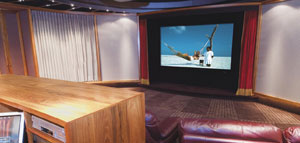 … do you really? The modern household is now bursting with electronic devices and technology that were beyond imagination, even a decade ago.
Story: Gary Oliver Photography: Andrew Lecky
SO WE'VE GOT THE HARDWARE IN SITU — multiple televisions, a computer network, music systems, security cameras and panels, climate control, motorised blinds, water features, intercom and lighting. But what is missing? What we as luxury homeowners are just catching up on is one very important piece in the puzzle — the realisation that there are, in fact, the 'smarts' available to bring all this technology together into an easy-to-control, easy-to-operate, easy-to-maintain, all-encompassing customised system.
You're building a new luxury home right now and you're confused. One of the big questions is, do you build it smart or just stay dumb? Dumb could seem easy ('easy' because you don't have to make decisions at the time of planning. But once you move in, welcome to your worst nightmare.) If you choose the not-so-smart path it is certainly cheaper, and you won't have to instruct your architect/interior designer/builder what the heck you're aiming for.
But why take the easy way out? It's not fun if it's too easy! Go SMART and you will be thrilled and amazed in how your new world of controlled technology looks and feels.
During the concept and design of your luxury home, you no doubt spend countless hours with your architect and interior designer poring over samples and swatches, visiting showrooms, researching via the Internet to detail your specific requirements and preferences for each space and aspect of the property, from the décor, fittings and fixtures to the colours, finishes and appliances — before you even consider doing the same again for the outdoor areas.
This is where we need to put the brakes on and actually fast forward to the 21st century, where 'designing the technology first' will create a flavour and functionality that will underscore your new luxury home from end to end, top to bottom. One of the smartest decisions you will ever make. By executing the same amount of detailed planning and thought as for all other aspects, you will have a luxury home capable of being customised to the activities and the daily comings and goings of all members of your household.
Now don't fret, you don't have to do this on your own. The art of invisibly embedding your new smart home systems will become the task of a highly specialised electronics systems designer that you have selected from an elite group. The process is not unlike that which you would carry out for the home design, but with a different angle of perspective, a different set of questions. In fact, you will be exploring far more about the way you want to live in your luxury home environment than you may have realised.
Let us consider our digital family as an example. There's Mr D, a brilliant surgeon working too many hours and often returning home far too late, day after day. So when it comes to precious downtime on the weekends, he enjoys nothing more than immersing himself in his passions — movies and classical music.
Then there's Mrs D, successful in her own right as a fashion designer but who has taken the path of boutique ownership. She needs to conference to overseas counterparts in Paris and New York from her home study at night. When she is not out with her horses, she loves spending time with her photographic artwork.
Son D is a teenager in Year 11, lots of study, lots of sport, lots of Internet games and working on his Myspace site. Always watches the English premier league game of the week on cable and plays a lot of loud music in his bedroom.
Daughter D, a highly intelligent girl, is in Year 9 and wants to be a zoologist and probably will be. She spends endless hours researching on the Internet to study, or downloading music and web chatting to friends.
Housekeeper D is not very tech savvy, but she likes to watch her favourite TV shows, listen to good music and email family overseas. While managing the vast array of household duties, she constantly interacts with visitors, trades and services.
So our luxury home will have five occupants, each with highly individual likes, dislikes, interests and core duties. It's complex, just like any family. But this family is building a new luxury home and mum and dad have decided it's going to be SMART — the smarter, the better. No more wrestling with 10 remote controls, no more systems that don't work together and no more taking 30 minutes to secure the house at night and turn everything off.
They ask their architect if he can advise as to whom they can talk to and he doesn't know — but will find out. Through referral, the architect has recommended an electronic systems designer (ESD) who can help our family into a new high-tech world.
You could be mistaken for thinking that our ESD is a therapist, and in a way, he is. The ESD will work with the family to provide them with a fully connected, whole home integrated system that will offer all of the latest electronic lifestyle features to enhance living today — and many tomorrows.
How does he do it? First, the ESD would recommend and explain the basic systems that will be included, which are integrated into a single whole home system. The basics are a collective of usual suspects — security, intercom, TV/video, music, computer/Internet, lighting, blinds/curtains and phone system.
Once these systems are selected, the ESD needs to work with the architect, builder and interior designers to properly integrate them seamlessly into the stunning outcome of the new home. The technology will intertwine with every other trade and in every angle of the home design. The great thing is, if you know about it at the beginning, you can design the home for all of the normal attributes as well as the electronic systems — a perfect partnership.
Then the ESD will discuss the needs and wants of every person in the household to work out both individual and family systems and scenarios in order to determine the complete picture for our model digital family. This is where the in-depth research and electronic system design all happens to shape the transition from a fictional dream home to a real dream home.
In addition to their new luxury home, our digital family often visit their beach house and want to interact electronically between both properties regardless of which one is occupied. All very simple if designed at the start. And let's not forget the extraneous but regular visitors to the property, such as the gardener and pool maintenance man, all who need secure but limited access, easily managed with well-designed security and managed entry.
Ultimately, all of this planning results in the family having its electronic systems and technology working for it on both a personal and shared level, enhancing the use of the systems and thereby enriching the experience of its lifestyle — in daily life and more importantly for each of its favourite passions.
Transplant yourself into Mr D's million-dollar automated home theatre: relax back into your cinema recliner, lights go down, sound comes up and let the credits roll …
So what do you think? Will you go smart, or not so smart?
THESE SYSTEMS ARE CONSIDERED FOR EVERY ROOM AND INDOOR/OUTDOOR SPACE AND CAN END UP SOMETHING LIKE THIS:
• Security — simple one touch to lock and unlock the whole home. Camera surveillance viewed locally from any TV or remotely. 'Away' mode — making the home seem lived in. Automatic notification of disturbances to armed locations. Activation of lighting and audible alarms. Motorised front and side gates.
• Intercom — (including video) at front gate and front door — linked to all phones and video displays. In 'away' mode diverts to your PC or mobile phone so you can answer as though you are there.
• TV/video display — to all nominated locations. All capable of displaying high-definition TV, DVD, Foxtel, computer, games, digital photos and security images.
• Music — multi source, multi zone — to all or a combination of rooms including outdoors throughout garden, at the pool and at the tennis court.
• Computer/Internet — wireless network to Mr D's study, Mrs D's study, Son D's bedroom, Daughter D's bedroom, family room, theatre, kitchen area, housekeeper D's quarters.
• Lighting — whole home and exterior zoned lighting with time and zone scenarios to suit the family's profile.
• Blinds/curtains — all motorised to manage energy, protect from fading and timed to open and close to the programmed scenarios.
• Phones — wired phones to selected key areas of the home with a quantity of wireless phones for convenience. All phones function as internal intercom, provide personal message bank and are linked to talk to all security entry points.
From Contemporary Home Designs