There is an alternative to lacquering your furniture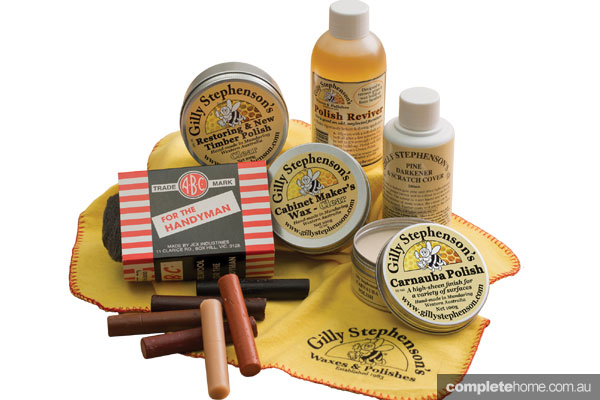 Natural waxed finishes protect and enhance the natural beauty of timber, so why not restore your favourite piece using traditional waxing techniques? It's easier than you might think and very rewarding. You can repair and maintain a waxed finish and you'll never have to strip it back again.
Gilly Stephenson's Waxes and Polishes recommends these threesteps:
1. Feed the timber using Gilly's Restoring & New Timber Polish, easily applied with a soft cloth and then buffed back.
2. Build the wax using Cabinet Makers Wax applied with superfine steel wool and then buffed back.
3. Finish and maintain using Cream Polish or Carnauba Polish for a higher, harder sheen. Use one cloth to apply and another to buff back.
None of Gilly Stephenson's products contain silicone or toluene and all are made from the highest-quality raw ingredients. The business is 100 per cent Australian owned and made and its bestselling products are available in most Bunnings stores in the paint and decking oils aisle. Alternatively, online ordering is easy.
For more information
Gilly Stephenson's Waxes And Polishes
gillystephenson.com
Originally from Period Style magazine Volume 9