This housing development in Canberra's north sets new benchmarks for environmental management and urban design.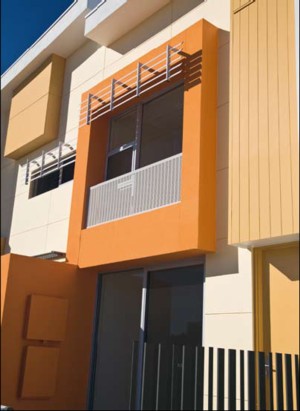 Like many first home buyers, administrative manager Mary Body and her systems developer fiancé Phillip Tooricke-Barton had trepidations about taking the leap into home ownership.
"Affordability was a major concern," Mary admits. "Housing prices in Canberra seem to be on a steady rise and we were concerned that we may never be able to afford our own place." Sustainability was another consideration as the couple is firmly committed to treading lightly on the earth and making their imprint a positive rather than a carbon-costly one. Fortunately, both of these considerations were addressed when they heard about Crace, a new development in Canberra's north, which offers both affordable housing and a low carbon footprint. Mary and Phillip were among the first home owners to move into the new suburb when Mary moved into their twobedroom terrace in July, just months before their planned spring wedding.
Crace is a joint venture development between the ACT's Land Development Agency and Crace Developments, a consortium led by the Canberra Investment Corporation Limited, Defence Housing Australia and the PBS Property Group. It is Canberra's first suburb to receive the Housing Industry Association's dual Greensmart accreditation, which means the developers applied best practice to both environmental management and urban design principles. Located nine kilometres north of the city, the new development sits between the existing suburbs of Giralang and Palmerston. When complete, the 140-hectare site will provide more than 1400 new homes across a mix of two- to four-bedroom terraces, semidetached houses, small freestanding homes and mews apartments. More than 90 per cent of the homes are located within 400 metres of a bus stop, offering good connection to the rest of the city.
In the grand Canberra tradition, the dwellings are connected by wide, soon-to-be-leafy streets and cycle and footpaths to the community parks, open spaces and urban core (shopping centre). Large stands of existing trees were retained and an urban forest of native trees is being planted to provide recreation areas and wildlife habitats. The project's water-sensitive urban design, which takes advantage of the site's natural water catchments and reduces stormwater run-off, means it will use at least 40 per cent less water than a typical Canberra suburb. The streets follow the contours of the land with wide verges and bio-retention elements that capture and filter stormwater. Two major water-holding and wetland areas to the north and west of the site will assist passive irrigation of most of the suburb's open spaces and streetscapes.
The water management strategy not only reduces demand on drinking water but will also benefit the nearby Lake Ginninderra and Ginninderra Creek. Benefits include a reduction in pollutants entering the waterway through stormwater treatment and flow control, which mitigates erosion and promotes channel stability through reduced sediment loads. When it came to the actual residences, optimum passive solar design was central to the masterplan. By orienting the blocks to capture sun into the backyards and maximising solar gain into the living areas, at least 90 per cent of the homes achieve a five-star energy rating or higher. Good cross-ventilation, shading of windows to avoid the summer sun and high quality insulation are other elements that add to the houses' high energy efficiency.
Greensmart accreditation also demands that the houses are waterwise and water-saving showerheads, taps and toilets are standard in all Crace residences. The building materials, paints, floorcoverings and coatings were also selected for their low emissions. The developers' brief included using maximum Australian renewable resources such as plantation timbers and non-hazardous materials where possible. They also needed to minimise waste by ordering only the necessary materials and recycling others where possible. The developers committed to a strategy of managing stormwater, dust and litter to minimise site degradation during construction. Through a partnership with Greening Australia, the country's largest non-government environmental organisation, unavoidable carbon emissions from activities such as operating machinery or using vehicles to transport materials to the site are being offset though a tree-planting project.
This makes Crace Australia's first residential housing project to not only have comprehensively assessed its carbon footprint, and developed strategies to minimise the impact of all aspects of the development, from earth moving and infrastructure installation to actual home building, but also to offset unavoidable emissions. From Phillip and Mary's point of view on a -4°C winter morning, it all adds up to a dream come true. They're within minutes drive of the city and their workplaces, yet have expansive views to surrounding bushland and plenty of open space. With the water in a birdbath outside frozen solid, the terrace is performing brilliantly in the passivesolar/ energy-efficiency stakes. "We only have one heater upstairs and one down," Mary explains. "With ceiling fans to force any rising hot air back down, the living spaces are extremely comfortable even at this time of year. Obviously, it's early stages yet and we had to be prepared to move into what amounts to a halffinished suburb. But everything seems to be going ahead as planned and we couldn't be happier."