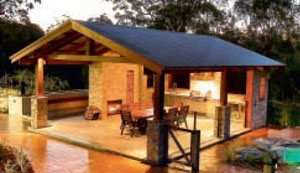 From the humble barbecue, the modern outdoor kitchen has evolved into a room unto itself
By Rachel Falzon

The popularity of the outdoor kitchen in Australia is testament to our climate. Thanks to advances in landscape design and technologies, and because much of the year we enjoy warm, temperate conditions, people are realising the benefits of installing a kitchen in their outdoor entertaining area.
Trends in outdoor room cooking vary, depending on the size of your area and where you decide to keep the cooking zone. If you have a large space to work with, you may decide to build a freestanding structure such as a grand pavilion that can host a range of appliances and tools to satisfy the most discerning cook. However, if you have a small space such as a balcony or courtyard you can also have a room-style setting with a barbecue, dining table or custom-made, built-in elements.
Outdoor cooking is no longer reserved only for the standard yet quintessential Aussie barbecue; instead, the outdoor kitchen is becoming more like the indoor version it's modelled off. Everything from rangehoods and teppanyaki plates to the kitchen sink and a dedicated wine fridge can be found outside, making it a place where virtually any dish can be prepared.
You can have as much or as little as you like installed in your outdoor kitchen and a great place to start working through your alfresco cooking needs is with a landscape designer. A professional can help you customise an area to function just as you require so you can spend more time entertaining and less time working. The more facilities you have outdoors, the more time you will be able to spend with your guests, rather than being inside at the stovetop or bench when all the action is taking place outdoors. It also means less traffic between the indoor kitchen and the outdoor dining area to grab condiments or drinks.
Current trends for the outdoor kitchen include the installation of a pizza oven or woodfired oven. The inclusion of either of these will bring a new dimension and increased versatility to the area — not to mention a fantastic ambience. And the great thing about a woodfired oven is that you won't need a conventional oven or barbecue if your outdoor room is outfitted with one. Woodfired ovens can be used to bake or smoke, guaranteeing a lovely flavour whether you're making pizzas, a roast, bread, vegies, fish or even desserts. Pizzas are, of course, the most popular item to be cooked in these kinds of oven and, because they can cook in less than five minutes and take little to no time to prepare, they're perfect when entertaining a large group of guests or for a spur-of-the-moment lunch or dinner.
The traditional Australian barbecue is still a popular choice for the Australian market. However, today there is a plethora of styles and functions, opening a whole new world of options. You can opt to have a barbecue built into a benchtop or island, giving a sleek, streamlined finish or, alternatively, you can choose to have a portable version that can be moved around the entertaining area as necessary. Available in a range of sizes and finishes, there's sure to be something to suit your needs — no matter if your space is large or small.
Take some time to consider storage for your outdoor kitchen. If you have a large area, adding cupboards and drawers is a great way to ensure all your tools are at-hand before you begin cooking. Some companies have a range of ready-to-install outdoor kitchens, with some models sporting a sink, barbecue, cupboards and a refrigerator integrated into one unit — a great way to bring in an instant kitchen. You can have as little or as much as you like — some come with dishwashers, some with double burners, others with drawers and cupboards and some without. Do your research and consider what you need most for your outdoor application to ensure your room doesn't become filled with items you won't need to use.
Being a practical space, an outdoor kitchen needs a functional lighting scheme. A good lighting system will ensure the space is used frequently, whereas a poorly lit area won't encourage its use. Plenty of light needs to be available around the cooking facilities; if your dining area is close by, it may be necessary for the lighting to be flexible so it's not glaring during meal times. There are a couple of practical ways to do this: you can have a couple of different light switches to control which lights turn on in certain areas or you can install dimmable lights. The beauty of a dimmable lighting system is that you can create a certain mood, depending on the activities and occasion.
Of course, material selection is another important consideration when building your outdoor room. The materials need to be durable to withstand a variety of weather conditions. A big trend in outdoor kitchens is stainless steel thanks to its durability and low maintenance. Other options are concrete and marine ply, which is suitable for cabinetry. Because all of these materials are waterproof, they can be easily cleaned with a hose down.
And don't forget to keep in mind the comfort of your guests when cooking. If ventilation is a problem in your entertaining area, you may need to consider a rangehood to extract smoke and odours or set the dining area away from the cooking zone.
As well, trapped smoke can blacken walls and other structural elements over time. Consider your own needs when entertaining, too. Orientation and layout should be thought through before any decisions are made on purchases, as the way cooking facilities face will have an impact on how much the cook can interact with guests and family. An island can incorporate a hot plate and allow the chef to move around the cooking area and chat comfortably.
From the simplest outdoor rooms — decks, gazebos and balconies — to the largest — freestanding rooms or dedicated pavilions — there's sure to be an outdoor kitchen solution to suit you and your entertaining needs.
DESIGN ADVICE
Who doesn't love a warm summer night spent surrounded by friends and family sipping, drinks and barbecuing dinner outside? In The New Outdoor Kitchen by Deborah Krasner (published by The Taunton Press), you're taken step by step through the process of planning and creating your very own outdoor kitchen. You'll find advice on choosing the right location, outdoor kitchen appliances, cabinetry and countertops, and dining and sitting areas. There's also tips on applying the finishing touches, such as outdoor lighting, sound systems and fireplaces. The New Outdoor Kitchen is a great source of design ideas and practical information.