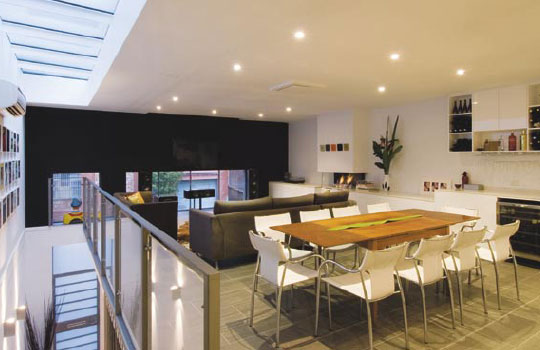 Graham Jones Design proves that even from the shabbiest of shells, amazing things can happen
FOR A PROFESSIONAL COUPLE living in the inner suburbs of Melbourne, a functional, contemporary and relaxed living space was what they desired. Graham Jones Design set to work converting an existing warehouse shell into a fabulous home. The building had previously been sub-divided into a number of separate spaces and a covenant on the title restricted any changes being made to the exterior of the building. Three levels of living space, plus a rooftop garden to take in the city views were asked for, along with the challenge to achieve maximum natural light to all levels of the building. As the warehouse is sandwiched between other shells, light could only be
attracted from existing windows to the street frontage or by creating a light well in the roof.
By requesting only two bedrooms to fit within the limited footprint, Graham Jones was able to keep the floorplan open and airy. The principle living space was most suited to the mid-level, however, attracting this light into the second level would prove difficult. Graham Jones knew exactly what to do. A 36mm engineered-glass roof at floor level to the rooftop garden was constructed which lets light pour in over the middle and into lower floors.
The staircase in the home is a nod to the warehouse's past with open timber treads supported by galvanised-steel rods. This design also allows the staircase to visually float when viewed from below and accentuates the thoughtful but minimal style of the home. A galvanised-steel mesh bridge beside the stair provides an industrial compliment to the age of the building, while letting subtle light transcend the levels.
Stainless-steel benchtops and commercial-style appliances are highlighted by white two-pak finished joinery and stunning ebony glass splashbacks, all working together to ensure the kitchen is a focal point in the home.
The cupboard-style laundry and powder room are segregated from the open-plan mid-level which contains the kitchen, dining and principle living area, all of which are spacious, practical and, as Graham Jones himself tells us are "the heartbeat of warehouse living".
Ascending to the top level is the master suite with bi-fold doors opening onto the large rooftop garden overlooking the city. A large ensuite features an exotic indoor garden, specifically requested by the client. Sliding glass panels behind the double vanity allow access for watering, while Velux roof windows provide light and ventilation. A spacious 'walk-in' European-style shower recess also adds a bold, yet minimal edge.
Although the design process was very complex, the result is minimal. "Light and space were created from whence there appeared no source," Graham very eloquently tells us. A comfortable, relaxed atmosphere has mingled with contemporary, commercial and somewhat minimal design in an extraordinary example of a warehouse space, which not only has life but heart as well. –CHD–
GRAHAM JONES DESIGN
1A Main Street,
Mornington Vic 3931
Tel: 03 5975 8747
Website: www.grahamjonesdesign.com.au
Photography: Chris Groenhout