All you need to know about Arrowroot and Water Spinach.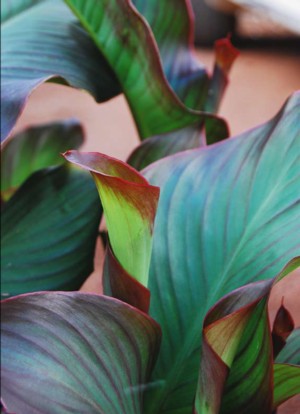 Arrowroot
Arrowroot (Canna edulis) An ancient Inca food crop, Canna edulis 'Red Edge' is an edible form of canna. It's very easy to grow and the flowers are very similar to those of ornamental cannas. Arrowroot, derived from the rhizome of Canna edulis, is a great yearround food source. It will die back a little in the colder months and can be harvested throughout the warmer months. The striking red-edged foliage is stunning when grown in a large pot as an ornamental plant in full sun or part shade. It's the perfect plant for a patio or alfresco area and the only pests that seem to attack it are slugs and snails. If given fertile soil and regular watering, Canna edulis will grow vigorously and can be harvested when the plants are as young as six months.
Harvest the tubers regularly when young as they tend to become quite fibrous as they mature. The tubers can be eaten raw, steamed, roasted or grilled on the barbecue. Arrowroot does not have a lot of flavour on its own and tends to take on the flavour of other vegetables. Peel the tubers when preparing them. Slices of tubers can be baked in the oven to make crispy chips. They can also be ground into flour, which keeps well. Arrowroot is a good source of thiamin, niacin, iron, phosphorus, potassium and manganese, and a very good source of vitamin B6 and folate.
Nutrients per 100g
0.1mg
 10% RDA
 1.7mg
 8% RDA
 0.3mg
 13% RDA
 338mcg
  85% RDA
 2.2mg
 12% RDA
  98mg
 10% RDA
 454mg
 13% RDA
 0.2mg
 9% RDA
 Thiamin
 Niacin
 Vitamin B6
 Folate
 Iron
 Phosphorus
 Potassium
 Manganese

Pests and diseases: A rust fungus, a species of Puccinia, causes leaf spotting. Never use the leaves, roots or shoots around the plants as mulch. Grasshoppers like it, too.
Water spinach, or Kangkong (Ipomoea aquatica)
This plant is very popular among Asian gardeners but is yet to take off with Western gardeners. You might have had it as a vegetarian dish in a Malaysian or Singaporean restaurant. It's a fastgrowing plant and not a true spinach variety; in fact, it's closely related to the sweet potato, oddly enough. Ipomoea aquatica is the variety most commonly available and it is grown and used throughout Asia. It is known by many names in different languages. Kangkong is a true water plant; it grows completely submerged in a pond or in very boggy soil. This subtropical water plant thrives in the heat of summer. It isn't tolerant of frosty weather or any cold temperatures and will die back completely if these are experienced.
In the cooler areas of Australia it is classified as an annual and can be regrown every year. Keeping a plant in a protected area, such as a patio or alfresco area, hothouse or inside on a window sill, will ensure its survival through winter. Kangkong is grown by seed or cutting and, once established, can be harvested daily. It grows quickly in warm weather and the nutritional quality deteriorates rapidly once it has been harvested, so it's best to harvest as needed. Kangkong is cooked much like spinach — boiled, steamed or stirfried — and used in soups. Almost always, kangkong is flavoured with garlic.
Nutrients per 100g
 81mg
8.1% RDA
 52mg
 15% RDA
 3.3mg
 18.8% RDA
 30–130mg
  66.6–290% RDA
 4000-10000iu
  11–28% RDA
Calcium
 Magnesium
 Iron
 Vitamin C
 Vitamin A

Pests and diseases: Caterpillars, Aphids and Whiteflies can be a problem.
Recipe: Crispy Kangkong
Ingredients
1 egg, lightly beaten
1 cup cold water
Pinch salt
Pinch pepper
1 cup cornflour
1 cup plain flour
Method
Mix all ingredients to make a batter and coat kangkong leaves. Fry in hot oil until crispy and golden brown. Drain on paper towel. This is a great treat for kids — they won't even know they are eating something that's good for them.