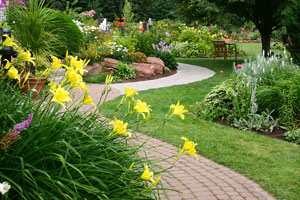 Setting just the right tone, this garden is a testament to sustainable design
Story: Lyn Bernadzik
Photos: Patrick Redmond
As designers strive to create more sustainable gardens, they are moving away from traditional notions of garden design. This was certainly true of Peter Coxon's front garden, which Ian Barker, principal designer for Ian Barker and Associates, describes as an example of "practical innovation".
Ian worked with Peter, director and principal artist of Abbotsford Iron, to create a garden full of interest and natural diversity. Says Ian: "Front gardens generally set the tone for the rest of the house. Here, the casual look of this garden belies a very strong structure.  It is vastly important for a garden to have good bones and this is particularly important when your aim is to create a less structured look."
While "setting the tone" is important. so is adding an element of surprise. "In general, we try to add a decorative edge to front gardens. Unlike back gardens, which often must provide for a multitude of practicalities, a front garden can be more whimsical in nature," says Ian.
"Of course, there may be practical considerations that need to be incorporated into your front garden design, maybe a driveway or front path, but it's nice to add a touch of whimsy."
Here, the dry river bed provides the framework for displaying Peter's beautifully crafted pieces: a series of globes, a garden bench and an abstract sculpture. Other focal points come in the guise of water features, urns or feature trees.
Plant selection was critical in this waterwise garden. "Clients often say they don't want to plant Australian natives because of their tendency to look untidy. While their habit is sometimes unruly, in the appropriate setting, their structural appearance and unusual floral displays create an incredible array of colours and shapes," says Ian.
In this garden, drought-tolerant plants such as chef's cap correa (Correa baeuerlenii), Grevillea longistyla, creeping boobialla (Myoporum parvifolium) and hairpin banksias (Banksia spinulosa) have the freedom to display their natural beauty and create a deliciously Australian front garden.
Peter couldn't be happier: "Ian has created my own bushland setting in metropolitan Melbourne and I couldn't ask for a better backdrop to enjoy my sculptural work."