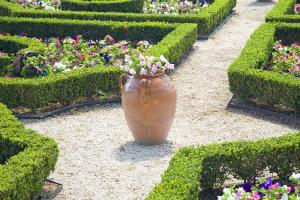 While coastal conditions can be extreme, that need not be a barrier to creating a stunning garden
Story: Georgia Harper, MAILDM, MLIAV
There's no doubt that in recent years, more and more people are either living on the coast, or have a holiday home near the sun, surf and sand. In the past, gardens in these areas have been sparse, very basic and typically featured lots of lawn, a few shrubs and, perhaps, one tree.
But now, coastal gardens are evolving into the perfect complement for the modern beach house, as well as a fantastic way to rejuvenate the old holiday shack. In short, seaside gardens are becoming more multi-faceted, adventurous — even exciting! Coastal gardeners are opening up to more diverse plant choices and adding elements like sculpture and rock features to create drama. The goal is to be low-maintenance yet create a garden that captures the relaxed atmosphere typical of coastline areas while providing a consistently reliable visual delight.
Site conditions
Before you get started, it's extremely important to be aware of the many complex factors that can drastically affect what you plant and how you plant it — the right choices will result in rapid and healthy growth, and a garden you can be proud of in no time. The main things to consider are:
Soil: Soil type can vary greatly across an average sized block, especially in coastal areas. You need to take a few samples from different areas to get a true idea of pH and texture, that is how alkaline or acid the soil is, and the gravel, sand or clay content. Expect to do some basic soil building for best results, as many seaside locations have light-textured sandy soil. Conversely, you'd be surprised how heavy some coastal soils can be, especially where sheep/dairy farms have been!
Wind & salt: Are you getting the full wind when it blows in off the sea, or are you in a sheltered pocket? Wind can burn leaves in any location, but on the coast it is laden with salt which can destroy many plants quickly — so you need to be aware of how brutal this can be on a windy day, given your site's aspect. If you're right in the line of fire, that is, close to the water, then chances are you're dealing with first-line salt; if you're set back a bit, or have a few obstacles between you and the water in the form of trees or houses, then you're in a second-line salt position — most coastal plant tags will nominate one of these.
The neighbourhood: Take a walk around the neighbourhood and see what's growing well in a similar aspect. Another great indicator is council plantings. They have to survive with no care at all, so a thriving plant on a roundabout may be a great choice for you, especially in a holiday home where there is no-one around on a regular basis to provide plant care.
Coastal plants
There is a huge number of plants to suit any combination of these site conditions, so don't be discouraged — a bit of research and some time spent really getting to know your site will yield great results.
Good plant selection is really the key to a successful coastal garden. Planting tightly in groups will give protection in the tender first few weeks and months, and if your costal garden is also rural, tree guards will keep juicy grasses safe from rabbits! Of course, the second thing is to mulch, mulch and mulch again. Mulching is also a great way to keep weeds at bay, and this makes for less competition with the plants you want to flourish.
Garden trends
Like every other garden, most coastal gardens are in sync with the architecture of the house they surround, and many designs are also affected by the size of the block. A large block may have a lawn as well as a rambling native garden, filled with an array of grasses and shrubs, and maybe even a few fruit trees and grapevines — a sort of mini-country estate.
A smaller block may go for the clean lines and architectural symmetry of the ultra-modern garden, with boardwalks, granite blocks, creek bed features and sculpture as well as bold spiky leafed plants. There are no rules, however, so combining these and adding your own ideas is always exciting. You can achieve these two main garden styles (and your own) using an array of native and exotic plants suited to coastal conditions.
In planning a costal garden, the main thing to remember is that you need to work with the conditions you have. If you do this, you will be able to create a fantastic garden in the style of your choice — something that will thrive and be a joy to come home to.
Top 10 coastal plants
There are so many plants I'd love to mention, but this list will give you an idea how varied plants for coastal situations can be.
The exotic touch
Ficus macrophylla
The Morton Bay fig is a fantastic specimen tree if you have the room.
Olea europaea
Olives give a great silver texture that shimmers in the sun, plus useable fruit.
Rosmarinus sp.
Rosemary makes a great tough hedge or looks terrific clipped into spheres.
Buxus sp.
For the traditional country estate look, a Buxus parterre garden is a classic.
Yucca sp.
Yuccas contribute a strong architectural presence and an ultra modern look.
Naturally native
Banksia integrifolia
The coast banksia is a great windbreak, and it has interesting silver foliage.
Acmena smithii
The fire retardant lilly pilly allows you to have a traditional hedge, native style.
Alyxia buxifolia
Also known as sea box, this is a great native alternative to the exotic Buxus.
Leucophyta brownii
Cushion bush — a soft mound of bluey silver — is a plant you can "set and forget".
Myoporum parvifolium
Creeping boobiala is a lime green groundcover that's a good alternative to lawn.