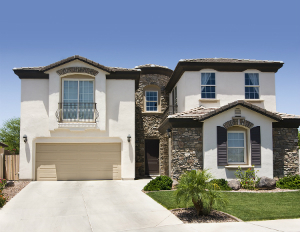 Render is the easy way to rejuvenate tired exterior surfaces and boost your home's resale value
Story: Lisa Doust
Photos: Eric Sierens
If your home has good bones but is being let down by an ugly exterior, there is a simple way to transform and modernise it: rendering.
"We get a lot of calls from homeowners who say that their house looks great on the inside, but they need to update the outside appearance," says John Thompson, owner of Perth-based wall-coating specialists Regal Rendering.
"Render straightens out walls and gives surfaces a flat finish, so you can instantly change the look of a house."
Angela Erini, a renovation specialist and editor of www.homesite.com.au, agrees. "There are obvious aesthetic benefits from rendering. It modernises older homes and makes them more visually appealing," she says. "This is great if you just want to spruce up your home or if you are rendering it in preparation for selling."
In terms of adding value to a property, Erini says that rendering is a definite winner. "If homeowners choose the right colour, much like painting, substantial value can be added," she explains. "Homeowners should also remember that updating other fittings, such as powder-coating windows or garage doors, will complement the look."
According to Thompson, a good rendering job can pay dividends. "Whatever you spent on your rendering you will get back three — and sometimes up to five — times," he estimates. "It's definitely a worthwhile outlay if you are planning to sell."
As well as instantly improving your home's appearance and adding value, render has the ability to help prevent corrosion caused by the sun, wind, rain, frost and sea salt.
"If you live near the ocean you can help to prevent corrosion by using high-performance acrylic render, as it has a membrane base that stops the salt from eating the mortar away," explains Mike Haakman of the Sydney-based Haakman Group that specialises in cement rendering and texture coating. "Acrylic render is more expensive, but it is long-lasting and you can also include a waterproof additive to further protect the building."
When it comes to colour and finish, you are absolutely spoilt for choice as render can be tinted to practically any hue and you can opt for smooth or brushed finishes. And, aside from raw-red or light or dark brick, render can be used to cover painted brick, blueboard and fibro.
As an added bonus, a rendered surface requires minimal upkeep. "Cleaning can be done with a low-water-pressure cleaner every couple of years," says Haakman.
Once you've decided that rendering is the best option for your home, you need to find someone who can do the job properly. Personal referral is always a good way to go or you can find a qualified renderer by visiting www.homesite.com.au and placing the word "rendering" in the search box, along with your local area.
When calling tradesmen out for a rendering quote, be very clear in your line of questioning. You will need to ask the following questions:
• Which product is being recommended and what the exact features of that product are. For example, is it a traditional sand and cement mixture or is it a sand-based acrylic product?
• Which finish would be recommended for the style of the home?
• How many coats of the product will be applied?
• Will angles be used for the corners to ensure a clean finish?
• Will one product be used for the whole job?
• Is the product guaranteed by the manufacturer?
• How long will the work be guaranteed for and what is the procedure should a crack appear in the render?
"The best way to judge a tradesman's workmanship is to see his work," says Ereni. "After all, you wouldn't buy a piece of art without first seeing other works by that artist."
Finishing touches
• Bagging: Traditionally used for mud-brick homes, the bagging mix is comprised of a wet paste of sand, cement and water and is applied using a damp hessian cloth. The result is a smooth and flat finish.
• Brush finish: This is achieved by first wetting a banister brush or broom then dipping it into the bagging mix and applying it to the wall in a circular motion.
• Swirling, straight or box-weave patterns: These finishes can be achieved by experimenting with the direction of the applicator. Trowels, rollers and brushes are used to achieve these looks.
• Spraying: In this modern method, the render is literally sprayed into the surface. Spraying is far less labour-intensive than the traditional techniques.