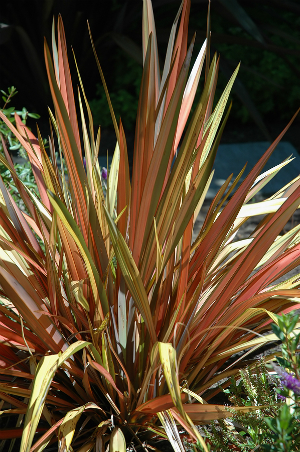 When coastal gardening, there is no shortage of hardy performers to choose from
Story: Emily Coakes
Selecting the right plants for the right conditions can take the heartache out of gardening in coastal environments. Take a walk through local dune areas to identify the predominant local coastal species in your area. Foreshore plantings have a tale to tell as they are carefully selected to withstand event the saltiest of winds. If you don't recognise the plant, take a small leaf sample and present this at your local nursery for swift identification.
Some stand-out performers among the arid athletes that thrive in coastal climes is the native pigface (Carpobrotus glaucescens). This fleshy stemmed succulent bursts forth with magenta blooms in response to the summer sun, lighting up your garden from ground level.
These resilient prostrate performers are able to multiply from underground leaders, providing the kind of ground coverage that is typically needed with sandy soils. Useful for bank stabilisation, weed suppression, salt tolerance and even bush tucker, these plants tick all the boxes in any dry garden.
A similarly brilliant bloomer that can be cultivated in all but the darkest of corners is the Gazania ringens. Available in myriad colours, the spreading gold and pink flowering gazanias are among the most popular. These will provide fast, dense coverage and reduce weed and soil evaporation quickly and efficiently.
Other superb groundcovers include the exciting new Banksia integrifolia 'Roller Coaster', which spreads up to 4m wide but only 150mm high. These lovely natives produce an array of lemon-yellow combs, provide habitat for local fauna, require minimal care and perform exceptionally well in coastal situations.
Due to the low carpeting nature of these plants, they are best combined with a variety of shrubs and trees to give your garden diversity and density.
Screening from neighbouring properties is an integral part of modern landscaping and coastal situations require specific tolerance to predominant environmental conditions.
The glossy, large, deep-green leaves of Viburnum odoratissimum 'Emerald Lustre' are far from the coarse foliage many would expect of a plant suited to windy situations. Unmatched in their screening capability, hardened to wind and fast to grow, these are a real favourite for those who want to replicate more classical hedge styles. This lovely shrub has sweetly scented dainty white clusters of flowers and grows up to 3-4m tall.
Another star of the show is the bright-blooming New Zealand Christmas bush (Metrosideros thomasii). The dusky grey leaves soften the look of any landscape and are contrasted by brilliant red pom-pom flowers. Various species are available, including the spectacular red foliage of 'Fiji Fire' and the neat compact form of 'Tahiti', and they make a brilliant hedge or small feature tree.
To give your garden interest and to pick up on the accent colours of any outdoor living areas, introduce colourful sculptural foliage which will stand out against the greener, bushier backdrop.
Select from the myriad Phormium (New Zealand flax) varieties for a veritable feast of colour. Newer cultivars like 'Platts Black', 'Maori Chief' and 'Pink Ribbon' are each splendid in their own right and just a few of the many choices. Plant in potted pairs, a row or dot them around the garden to draw the eye and create a focal point.
Another brilliant strappy leaved foliage plant is Cordyline australis 'Red Sensation'. Rich burgundy tones make this plant a stately addition to any planting scheme, with new varieties emerging Australia wide. These include hot shots like 'Electric Pink', 'Red Fountain' and 'Purple Dazzler'. Not to be missed, these plants are brighter versions of their parents and will soon become household names.
Of course, trees are needed for shade and to provide a sense of scale in relation to the house — and they're a great selling point when it's time to move on. The Pandanus is outstanding in every way for coastal gardens. Synonymous with sun, surf, sand and relaxation, their intricate arrangement of leaves creates the ideal outdoor umbrella. Although slow to grow, young Pandanus are a feature all of their own. Interesting cultivars such as the Pandanus dubius 'Fatboy' and Pandanus utilis 'Red Edge' are becoming increasingly popular with collectors.
The plants we have mentioned are just the tip of the iceberg as there is a multitude of plants that will thrive in the harsh heat of a salty summer. To ensure success, make sure all plants receive the royal treatment of thorough composting and additional organic fertiliser to cushion their introduction to their new home.
This article was prepared by Emily Coakes, a landscape designer and horticultural consultant with Boyd's Bay Landscape & Environment, on behalf of the Australian Institute of Landscape Designers & Managers (AILDM). If you would like to find an AILDM member in your area, visit the website: www.aildm.com.au.