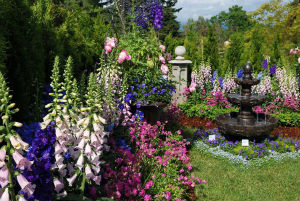 An avenue of ornamental pears gives this revamped garden a sense of structure and a striking focal point 

Story: David Bennett
Photos: Patrick Redmond
Drab, tired and outdated, this garden in one of Melbourne's leafiest suburbs was more than ready for a complete redesign.
The property is owned by a pair of avid motorcycle riders who enjoy an active social life so these two factors had to be taken into consideration when coming up with a new garden design. The needs of the couple's two 100-kilo Old English sheep dogs that also called the house home had to be factored in too as did the specifics of the site — a smallish block that sloped quite sharply down to the rear of the garden where it was overlooked by a balcony on the adjacent property.
The rear of the site was excavated to a depth of 600mm depth and a cost effective, custom-designed steel-framed farm shed-style pavilion built across width of the block. As well as providing privacy from the neighbouring property, it houses the couples' motorcycle collection. At night, when the "shed" is down lit, the bike collection can be viewed from the deck and the home's interior, the vista framed by an avenue of ornamental flowering pears.
Sharing space with the beloved bikes is a pool table, a small bar, an insulated wine storage area and a workshop.
Commercial grade aluminum bi-fold doors allow the pavilion to be opened up to the exposed aggregate concrete courtyard. The same material, with a matching grid pattern of saw cuts to form 1000mm square "pavers", is carried into the pavilion's interior where it has been polished to a high sheen.
Working with established trees can prove a challenge when re-designing a garden but in this instance the effort was well worth it. The pavilion was cut in around a magnificent existing Canary Island palm. Once hidden in a mass of shrubbery it now claims pride of place.
The existing spa was relocated to one side and enclosed by glass and steel pool fencing. To screen the old boundary fence, we used horizontal timber battened panels.
The planting design is simple but striking. Deciduous ornamental pears, planted in a grid pattern, not only provide summer shade, they allow in winter sun when their leaves drop. And because they flower in spring, boast green foliage in summer, put on a show of auburn red in autumn and offer a delicate tracery of bare stems in winter, they bring seasonal change to what would otherwise be a static space.
For the lower layer of planting we used a mix of hardy Lomandra, Liriope and Dianella, which so far have proven to be 'sheep dog proof'. For a softening effect we introduced the sweetly scented summer flowering climber Trachelospernum jasminoides; to maintain a strong backdrop of green, we retained the existing Pittosporum and cypress hedges.
A cross-axis of pavers leads to an ornamental seat, behind which stretches a hedge of Australian native blueberry ash to screen the neighbouring property to the side of the house. Two rainwater tanks, one hidden in the front garden planting, the other a prominently placed feature in front of the rear garden pavilion, ensure that the planting can be sustained given current water restrictions.
Now the owners like to stay at home on the weekends to entertain in their stylish new surroundings. And when they do leave home to tour or race their motorcycles, they can do so knowing they're leaving behind a garden that doesn't require continual upkeep.
This garden was designed by David Bennett, principal of Gardens By Design, and built by Bruce Winstanley and the team from Winstanley Landscapes.