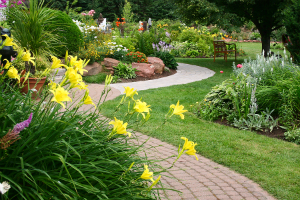 A once unusable backyard has been given new form and increased function
Story: Louise Weihart
Photos: Patrick Redmond
Turning a sloping backyard — and a small one, to boot — into an attractive and usable area is no mean feat. But that's exactly what David Kirkpatrick of Outdoor Creations managed to do with a steep back garden in the Melbourne suburb of Eaglemont.
David achieved this by minimising the use of retaining walls and using a number of "special touches" to best advantage.
"Retaining walls," he explains, "can add to the space problem by creating a boxed-in feel. We minimised their use by placing large rocks in the garden, which essentially function as retaining walls, but provide a special touch as well."
David also decided, rather than covering up the retaining walls, to use them as a feature. He did this by placing epiphytic plants, that is, plants that can grow on air and moisture alone in cracks created in the walls. These are the types of plants that in nature might grow on the limbs of dead trees or rocks in the forest. He also opted to hand cut Castlemaine stone to match the paving for the walls, so that not only did they fit together nicely, they created a natural look.
David softened the focus on the walls by adding focal points in the garden. These include, on the one end, a pond with a series of waterfalls. On the opposite end, there is a swimming pool with sheer descent waterfalls coming out of the pool, which are uplit at night. Brightly coloured plantings of strong foliage plants like bird of paradise (Strelitzia reginae) complete the picture.
David says there are a number of creative tricks that one can employ to lessen the visual effect of a sloping site. At Eaglemont, for example, he used darker foliage plants like echiums (Echium candicans) higher up on the slope and hedged them to create another level. Ensuring beauty and functionality, behind this level there is a vegetable garden. And, around the boundary, there are rows of fruit trees — multi-graft apples, two avacados, a fig, peach, nectarine, apricot, quince and a pomegranate to name but a few.
Creating a further sense of depth and distraction from the sloping site, there are large stairs leading to the parkland beyond the property. An archway way at the end of the parkland creates the illusion of an entrance into yet another garden.
Tiered planting — or placing taller plants in front of the slope and smaller ones at the back — is another effective way of 'reversing' the slope, added the designer.
In this instance, using foliage plants such as creeping boobilia (Myoporum parvifolium), jungle beauty (Ajuga reptans) and fan flower (Scaevola aemula) as ground cover, has the effect of holding the site together. David explains that all of these plants have foliage in cool colours, like blue and silver hues, that draw attention away from the slope and back towards the courtyard.
David explains that with sloping sites, the trick is to get the right amount of width outside the house so you are not left with too-steep a slope and too-big or too-small an entertaining area. "It is really like fitting a jigsaw puzzle together," he says.