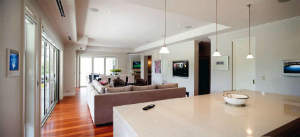 When the World Wide Web got started 20 years ago, it came with around four billion Internet addresses, which at the time looked more than enough. But we'll use the last of them soon and are about to get another 340 trillion, trillion, trillion addresses in what is variously being called Web 3, Web Cubed, or The Internet of Things. Hopefully that should hold us over for a while, but given the way the web has seeped into all parts of our lives, and Internet connections are rapidly being loaded into everyday objects such as televisions, games consoles, radios, clocks, phones and even cars, it might still be one to keep an eye on. Clearly the web is huge and getting bigger. Even a few facts suggest just how important it now is to daily life: the world already has billions of web-connected devices and expects trillions by 2020; on average each of us consumes around 30 gigabytes of data a day, while the social networking site Facebook doubles in size every six months and just hit 500 million users. A big part of that growth is being driven by our lives at home. In fact, a new Australian survey found many urban houses now have more than four web-connected devices — things such as laptops, smartphones, TVs and videogame consoles — prompting some to start calling the Internet our "fourth utility" alongside gas, electricity and water.
A la carte entertainment
Nowhere is the ability of the web to reshape our lives more obvious than how we entertain ourselves at home these days. The digital media revolution may have been led by music, but it's also going to be televised. Effortless, any-time access to the web for the latest films, games, sport and TV programs streamed direct to our televisions has always been the gold pass option, but despite the flurry of activity to make it happen seamlessly, it's still not entirely clear which gadgets — and companies — will win the battle for our hearts, minds and credit cards. But if it's still not perfect we're definitely much closer than we were just a year ago, especially as the tech and media companies stitch up all sorts of deals to deliver varied content to all those new screens popping up around the house. But like any evolving technology, a lot of it is still up in the air and the options keep changing at a dizzying pace. One of the most serious ways it's happening, though, is through the use of set-top boxes, a so-called "gateway" device that acts as a bridge between your television and another signal. Digital TV is the most obvious example, but services such as Foxtel's IQ, Telstra's T-Box, Apple TV, Sony's PlayTV and FetchTV are all built around this approach, even if they all offer different types of entertainment, costs vary, and the range of online content can have definite limitations, especially outside the US. Google wants to play as well and the company's recent announcement of Google TV could just be a game changer if these claims work out. Developed with Sony, Intel and Logitech — and expected in our part of the world sometime next year supposedly — Google says its device really will deliver all the freedom of the web straight to your television — a feature other companies are expected to incorporate into their TVs, set-top boxes and Blu-ray players in the long term, and opening up web material direct to home cinemas in the process as well. The other approach getting a lot more traction is Internet-capable televisions. Around 20 per cent of all sets sold this year had it, a figure that will rise to more than half in just three years. "Internet enabled" doesn't necessarily translate into full web access and while it will obviously get much better in the future, most of the current crop link to a fixed menu of web content such as YouTube, news, photo sharing, Skype video conferencing and some online television. The public appears to like the idea, though; Toshiba found that nearly two thirds of Europeans put TV connectivity as the most important feature after picture quality, even if new US data showing only eight per cent of TV owners there have used the option to view online material so far. The use of widgets — screen-based shortcuts to online material — and TV-specific "apps" such as those on your iPhone are also about to get a lot more screen time. Yahoo's Widget Engine, which delivers access to 20 web-based applications such as MySpace, YouTube, eBay, Twitter, Flickr and more, are all available on some high-definition sets by Sony, Panasonic, Toshiba and LG, while Samsung's "Smart TV" push includes an Apps store and a global competition to get even more. "There's no doubt that content delivery to our televisions is changing rapidly as everyone starts to see this as the big new trend," says Trevor Rooney, general manager of Len Wallis Audio. "People want choice, though, and so far it's had some limits in terms of what you can view online on your sets or home cinemas. This will get better and the capacity to access premium entertainment material as either apps, pre-packaged services or straight from the web will ultimately become in-built and easy to do."
Shifting time and place
Still there are lots of other things to distract us when it comes to online media at home and we appear to be making use of them even if no-one can quite agree just how much time we're spending on it, what's keeping us most entertained or which device is the most popular. While the dominance of TV seems to go without saying, we're definitely backing it up with all sorts of other options in what is being described as time shifting, content snacking and even place shifting. Whatever's happening, it's clear that watching video online is exploding; in fact, a new survey says 41 per cent of Australians now regularly log on for everything from YouTube to downloaded TV and movies, and what's more we seem to be way ahead of most other parts of the world. People under 29 have been all over this trend for a while, but it's also making huge inroads with everyone else as well, with adults more than 30 recording double-digit growth in the past two years. PCs, laptops and netbooks are probably still the most popular way for this to happen (a Fairfax survey this year found 95 per cent of online media viewing by Australians was being done on laptops and personal computers) but the rise of smartphones, tablets, pads and e-readers could soon give them a run for their money. The video games makers, who have long offered hand-held devices, have now seen more market opportunities on all these new gadgets. Not only have phones been beefing up their game-playing capability, but companies such as Apple are actively pushing the cheaper, faster mobile experience. Around a quarter of Apple's Apps are games, including the nine most popular ones such as Angry Birds, Fragger, and Doodle Jump. Full-length films are also heading to the mobile and one of the first to make it happen is US company mSpot, which has signed deals with studios such as Paramount Studios and Universal Pictures, while Apple has reportedly sewn up deals with Disney to sell mobile TV shows cheaply as well. It also definitely helps that the sort of content available online is beginning to improve. For a start, most television stations are providing more and more of their programming on the web in what is often described as "catch up" viewing. While devices such as tivo, hulu and boxee can harvest many of these shows for you, the ability to watch programs you missed is getting easier and easier on the broadcaster's own websites. Shows just made for the web are hot now, too. That wasn't always so, but in the past few years the tide has definitely turned as production values rise, talented writers, actors and directors tune in, and the advertisers hop on board. Illeanna Douglas, a well-known Hollywood actress and emerging independent producer, turned to global furniture retailer Ikea to make her current online hit Easy To Assemble, and she's far from alone. Shows such as the musical The Key of Awesome and teen drama Anyone but Me have been going into multiple, award-winning series, while web-tailored networks such as "Funny or Die" from the likes of Will Ferrell, or Sony's "Crackle.com" are increasingly pushing popular, high-cost productions online. "There's definitely so much happening in the connected home space, from gadgets to all that content," said Adam Merlino from Audio Connection. "It means that as all these options grow, the potential level of complexity in home systems grows too, which means getting good information and the right backup is only going to get more important. People want choice and flexibility with media and home control, but at the end of the day the networks and devices at home have to be easy to use too, otherwise they aren't delivering on their full potential."
I'll take the web with that
If traditional home entertainment such as TV and radio are being digitally redefined, that's also true of lots of other areas of our in-home lives. In fact, relaxing from the comfort of the living room, bedroom or patio now has all sorts of online configurations, from reading papers, magazines and books to socialising, playing games, paying bills and, increasingly, shopping. While online commerce originally looked like being a retail Eldorado when the web got going, it soon sputtered out during the tech crash a decade ago. But since then it's been quietly building its allure, so much so that while retail spending has gone through a rough patch of late, consumer spending online has kept up a healthy pace. And it's home technology that's fuelling a lot of the interest, with new figures showing two-thirds of consumers start their research online — and more than half make a purchase there — when shopping for home entertainment gadgets and related appliances. In Australia, online commerce is predicted to explode by a whopping 40 per cent over the next two years as business beefs up its web presence in the face of what many say has been unrestricted poaching by more global sites and brands. The public also seems to feel more comfortable with the process now, and local sites such as Ozsale, brandsExclusive and buyinvite are all doing well, while retailing behemoth Westfield has just announced the country's first virtual shopping mall. Shopping via mobile phones — soon to be joined by pads and tablets no doubt — is also on the rise as retailers and consumers look for even easier and faster ways to click and consume. It's estimated that shoppers globally will order $2.2 billion worth of physical goods from websites using just their phones this year, five times more than in 2008. Retailers are accommodating them too, by creating mobilefriendly websites, something Amazon has become expert in, generating around $1 billion in sales in the hip new format to date. But it's not the only way technology, and particularly web connectivity, is shifting how we shop from the comfort of home as the barriers between us, and the goods, come down. For a start, lots of magazine apps on iPads and smartphones now allow people to buy items featured inside each issue directly from the web, while social networking is also eating away at where, how and what to buy. Sites such as Lockerz, Groupon and LivingSocial are primarily social media and networking sites with millions of followers, but have added in shopping opportunities by linking registered users to each other, to bargains and to a bigger shopping buzz. And it's working; a recent promotion on Groupon got clicked half a million times, with some retailers reporting being overwhelmed by virtual shoppers. Of course, online customer reviews and ratings have been around online for a while — think TripAdvisor — but expect them to get a lot more personal and interactive. This so-called "social shopping" or "social retail" is big and getting bigger as sites such as GoTryItOn, Polyvore, Swipely, ThisNext, Kaboodle, Wists and StyleHive build in ways to get instant feedback and advice. GoTryItOn, for instance, lets you take a shot of yourself on your phone or laptop and then send it out into cyberspace for swift — and sometimes brutal — opinions on what you're thinking of buying or trying on. And for a real glimpse at tomorrowland, take a look at social shopping site Zugara. It combines Augmented Reality technology — basically virtual information laid over the real world — and motion sensing to let you "try on" clothes as you stand in front of your personal computer — http://www.youtube.com/ watch?v=NxQZuo6pFUw And if retail therapy gets a little tiring, you can also go online to borrow, rent, rent to buy, or try-before-you-buy the latest must-have home accessory. Sites such as SnapGoods, NeighbourGoods, Rentalic, Ziloc and ShareSomeSugar work around the idea of a community-based marketplace, where individuals or businesses share goods for a modest fee. Not only are some people reporting that renting out pricey consumer electronics is quickly paying for the goods, they say it has the added advantage of knowing you will get them back.
This connected world
With so many ways to be always on at home — and with more coming — is there a downside to it all? There's no end of scrutiny going on about just what effect all this information, communication and web-connected gadgetry is having on us all, kids included. Surprisingly, a lot of studies are fairly upbeat about the networked family. One of the most recent, The Family GPS, found technology was often bringing people together, with roughly 80 per cent of families saying they watch TV and films together at home each week. Another found that interactive and connected televisions can draw families together over a range of activities such as movies, photos, music and games — and with children in particular very positive about the advantages of technology. Still, it's clear that unrestricted, continual web gazing can have its problems. Lots of research has picked up on parents' concerns about the amount of time their offspring spend on gadgets and the Internet, but some have also found that a lot of kids feel the same way about their parents plugged-in lives. New research also suggests that being constantly on could be impacting our brains, with scientists saying that constantly juggling digital information on a range of screens can undermine our ability to focus, remember information or regularly switch off — in other words, a case of acute brain fatigue. While firm conclusions on all of that will probably take decades to work out, it's clear that our lives are becoming less private and more socially enmeshed than we ever thought possible. The push to make home entertainment a group experience is just one new side to that. Not only can you now play games with people all over the world in real time, you can share the same film or even shop together simultaneously with family, friends and even total strangers despite being miles or oceans apart. As digital research company Pew found recently, technology doesn't appear to be isolating us as was once feared, but actually forging new ways to interact and connect. Whether it stays that way remains to be seen.