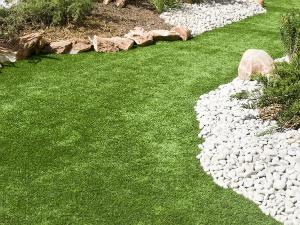 A streambed fashioned from pebbles forms the centrepiece of this restful retreat
Story: Karen Booth
Photos: Patrick Redmond
By limiting the number of hard-scaping materials and emphasising a natural palette of colours, this contemplation courtyard achieves a restful quality that is totally in keeping with the Japanese aesthetic which inspired the designer, Scott Brown.
The repetition of elements, colours and shapes is crucial. With no jarring elements, the eye is encouraged to gently roam and the mind to slowly quiet.
Natural stone, from the pebbled "waterway" and gravel paths to the sawn bluestone steps and feature rock fountain, predominates. Central to the design is the simulated stream, fashioned from charcoal coloured pebbles, which wends its way from one end of the courtyard to the other.
Scott has used pebbles of varied size to evoke the look of naturally flowing water. The larger pebbles represent the shallow, faster flowing sections of the stream while the smaller pebbles, interspersed with fine particles, represent the deeper, broader channels where the movement of water slows.
At the head of the stream sits a feature rock onto which bamboo "flutes" spill water. This in turn trickles down the natural contours of the boulder, onto the charcoal pebbles below, through a mesh grate and into an underground sump where a pump recirculates the water back up to the flutes.
Scott chose to use only three types of plant, keeping the emphasis on cool green foliage. Look closely and you will spy clumps of Japanese sacred bamboo (Nandina domestica). Giving structure to the space there are isolated lace leaf maples (Acer palmatum dissectum 'Seiryu'). These are under-planted with 'mats' of dwarf mondo grass (Ophiopogon japonicus 'Kyoto Dwarf') out of which the trees appear to emerge. The fine, strappy leaves of the mondo grass also serve to soften the look of the fine white gravel used as the primary ground surface treatment.