A striking modern residence forms the backdrop to this sophisticated garden design. While the garden may be short on space, the landscape is anything but lacking in designer lifestyle inclusions and cutting-edge contemporary design.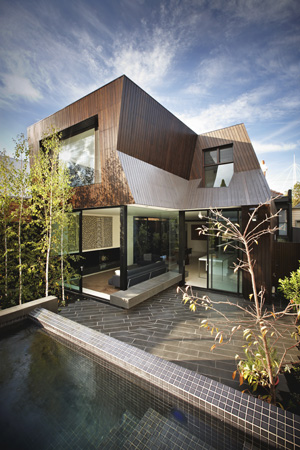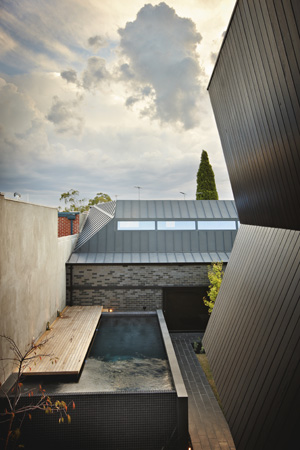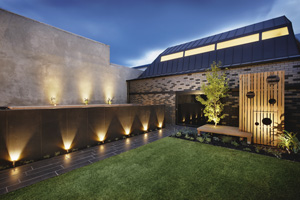 When the owners of this property approached Nathan Burkett of Nathan Burkett Landscape Design & Construction, they were seeking a garden with a high level of attention to detail in construction and an emphasis on the use of quality materials. A collaborative effort between Nathan Burkett and Mud Office, the resulting garden is everything owners asked for and a great deal more.
The back of the home looks out onto the now luxurious rear garden through floor-to-ceiling glass windows so a design was needed that would complement the home's interiors as well as its façade. The goal? To ensure a seamless flow and bring the outdoors into the home. This has been achieved through the use of materials that blend well with those used both in the home and on its façade.
Essentially, the design makes use of straight lines and shapes as well as sharp, rough edges, fusing them together to create a dynamic space. Much has been squeezed into the limited area without generating a cramped, cluttered feeling. The first thing visitors will notice is a beautiful and space-saving pool that has been built up to give an element of height and balance with the high boundary walls. The stillness of the water here evokes a sense of calm and relaxation that only this natural element can bring.
Another earthy element brought into the space to harmonise with the heavily built area is timber, which has been incorporated through decking and the children's play area. Low-maintenance plants and minimal grass ensure the owners spend plenty of time enjoying their new landscape rather than maintaining it.
Hammered-edge bluestone paving is a clever addition that enforces the indoor-outdoor flow by tying into the colour theme used in the back room of the house. The blacks of the lounge and canvas on the wall match the outdoor flooring to create the seamless transition from one space into another.
At night, the landscape takes on a completely different look. Lights have been thoughtfully installed around the yard to highlight plants and features, drawing the eye around the property and landing on the stunning wall art at the rear of the garden. More lighting has been installed within the pool itself, effectively making the body of water a feature all of its own at night.