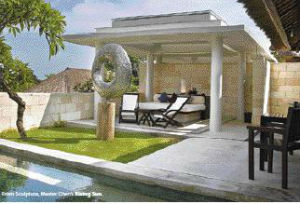 Indoors or out, a room needs a focal point and a sculpture just might be the ideal solution
Story: Graeme Foote
Over the past 20 years, sculpture has made great inroads into the everyday life of Australians. Today, you can see, touch and interact with sculpture all around our cities. People are also buying or commissioning sculpture for their own homes and gardens and whether you buy something that is mass-produced or a one-off depends where you are in your journey of art appreciation.
If you are buying a piece of sculpture for an outdoor space, it's important to consider what it's made from — will it cope with the sun and rain? Over the years that I have been a sculptor, I have had many people come to me with painted plaster pieces and ask "Can I save it from crumbling?" The answer is always no, it should have been kept indoors. All this means is that you should be knowledgeable about the medium (that is, the material) your prospective piece is made from or seek out a reputable artist or supplier — someone you can trust to guide you in the right direction.
When choosing a sculpture size, an important point to consider are all the angles you will be viewing it from. And this includes what you can see from inside your home. Often, people forget to consider the potential for placing art where it can be viewed from interior rooms.
You don't want a piece that is too dominant for the space. Similarly, if the piece is too small it can become lost. For covered outdoor rooms, take some measurements of the ceiling and window heights as this will help you to choose a sculpture of the most appropriate size.
Lighting helps to create a mood for the sculpture, so when choosing a location consider the play of light and shadow before making a final placement decision.
There are many ways and places to buy sculpture depending on how much you want to spend or the feeling you are trying to achieve. Mass-produced sculptures are available in many garden centres, chain stores and online and many of them are well-crafted and of good-quality. But if you are in the market for a unique piece, find an artist who makes sculpture in the style that you like and commission a piece to suit your space.
Discuss with the artist the feeling you are trying to achieve and then let him or her come up with a few options. But before you get to this stage — in fact, before you leave the house to go looking — you need to have some idea of the style of sculpture you want.
Look through magazines and cut out photos of the pieces you like to show the artist so they get a feeling for your personal sense of style. If you are having a piece commissioned, the artist will need to know if your taste runs to the figurative, classical or contemporary; if you prefer organic shapes, geometric shapes or hard lines; what your colour preferences are; and your attitude towards natural and manmade materials. Visiting a variety of galleries and studios can help you to work out what you do and don't like.
If well-wrought, sculpture will touch your senses. It might be just that you find it visually pleasing or it might evoke feelings of passion, convey a sense of strength or turn your thoughts to fantasy or intrigue. Just as long as the piece moves you in some way, both you and the artist will be happy.