Scale and constraint combine with an eclectic combination of materials and linked spaces to create an embedded timelessness within luxury homes.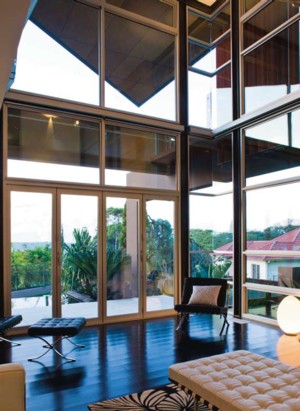 Contemporary luxury homes are a bit like rare trading cards of yesteryear. Despite being built as durable keepsakes with intricately customised designs, their embedded investment value means those who build them invariably pass them on — well before they've done their own time in these prestige dwellings. Admittedly, the look and composition of topend homes vary as markedly as the individuals creating them. But there's a growing "collective consciousness" shared by buyers and designers alike about what "contemporary luxury" really means in 2010. What Australia is witnessing, says Trevor Reitsma, director of Sunshine Coast-based Reitsma Associates, is the great "unlearning" of everything that misguidedly epitomised ("wannabe") luxury throughout the 1990s and much of the past decade.
Scale and constraint: 
Trevor says today's smaller sections, greater discretion over how budgets are spent, and a growing awareness of spiralling energy costs have changed the former mood of largesse into one of "scale and constraint". Luxury home designs within Australia's capital cities today, adds Trevor, often reflect a significant downsizing of the once-standard 800- to 900-plus square-metre block, with frontages narrowing to as little as 18sqm to 15sqm. He cites the Noosaville-based Mackenzie home — built for sea-changers transitioning from Sydney — with its narrow lot as a prime example of what can be done when space and angle throw down the gauntlet on design. "Instead of being hard to heat or cool, clever use of voids within the Mackenzie home bring a greater sense of volume to a smaller floor space, while enhancing the inter-connectivity between lower and upper levels," Trevor says. As with the Mackenzie home, Trevor says many of the hallmarks of contemporary luxury, including clean lines, lappools that butt up against the house, basement car parks with lifts — and a diverse mix of natural and more traditional materials — are partly the byproduct of smaller and oddly shaped lots. Trevor says it also reflects the need to personify the client's character within the form and feel of their uniquely customised home. Similarly, he says lower-pitched roofs, linear floor layouts, larger elements of glazing and a low-slung horizontal appearance — combined with clerestory windows to create the "light-floating" effect — all resonate with the human quest for comfort. "We created an unsurpassed view of the canal for the Mackenzie home through a whopping sevenmetre- high glass wall," says Trevor.
Sustainability and craftsmanship: 
According to Stuart Tanner of Hobart-based Stuart Tanner Architects, the mantra that made luxury synonymous with "big spaces" and "all things ostentatious" has refocused "transforming spaces". He's witnessing a new-found respect for the timeless principles of good design that just got lost in all the hype of the past 20 years. "The penny has finally dropped that 'quality of space' is more important than 'size of block'," says Stuart. "Bringing about a sense of luxury in a different way — especially here in Tasmania where the natural environment is ever present — has less to do with marble and LED lighting and is more about sustainability and quality craftsmanship." To Stuart, there's no better example than his award-winning Arm End house at Opossum Bay near the mouth of the Derwent estuary. Built for professional musicians from the US as a place of contemplation and retreat, Stuart's design at Arm End centres on a T-shaped living space with greater height and a freestanding hearth. Large glazed doors open to enfold and shelter neat gravel terraces, and to engage with northern views to mountains and western views over the Derwent — filtered by the Casuarina grove. Projecting steel beams support wide, sheltering eaves and external sliding timber screens temper the outlook and sunlight from the bedrooms. While the southern façade is protected by a thick pre-cast natural concrete envelope, Stuart says internal spaces are pure, yet rich in detail with Blackwood and Sassafras joinery combining with changes in level. "The first step in sustainability should be limiting scale, so we approach the design with a humility that generates a building contained in nature, while still allowing an exhilarating interior spatial experience," says Stuart.
Game-changer: 
Rather than casting an ominous cloud, Chris Howe, director of Sydney-based Howe Architects, says sustainability has rapidly gravitated from fashionable nuance to "gamechanger" in the way contemporary luxury homes are now conceived. In this brave new world, Chris says functionality, durability and liveability are now regarded as equal, if not more important than the aesthetics alone. "All good contemporary luxury homes are designed with a 'social conscience'. It's now commonplace for sustainability measures, designed to reduce overall energy consumption, to represent up to 10 per cent of total building costs in today's luxury homes," advises Chris. Ironically, though, it's no longer uncommon, admits Chris, for people to move onto their next luxury home well before the sustainability outlay has been fully recovered from the one they're currently living in. Nevertheless, he's convinced that the capital costs associated with implementing these sustainability measures will be returned five-fold once the house is sold. With energy costs projected to increase by around 20 per cent annually, Chris says the spotlight is now on the affordability factor associated with living in and maintaining contemporary luxury homes — where energy bills are often significantly higher.
Greater transparency: 
Given that sustainability is now regarded as a critical selling point, Chris expects those buying or commissioning contemporary luxury homes (built from scratch) to demand greater transparency into how overall design and choice of materials maximises energy efficiency. The trick, as Chris demonstrated with his Vaucluse house in Sydney's inner eastern suburbs, is to maximise energy efficiency without excessive reliance on artificial cooling and heating. He also expects greater preoccupation with overall design and how the outer fabric performs — in the thermal, passive solar and cross-ventilation stakes — within different climatic conditions, to steer people away from the Australian-Italian "trophy mansions" of years past. Chris says that while solar hot water was regarded as avant-garde only a few years ago, PV solar energy and water harvesting are now considered "must-have" inclusions within all contemporary luxury homes. "The innovations of today will be regarded as the norm tomorrow," adds Chris. "As it can take up to three years from go to whoa, it's important that luxury home designs aren't outdated the moment they're completed."
Embedded timelessness: 
It's the enduring features that aren't always immediately evident — such as proper insulation, thermal mass, passive solar, shading, light-fall, site orientation and cross ventilation — that allow contemporary luxury to maintain its currency through time, claims Angelo Candalepas, director of Sydney-based Candalepas Associates. All too often, though, he says designers become so preoccupied with meeting the immediate needs of the home's first owners that these enduring features often get compromised. "Timeless luxury is less about the convenience of modern appliances and more about comfort and the ability to rest," says Angelo. He also believes no contemporary home deserves the "luxury" moniker unless it has achieved minimum levels of autonomy from essential utilities — notably water heating and collection, plus power to the home for heating/ cooling. Indeed, it may be anathema to many that none of the luxury homes Angelo designs is equipped with airconditioning. But he says if the enduring features are embedded within the design, the need for artificial heating/cooling is largely eliminated. He cites the majorly renovated, awardwinning Cullen Aahuizen house in Balmain in Sydney's inner west — where the temperature from winter to summer varies between 19 to 24.5 degrees — as a case in point. Italian-inspired renovations to this Glenn Murcutt-designed home saw Angelo create a new pavilion extension next to the old on adjacent land. Angelo says by incorporating a wharf-like concrete roof and forms, the sun becomes a source of reflected light. Cross ventilation, adds Angelo, passes through the centre breezeway between the old and new pavilions, allowing natural light — reflected off concrete or timber surfaces — into all rooms. "The silver light absorbed by the concrete delivers a surreal effect, as does the living room wall which opens to Sydney Harbour — the ultimate and essential room of the house," says Angelo. What separates contemporary luxury homes from their more cost-conscious counterparts is what Angelo calls the level of "measured openness". Much of the family living within project homes is still done in and around kitchens that open seamlessly into living areas beyond. But within contemporary luxury homes, where bigger budgets allow, Angelo is witnessing a growing penchant for retreat areas where the accent is on comfort and relaxation. "After a hard day's work, people are now saying they don't want to spend as much time in or around a kitchen area where food and dishes are a constant reminder of household chores," he says.
Transforming spaces: 
Unsurprisingly, in an attempt to accommodate the changing lifestyle needs of its occupants, contemporary luxury designs are incorporating a lot more flexibility into floorplans. Beyond open-plan kitchens it's not uncommon, says Samantha Calleja, project manager with Melbourne-based Urbayne Homes, to build bedrooms without built-in robes. She says this allows them to seamlessly morph into storage areas, home offices, media or utility rooms as family needs dictate. Similarly, Samantha says greater care with overall design opens up more options with the placement of furniture around areas that receive the greatest amounts of sunlight. She says if a more mature couple is designing a modern luxury home (possibly) as their last dwelling, they typically want to allow for various permutations in family size. "Interconnectivity between zones means overall living areas can be opened up for teenagers, and closed off to accommodate the age-care needs of the owners down the track, while minimising heating/cooling costs," advises Samantha.
New heights: 
Interestingly, in the pursuit of more flexible spaces within today's luxury homes, a growing number of designers are drawing inspiration from commercial applications in public buildings. One example, cites Zol Nagy of Melbournebased Nagy Design, is the new uptake of sliding walls that disappear into an internal wall cavity to create self-contained living quarters for another generation living within the home. He says commercial-sized sliding external doors that disappear into a pocket within an internal wall cavity — to create a seamless opening — are also becoming a popular alternative to having six stacks of (bi-fold) doors protruding at the end of a room. "Having a 'single-pane' glass slider up to two metres wide creates an uninterrupted opening which complements a much sleeker look," says Zol. What's also attracting designers to other commercial applications within high-end homes, adds David Hammond, general manager of Graham Jones Design, is their greater durability, lower maintenance (in time and cost) and the added flexibility they can bring to overall design. And with higher ceilings (of 2.7 metres-plus) now regarded as the new standard within today's luxury homes, there's been a corresponding interest in floor-to-ceiling windows — with commercial-grade frames — that create a greater sense of openness while maximising views, adds David. He says a case in point is the recently completed Mount Eliza home on Victoria's Mornington Peninsula, where a spiral staircase winding over three levels has been framed by a picture window at the front entrance to the home. This window is also framed, but from the outside a bronze Alucobond® border highlights its aluminium-panelled window frames, which stretch between the front two levels of the building. "The growing trend to higher ceilings, along with floor-to-ceiling windows, is forcing many new homes into flatter roofs, which in turn is driving the use of steel over tiles (roofs)," says David.
Modern twist: 
Attempts to put a contemporary twist on a French Provincial new-build within leafy Wahroonga on Sydney's upper north shore saw project managers Angela and Fred Hemming of Pravda Projects apply commercial applications typically unheard of within such traditionally classic architecture. To replace the sombre tones more synonymous with a period home, the Hemmings opted for a more "funky and fresh" range of palettes and materials. Light-coloured natural blackbutt strip flooring was favoured over more formal parquetry for the main walkway, kitchen and active day areas. Similarly, glossy splashbacks and thick square-edged CaesarStone benches provide a more vibrant tone to traditional-styled kitchen cupboards. It's the quirky inclusions, according to Fred Hemming — such as the large modern stainlesssteel four-door French-style fridge, abstract rectangular chandelier in the entrance void or charcoal instead of black on the traditional interior iron work — that add a modern interpretation to a traditional overall style. A similar breezy feel is extended to the exterior of the home using a deco-granite driveway, which provides a soft yellow hue to match the textured Tuscan Effects™ sandcoloured painted and rendered façade. "A covered alfresco area, accessed directly from the kitchen via aluminium bi-fold doors — which contrast with traditional-styled French doors on the opposite side of the house — enabled a sheltered outdoor entertaining area," says Fred. "Protected from the sun, and located adjacent to the pool, it provides clear visibility of children swimming."
Up and under: 
Once unheard of within the luxury home market, David says an internal two-man lift is often seen as a way of future-proofing the home for when owners are less interested in negotiating two or more flights of stairs — especially within two-storey houses equipped with a basement car park. He says clients who may have initially contemplated installing a dumb-waiter will invariably opt for an internal lift instead, once they realise there's only a marginal difference in cost. Adding to the attractiveness of an internal lift is a loop-hole in the building code which allows clients to take advantage of the extra space that's ear-marked for a future lift within the original design. With a narrow Mt Eliza lot severely limiting the amount of off-street parking, David had little choice but to go underground to accommodate his client's request for a six-car garage. This in turn created the need for an internal lift to carry occupants to the principal entry above, and then up to the master bedroom suite on the third level. Guest access to the entry is via a timber bridge linking stone steps that bisect the front terraced garden from a pedestrian gate at street level.
Quality choices: 
According to Siobhan Pearson, CEO at Gold Coast-based Brentnall Homes, it's not just the diverse variety but also the quality of materials and internal fittings being selected that's making contemporary luxury homes uniquely individual. As a case in point, the breathtaking inspirations in a Brentnall-designed Balinese luxury home at the prestigious Huntington Downs estate in the Gold Coast hinterland include two marble baths. European appliances and fittings are a given within today's luxury homes. But what's also gaining popularity Australia-wide, says Siobhan, is the growing uptake of large — 1200mm x 600mm — tiles and within this Balinese bungalow she's opted for tiles in both travertine and warm-honed sandstone. Combining timber accents and stone finishes, plus floor-to-ceiling windows and pavilion-style cathedral (three-metre) ceilings, Siobhan says the Balinese home's zoned-living spaces are designed to expand and contract according to the needs of a modern extended family. "The foyer has soaring seven-metre timber-lined ceilings and opens to another bridge, making way for the alfresco feature area, complemented by transparent glass flooring, complete with running water stream," says Siobhan.
Eclectic materials: 
mix Meantime, Zol says what's supporting the gravitation to commercially inspired designs within today's luxury homes is the added flexibility that architectural systems (notably in aluminium and high-performance glass) bring to ceiling height — especially when smaller lots means "going up" and not out. "Bigger window openings — often floor-to-ceiling — help to open up spaces and create greater connectivity between rooms," says Zol. Also complementing this outcome, adds Zol, is the use of lightweight aluminium claddings, with Alucobond® — a composite material comprising aluminium cover sheets and a core of polyethylene — proving to be a popular choice. When it comes to the outer fabric, David says there's a greater appetite for eclectic combinations where contrasting materials create a more exciting aesthetic outcome. As a case in point, he says precious metals — such as natural zinc, titanium or copper — are now being used in varying combinations with high-performance glass, stone, exotic hardwoods and aluminium composites on the outer façade. He says Alucobond® aluminium cladding, together with natural timber and galvanised steel beams, add texture to the Mount Eliza home's minimal design. "A third of the home is in spotted gum, which, from a distance, comes across as a nice flat surface," says David. And on the inside, Zol says there's also a greater appreciation of how high-quality screening can transform a home aesthetically. He says while textured (or digitally printed) glass is a popular screening option, perforated metal screens are also becoming popular visual additions within contemporary luxury homes. Due to its thermal qualities and longevity, Zol says concrete, hardened and then polished to any level of sheen required, is becoming a popular floor option within prestige homes (see www.concrete.net.au). "Also popular for walls and columns, people are attracted to the seamless look of polished concrete and rendered concrete can create a similar look, but it must be in the right place"