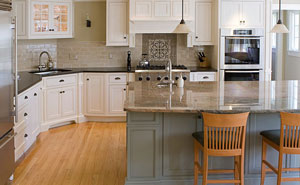 A picture of simple elegance from designer Lawrence Delahunt
As the central hub of the main entertaining space, it was important the kitchen be functional and stylish. The kitchen is the link between the living room and outdoor area and has been designed to be visually striking as well as operate at the height of efficiency.
A collection of different finishes come together to give this room its very own character, with glass, veneer, stone, stainless steel and polyurethane combining for a stunning end result.
Gleaming in the natural sunlight are the charcoal high-gloss polyurethane cabinets, which were the owners' only request to designer Lawrence Delahunt. To contrast this rich dark colour, Lawrence has incorporated ash white, engineered-stone benchtops and stainless-steel appliances. A feature of this stunning kitchen is the aluminium-framed cabinets with sand-blasted glass doors, which provide not only additional storage space but are a visual highlight. In designing for this space, Lawrence carefully considered the best way to use the area for maximum effect. It was decided that a galley kitchen with a large island bench would be the best use of the space but this meant relocating the doorways and removing the original rear kitchen wall. The result was well-worth the effort. This newly opened space flows easily between the living, kitchen and outdoor entertaining areas while the users of the kitchen now enjoy the vista of the newly landscaped garden.
Project particulars
THE KITCHEN WAS DESIGNED BY: Lawrence Delahunt
THE KITCHEN WAS BUILT BY: SYDNEY KITCHENS
ADDRESS: 96 Penshurst Street, Willoughby NSW 2028
PHONE: (02) 9958 4546
ADRESS: 27 Lachlan Street Waterloo NSW 2017
PHONE: (02) 9318 1913
EMAIL: sydneykitchens@kitchen-net.com.au
DOORS: Polyurethane flat-face gloss, flat panel in Woodstock Veneer, aluminium frame with sand-blasted glass
PANELS: Polyurethane flat-face gloss, flat panel in Woodstock Veneer HANDLES: Kethy
BENCHTOP: CaesarStone
SPLASHBACK: Polytech Starfire glass
KICKBOARDS: Matching polyurethane
APPLIANCES: Miele underbench oven. Miele cooktop. Miele rangehood. Miele dishwasher. Maytag refrigerator. Oliveri sink
ACCESSORIES: Hettich
Eliot Cohen Photography.