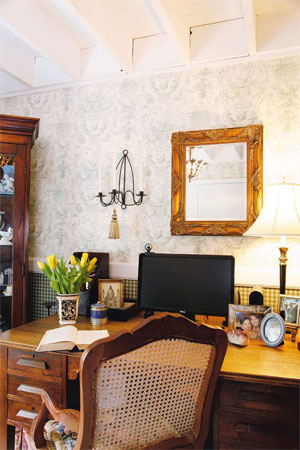 The country home office has come of age and offers plenty of style opportunities.
"The work at home lifestyle can be incredibly satisfying and an effective way to be closer to your family." – Mitch Thrower, author.
Whether it is a Davenport in the corner of your living room, a sumptuous library complete with a roll-top desk, a tiny corner of another room, a computer room or a fully blown modern home office devoted to study or work, we all need a place to store paperwork, pay bills and organise our lives. If visions of dark wood, dark paint colours, soulless metal filing cabinets, cluttered desks and computer screens are dominating your thoughts, however, think again. 
A desk is a desk is a desk
There are plenty of options for a countrylook desk in your office or study. You could opt for a more traditional desk such as a roll top, partner's desk or drop front desk or select a simple flat-top table or bench. Rustic pine kitchen tables can make a great work space, particularly if you choose one with a drawer. Your choice of desk should be appropriate to the activities you will be undertaking. Do you need space for a computer? Fortunately, laptops and flat screens have meant our computers don't need anywhere near as much space as they once did. Even very old, traditional desk choices can accommodate most laptops. Do you need space to spread out books or reference material, craft supplies or volumes of paperwork? Do you want to be able to close the desk to hide paperwork or do you need it to be very accessible and open? There really is a country option to suit all of your needs.
Get the look
Consider the look you want from the room. If you would like the rich feel of a gentleman banker's office, go for grand timber and rich traditional colours. If the room is predominantly a feminine space, you might prefer white painted timber and soft pastel accents, lots of pretty china and a floral-covered chair. If the room is a dual-purpose guest-roomcum- office arrangement, you might want to hide away clutter and opt for stylish and attractive storage options. If you are inspired by French decorating, you will want to layer your office as you would any living space with rich furniture, beautiful fabrics and elegant accessories. Touches of wrought iron or rusty metal are nice choices for file holders, paperweights or bookends. A potted topiary, an exotic orchid or a vase of big rose blooms would also be welcome. If you like to decorate in a more modern way, maybe a rustic desk could bring a trendy vintage feel to your room. After all, vintage is hot among young decorators right now. And if your budget is dampening your enthusiasm, think outside the square. What about a pair of timber saw horses with a nice old door on top? Such techniques will add atmosphere to the room as well as saving your cold hard cash for some nice accessories or a good chair. Alternatively, if you own a sleek desk and modern bookcases, perhaps you could add a vintage flair to the room through accessories. What about a framed oldworld map or curtaining that resembles ticking stripes to give some atmosphere to the room or jars and canisters filled with old postcards and writing materials just to add some old-world charm?
Tap into the things you love
Of course, it is always nice, if space allows, to have some decorative items around just because they are meaningful to you. A collection of old board games, cameras or postcards might be fun in a teenage boys study area while old china and a big vase of flowers are always a nice touches in a lady's office space. I find a nice pin board or notice board is a supremely practical and decorative inclusion. It is a place to keep notes to yourself, theatre or concert tickets or even your weekly shopping list, but it can be so much more and become an inspiration board for future decorating projects. If you are looking for a theme or decorative element, why not make a display of interesting old letters or postcards grouped together in a letter rack or a caddy? Another must-have for the home office is a good desk lamp. You can opt for a totally utilitarian one or repurpose a nice lamp from a bedroom or the living room. For those on a limited budget, council clean ups are great sources of lamps — just be sure to have an electrician friend check it out to ensure it is safe to use and have a go at recovering the shade yourself. The one place I believe you shouldn't scrimp is on a comfortable chair, particularly if you work from home and spend considerable time in your home office. Be a little indulgent and buy the best-quality office chair you can afford. Being comfortable while you work will not only make you more productive but will ensure good back health down the track. Working from home For those who work from home, other issues may arise. Storage of files, stationery or products may be an issue in which case some nice cabinetry, an armoire or an attractive sideboard could be stylish solutions. Additional power points may need to be factored in to cope with growing technologies and a dedicated area for charging said technologies could be worth considering. One of the best solutions I have seen for this was an old chest of drawers with a hole cut in the back to provide access to a power point. The top drawer then housed a power board and became a charge station for a laptop, mobile phone and blackberry.
Don't forget the aesthetics
Remember artwork you love, beautiful fabrics and wallpapers may all be superficial items when it comes to the practical concerns of a home office but one of the advantages of working from home is that you can surround yourself with things you like rather than the décor the boss dictates. Treat yourself to a print or painting that lifts your spirits and paint the walls a cheery shade just because you can. Most of all, surround yourself with things that make you smile and work will feel less of a chore.