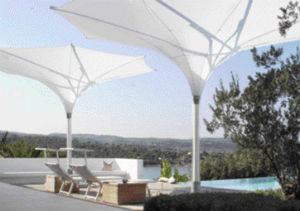 Protect yourself from the elements and add a touch of class and sophistication to your outdoor room with a stylish umbrella
Words: Ada Mears
Umbrella Quick Facts:
Materials
Look for the best quality materials to ensure the durability of your outdoor umbrella. Marine-grade materials guarantee longevity and, if there's an aluminium frame, make sure it has an anodised finish which will make it saltwater resistant and rust free, with no paint or powder coating to flake or chip off.
Maintenance
To help maintain your shade option, remember that covers need washing occasionally and the frame joints might need to be oiled. You can wash covers using a soft-bristled brush, mild soap and cold water, and use a spray lubricant on the joints of a wire-frame umbrella. For a wooden-frame umbrella, use paste wax to restore its shine.
What better way to while away the summer days than in the backyard by the pool? But with the harsh Australian sun at its peak, an outdoor umbrella or a portable shade structure is the perfect solution to protect you from the elements while complementing the look of your outdoor room.
There are many advantages of using umbrellas for shade: you can take them with you if you move and they are often a more affordable option than permanent structures such as pergolas. Plus, rather than just being functional, umbrellas can add some much-needed colour or an interesting theme to your outdoor space.
There are a variety of options to choose from when looking at outdoor umbrellas. They come in many different sizes and styles, as well as materials — all important factors to consider before making a purchase.
The most popular type of umbrella people tend to buy is the Italian-style market umbrella, often made from hardwood timber or sturdy yet lightweight aluminium with a durable weatherproof polyester canvas canopy. This style is available in an array of colours to suit any outdoor décor.
Using a simple rope pulley system, these umbrellas were at one time seen only in commercial use at cafes, but they've become more and more popular in recent years for home use. They usually come with a base; however, you can purchase additional sandbags and weights to keep the umbrella secure. Perfect for shading a patio or outdoor setting, such as dining table and chairs, some variations on this style of umbrella also have a tilt mechanism, which can help you keep the area of your choice shaded throughout the entire day.
A cantilevered or side-post umbrella can be a very versatile option and give you the choice of shading different areas at different times. Although a little pricey, this style will definitely maximise the space available in your backyard. But the economical advantage of this style of umbrella is it can swing between a pool, patio or sun deck with a canopy that rotates 360 degrees to follow the umbrellassun and shade a large area. An easy rotational locking system will keep it securely in place.
Tilting functions on this type of umbrella also provide additional privacy as they can create a wall of shade. It can also fold away in a compact vertical format to be easily stored during the winter months.
If you're working with tight or tricky spaces, a wall-mounted umbrella may be the way to go. With a fully foldable and retractable arm, it can be the best solution. The elimination of the umbrella post can maximise your space, while still being able to handle light to moderate winds. Simply attach it to a wall and then use the click bracket mechanism for effortless operation and quick removal.
This style of umbrella can provide shade in spaces where a conventional umbrella is simply impractical. And because it can be tilted and rotated, you need only one size and shape to cover your entire outdoor area.
Or, if you have more space and a larger budget to work with, why not splash out on the latest in umbrella innovation: the tulip? Its distinctive design is contemporary and eye-catching, a perfect complement to high-end outdoor entertaining areas. The umbrella, which appears to be inside out, is operated by a winding handle and has a telescopic mast. Available in a range of large sizes, the tulip umbrella not only shades an outdoor area, it lifts it to a whole new level of style and sophistication.
Whatever style of umbrella you choose, remember, they are not only functional but can be pleasing to the eye. With a plethora of colours available, including patterns such as stripes and even different themes, you can use umbrellas to liven up any outdoor space — or you can opt to make them as unobtrusive as possible by choosing earthy tones. With so many options around, you truly have the ability to shade any outdoor area with style.