Why choose the new Davey Premium Solar Pool Heating System?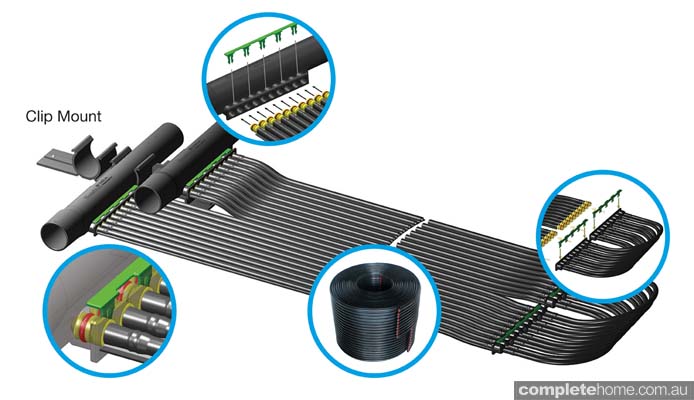 Free heat from the sun
Davey's new Premium Pool Heating System captures the free heat generated by the sun and transfers it into your pool water at virtually no cost. In addition, the unique design of the new absorber system helps maximise the latent heat transfer from your roof, substantially improving the overall heat gain achieved in your pool. The installation of a Davey Premium Solar Pool Heating System means you can extend your swim season and enjoyment throughout the year.
Regardless of where your pool is located, there will always be a significant difference in your pool water temperature, even in the middle of summer. Those extra few degrees provided by solar heating can have a big effect. Your swimming pool is a major investment so you deserve to enjoy it more, for longer. This can all be achieved with the installation of a Davey Premium Solar Pool Heating System.
Suited to pools between 20,000L and 65,000L
Comes complete, ready to install for most pool heating applications
Lightweight, compact, pre-assembled modular components that quickly and easily lock together
Easy and quick to install for pool professionals, saving time and money
Kit numbers:
B3P-20, B3P-28, B3P-40, B3P-50 and B3P-65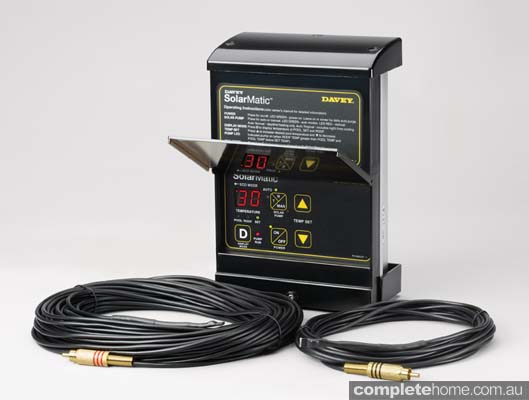 SolarMatic Digital Solar Controller
The addition of a Davey SolarMatic Controller provides for:
Total control over your solar pool heating system and equipment by utilising the latest advanced touch-pad technology.
A fully weather-protected UV-stabilised rust-proof cabinet with large digital display showing pool, roof and set temperatures.
A contact-free switching relay for the solar pump, which provides for exceptional reliability and only operates when free heat from the sun is available on the roof.
An auto-purge function, which regularly flushes your complete solar system, virtually eliminating the incidence of bacteria, mould, fungus and algae growing within the absorber when not in use.
Computer-enhanced temperature modelling and sensing that can predict the pool water temperatures throughout the year within + or -2ºC.
A built-in Tropical mode to cool water in tropical areas.
For a Davey Premium Pool Solar Heating System, or Davey Customised Solar Pool Heating System, contact Davey on 1300 232 839.
Company profile
Davey Water Products
Phone 1300 232 839
Email sales@davey.com.au
Website davey.com.au
Originally from Poolside magazine, Volume 44