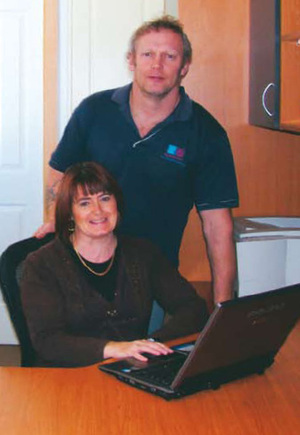 Jenny Jones
Nearly 20 years ago, Jenny Jones and her husband Ben thought they needed a change … and so began a four-year worldwide adventure, and a lifetime of love for their work. The close-knit family of five started out in Africa, where their fourth child was born, and continued country-jumping and seeing the sights. They settled finally in Turkey, where Ben found work setting up a uni campus for the University of New England. "With just me and the baby at home, I was looking for ways to appreciate the place we were staying in," Jenny explains. "I was told that checking out the rug stores would be the best way to get to know the culture." But what this former executive Myer buyer's keen eye found was less of a cultural awakening, and much more a calling towards a familiar friend. "Their rugs were their storyboards, and being dyslexic I immediately understood because when people talk to me, everything in my head naturally forms a visual picture." The family took a chance and returned home followed by half a container of rugs. With these Jenny started a gallery and exhibition space and, as she says, "the rest is history." Sixteen years on, Jenny Jones rugs offers the largest collection of contemporary and classic rugs in the southern hemisphere. Her service consists of a premade range, and bespoke pieces made to suit.
Her service is personal as she taps into the stories of every new client she meets. "When I go to the person's home I see their space – it's their castle, it's in their photos, their favourite cuisine," she stops to think. "That's the kind of information you just can't get from a coffee-shop consultation." Immediately Jenny is able to get a sense of colour and style, but if there's nothing suitable in her gallery, she will create four or five designs for the client to consider. This entire preliminary service is complimentary. Jenny's work is about producing an expression of her client's personality to put back into their home. It is harmonious, and it is lasting. The newest range of Jenny Jones rugs has been in the making for six exciting years. Generally Jenny will travel to their production houses in India (acclaimed for its fair work ethics) to get a sense of new styles and fabrics available and 12 to 18 months later, the range is up and running. But her newest range, a contemporary styling using a classic woollen silk weave, raised in the details, is something she jumped upon years ago, perfecting it finally for a launch this year. This range uses traditional motifs in clean cream, gold and terracotta hues. It is based on beautiful timeless designs. With 90 per cent of her market being mid- to high-end contemporary buyers, Jenny gives one final credit to the importance of lasting quality and groundbreaking design. "Our market is very savvy — they are well travelled, well read and constantly checking out what is happening in the world." Even if you're onto a winner, she warns, you need to push for new ways of doing things to communicate each person's individual story, told with care by a custom Jenny Jones weave.
Shadi Hourani
Dimensional Furniture
Furniture has been given a perfect fit
An exceptional home design is a job only half done, for as long as the interiors are bare or made to accommodate stock furnishings, the house remains incomplete and unable to reach its full potential. Custom-made furniture is the key to maximising the impact and lifestyle of a luxury residence and craftsman Shadi Hourani, managing director of Dimensional Furniture, is among the industry's best. For more than 15 years he has been at the forefront of cuttingedge furniture design, building an enviable reputation for innovative design. A true artisan, Shadi is not limited to one style or era and applies his malleable skills to everything from contemporary to classic pieces. "I work closely with the client to create individual designs," he explains. "Everyone is different and has unique preferences, décor and needs." This freestyle approach allows Shadi to produce distinctive Dimensional Furniture pieces for all areas of the home. "Custommade furniture shouldn't be just dining tables and wall cabinets," he says. It is his renegade outlook that has led the designer to take furniture fabrication to a new level and tailor pieces conventional furniture design cannot compete with. His wide-reaching expertise encompasses kitchens, which Shadi believes is the heart of a home. Designing entire kitchens and bathrooms provides another innovative way for Shadi to showcase his designs and prove unquestionably that Dimensional Furniture kitchen and bathroom designs are on par with WA's best speciality designers. Whether it be an entire room or a single entertainment unit, every piece of work designed and made by Dimensional Furniture is a work of art. Each design incorporates storage, function and an attractive façade and is certain to garner countless compliments from guests. Shadi creates furniture to serve as a compelling addition to the room it occupies and can work with you to produce a piece with a personal dimension — you.
John and Helen Leicester
Academy Home Offices and Wardrobes
A complete package — design, service and installation
A family-owned and -operated business based in Perth, Academy Home Offices and Wardrobes is run by husband and wife team, John and Helen Leicester. The company offers personalised functional storage solutions for the home office and bedroom, and has done so successfully for the past 25 years. John and Helen work well together, offering different skills to the partnership. John is head of production and installation, and has had 25 years of experience in custom-made furniture. Helen is responsible for sales and administration, as well as looking after sales design for the past five years. At Academy Home Offices and Wardrobes the focus is on excellent customer service, creative and innovative ideas and designs, and making the most out of every centimetre of living space so that no area goes unused. Client contact and satisfaction are vital to the business's success, so both Helen and John make sure they are available to their clients from the commencement of a project to the very end. With such a successful combination of innovative design, superior customer service and hard work, John and Helen from Academy Home Offices and Wardrobes are the natural choice for highquality furniture fitouts.