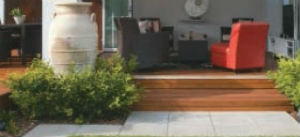 To ensure your outdoor room relates to your home and garden, seek design advice
We often read about interesting and beautiful gardens being a series of "outdoor rooms", each cleverly linked to the other to create a seamless flow. The ability to achieve this is one of the most important skills of a creative and skilful landscape design professional. Whether you have a small or large garden, the spaces must relate to each other and this includes the house as well.
Landscaping, particularly when paving and adding structures such as cabanas, gazebos, backyard studios and covered pergolas, can be quite expensive. It's important to plan well and think ahead so costly mistakes are avoided. As when planning a house, thought needs to be put into positioning, usage, access and, of course, sustainability. This has not necessarily been of prime importance in some people's planning in the past, but dwindling resources, changing climate and rising costs are all factors to consider.
At the most basic level, the physical characteristics of the site, such as slope, sun, wind, drainage, privacy, access and noise, need to be considered before construction begins on any outdoor structure, be it a poolside pavilion, a garden shed or children's cubby house.
The most used outdoor rooms are direct extensions of the living area of the house, the entertainment patio or deck. In fact, on a small city block it may be the only outdoor space available and therefore needs very careful planning to make it interesting as well as useful. Being the link between the rest of the garden and the house, it also needs to be positioned and laid out so that traffic, such as a crowd of excited children or a wheelbarrow, don't collide with the table and chairs, or anyone sitting in them for that matter.
Will shade be provided by a structure, an umbrella or a tree? Will the structure be waterproof or softened with a climber growing on a pergola? Where steps or retaining walls are required, can these have added value as seats or as features?
A good landscape professional can help you make these decisions and then incorporate them into the overall plan of the garden.
Useable outdoor rooms can also be located away from the house. They can range from a space as simple as a clearing, with logs or rocks as seats, to a gazebo. Clever, thoughtful siting can make a huge difference to the atmosphere of the garden and can make the experience of getting there as enjoyable and even as exciting as the experience created in the outdoor room itself.
Once you're there and comfortably relaxed, will that pleasure continue or will wind, noise or stickybeaks interrupt the bliss? Screening with plants or a cleverly designed fence or structure can reduce the harmful effects of strong winds and prying eyes. The sound of water can reduce the effect of unwanted noise and beautiful and interesting planting can send you into such a state of wonder that none of the above will bother you.
Of course, it costs money to engage a professional landscape designer but many people who do it themselves have learnt the hard way and made many costly mistakes on the way. A well-planned house, outdoor room and garden can give much pleasure and satisfaction over many years and the cost of the design is far outweighed by the benefits and added value to your property.
Arthur Lathouris is an award-winning landscape designer and former president of the Australian Association of Landscape Designers & Managers.
FIND A DESIGNER
Australian Institute of Landscape Architects
www.aila.org.au
Australian Association of Landscape Designers & Managers
www.aildm.com.au
The Landscape Contractors' Association of NSW & ACT Ltd
www.lcansw.com.au
Landscape Industries Association of Victoria
www.liav.com.au
Landscape Queensland Industries Inc.
www.landscapequeensland.com.au
Landscape Associations of South Australia
www.landscapesa.com.au
Landscape Industries Association of Western Australia
www.landscapewa.com.au
Landscape Industries Association of Tasmania Inc.
www.liat.net.au