A neo-classic designed with the Australian lifestyle and climate in mind.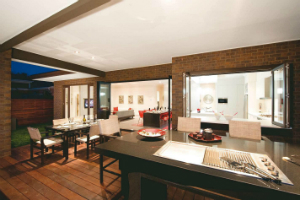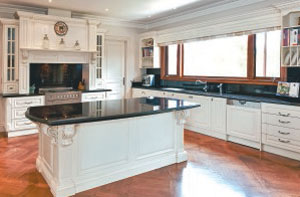 The Saville from Englehart Homes is a significant design departure for a company famous for neo-classical excellence. Dramatic, distinguished, stylish and substantial, it is destined to become an Australian classic, designed specifically with the climate, lifestyle and landscape in mind.
Influenced by the architecture and philosophy of Frank Lloyd Wright, The Saville is customised to the Australian climate and lifestyle, blurring the lines between interior and exterior space, formality and casual living. The design is classic-contemporary and luxurious, combining sweeping horizontal lines, wide sheltering eaves and statement blade walls to great dramatic and practical effect. Stretches of horizontal timber windows, Daniel Robertson dark-mortared brickwork, and slate-look terracotta tiles ensure the home makes a stylish but understated impression from the street. Inside, a spacious environment with every design detail imaginable is delivered. A wide foyer and entry hall with vaulted three-metre ceiling creates an immediate sense of arrival into a light and luxurious space. A variance of interior architectural features throughout, including recessed ceilings, floating bulkheads and vaulted spaces, imbue each area with a different mood. A large part of this home's appeal is the seamless integration of indoor and outdoor spaces.
Every room, including utility areas, is awash with natural light. Divided into two distinct parts; the front half offers an impressive lobby, squarepillared study, formal living area with lofty vaulted ceiling, powder room, hotel suite-proportioned master bedroom, resort-style ensuite and double dressing rooms. The second half of the house is an exciting reveal from a concealed sliding door. An expansive kitchen, dining and living area is effectively doubled in size by an adjoining loggia. A continuation of the low-pitched tiled roof and dramatic overhanging eaves make this "outdoor room" a visual and practical extension of the main house. Accessed from bi-fold doors and a kitchen bistro window, it maximises space and is an irresistible place to eat, socialise and relax. An abundance of cupboards and work areas (including a huge pantry with concealed appliance bench) makes the kitchen an entertaining heaven.
Miele appliances and exceptional fittings ensure cooking pleasure. A wing, including second and third double bedrooms, a luxuriously appointed main bathroom and generous laundry is cleverly concealed behind a wall of cupboards separating the living area from the private zone. The products forming part of The Saville specification have been carefully selected to ensure an ideal balance of quality, function and appearance. Low-energy Greensmart features include special glazing, external door seals, clever room zoning, recessed entry and a concrete slab providing thermal mass for winter warmth. 
With a number of design options along with Englehart Homes' design flexibility, The Saville can be tailored to suit each client's individual needs.
Englehart Homes
03 9810 2800
http://www.engleharthomes.com.au/