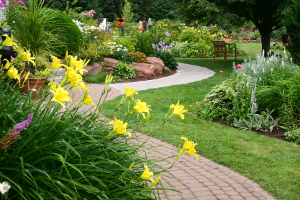 A long, narrow garden can open up a world of opportunities for creative design
Story: Catherine Stewart, FAILDM
Urban living means managing in small spaces, both inside and out. While medium-density design has improved, often the size and orientation of the building still takes precedence over the shape and utility of the outside areas. Homeowners and landscape designers find they are left with awkward, long, narrow spaces in which to create some usable outdoor living space.
Design difficulties
Narrow spaces alongside buildings tend to be in shadow much of the day (especially in winter), with a brief period of blazing sun. Privacy fencing can exclude cooling breezes. Poor-quality soils and poor drainage are common and need expert help.
In older terrace houses, the garden is usually viewed as a long, narrow space, but for newer townhouses, the view is often side-on and regarded more as a very wide but shallow space.
Fixing problems
If walls and privacy fencing exclude breezes, try opening them up with less solid fencing and breeze blocks in walls. Many plants suffer in still air as high humidity causes infestations such as sooty mould and mealy bug. An outdoor fan could help.
If you are overlooked, create a "ceiling" to block views but not a solid one that causes heat build-up in the confined space. Build a pergola covered with slats, reed or a vine or squeeze in a small, narrow-canopied tree. A pre-fabricated shade structure can work, too. 
In a dark space, bring in light by using pale, reflective colours or polished metals, angled to bounce light into the garden but not glare into the house.
Design tricks
Long, narrow gardens can be made to feel wider. If you look across an empty void, the space always seems smaller, so avoid just an end focal point. Create layers of interest or a way of swinging the eye from side to side to give it more to do before it reaches the back wall. And here are a few more tips:
• S-shaped paths create a gentle curve that leads the eye back and forth.
• Make diagonals by laying paving at an angle and using angled timber screening.
• Install a focal point about halfway down the garden with a low foreground and a background that disguises the rear boundary.
• Use optical illusion to give your garden more "width" by installing mirrors at a slight angle on side walls.
• Break up high side walls with painted or fixed timber grids, diagonal lines or rectangles of decreasing size one inside the other.
• Don't over-compartmentalise — a change in flooring such as paving to gravel will differentiate separate areas without closing them in.
• Use small uplights to highlight a few points for night viewing.
Wide shallow gardens can be given the illusion of depth or they can be divided into more square-shaped sections along their viewing length to add interest. To make the most of these spaces:
• Create as many layers as possible.
• Play with perspective by using large out–of-scale elements such as big sculpture close up and very small elements such as fine, twiggy plants on the far wall.
• A trompe-l'oeil mural or an inexpensive outdoor picture can stretch your "view" into another place.
• Work the vertical dimension to make the space seem bigger with a cluster of tall timber poles or hanging interesting objects on a back wall. A small tree under-pruned to head height or a pleached hedge will make the garden seem bigger.
• Don't grow plants too close to the house unless there is plenty of light or you'll see them at their very worst.
• Use gradations of colour to stretch the view with stronger, more intense colours up close and paler tones at the back. Cooler colours tend to recede and warm colours push forward.
• Install backlighting of tall items such as sculpture, upright-form plants or tree trunks for night enjoyment.
Six top tips
1. A long, narrow space will seem a little bit shorter if you position large plants in the distance and smaller ones up close.
2. Hot colours, such as bright oranges or reds, used on a wall at the bottom of a narrow garden will help the space to appear a little shorter.
3. Run paving perpendicular to the length of the property. Parallel paving will only serve to exaggerate the length of the space.
4. Steer clear of skinny, straight garden beds running in strips down the boundary walls. Introduce some twists or curves for interest.
5. Create garden rooms. Carve up long, thin gardens with plants, pergolas, timber screening or decorative walls.
6. Work with diagonal lines at 45 or 30 degrees to alter perspective and draw the eye across the space away from the back boundary.