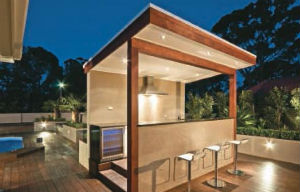 Create a resort style in your outdoor room with an outdoor bar
Words: Natalie Raad
Outdoo r roo ms are being used more and more for entertaining, so it makes sense to equip our outdoor spaces with all the things needed to entertain successfully. One of these things is an outdoor bar. Not only practical, outdoor bars also allow us to re-create that resort-style feeling typically associated with holidays in our very own outdoor room.
Practically speaking, bars provide a lot of benefits in an outdoor room. For one thing, an outdoor bar can give guests a natural gathering point, a place where they can stand with a drink or snack in hand and chat without feeling awkward or out of place. Also, because most bars are attached to the kitchen area or situated nearby, guests can watch the cook from a short distance without the cook or the guests feeling separated.
An outdoor bar can also work in your favour by keeping your kitchen area clean. A bar provides a dedicated place for cocktail fixings, glasses and trays of hors d'oeuvres, leaving the kitchen workspace free of lemon slices and used napkins.
An outdoor bar can also be used as an extra dining table, perfect for breakfast or a casual lunch and, during big dinner parties, some guests can even sit at the bar for dinner.
Because bars are by their very nature somewhat exotic, they provide the perfect creative outlet. As with the outdoor bars in a holiday resort, with the right lighting and seating area you can make your it the focal point of your outdoor room — a place to unwind and relax with friends. By making the bar area the focus, attention is diverted away away from unsightly areas, such as the preparation and cooking area.
What type of bar you choose will depend on the design of your outdoor room. If you have a pool, you could go for a swim-up bar complete with bar stools so you can enjoy arefreshing drink while you're in the water. If you don't have a pool, you could make the bar part of your outdoor entertaining area and either attach it to the kitchen or make it its own standalone feature.
If space permits, you could incorporate bar stools — either fixed or mobile — around the bar. That way, the bar will be seen as another area where guests can sit and mingle.
To get the most out of your bar, it's important to make it a fully functioning part of your outdoor room. The bar should be an integrated part of the overall design, not an afterthought. In order to achieve this, you'll need to first decide whether you want the bar to be freestanding or attached to one end of your outdoor kitchen.
If you opt for a bar attached to one end of the kitchen counter, choose a surface that co-ordinates with your kitchen and that's easy to clean. And in order to make the bar its own feature in your outdoor room, be sure to include the necessities such as a bar sink — this will make mixing drinks easier and during large gatherings can double as a prep and cleanup zone. An undercover fridge and ice maker are also smart additions.
If your outdoor room isn't big enough or if your bar will only be used every so often, rather than invest in a built-in design you could instead pick a free-standing, portable bar cart or stand. Most of these come with a wide range of features including compartments for necessities such as lemon and lime wedges, ice and storage for glasses. These portable models will give you the flexibility of wheeling the bar out when needed, moving it around your outdoor room to where it's required and storing it away when not in use.
An outdoor bar is sure to be an asset in any outdoor room. Whether it's a swim-up bar in a pool, a bar built into a kitchen or a free-standing portable cart, an outdoor bar will give you greater flexibility when entertaining outdoors and will help to re-create that resort style in your outdoor room.